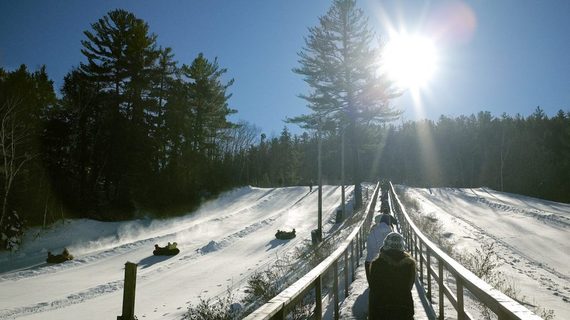 With winter in our midst, it's good to remember that there's an alternative to skiing, snowboarding, and making angels in the snow. Forget the boots, the goggles, the gear, and enjoy the simple thrills of snow tubing--because sitting is really all that's involved in this, err, sport.
Bring warm clothes and an appetite for some fast-paced fun and you're good to go at these three cool snow tubing spots near New York City.
Gore Mountain | North Creek | 518.251.2411 | goremountain.com
In addition to its ski and board trails, Gore Mountain's North Creek Ski Bowl offers 800 feet of tubing chutes open daily from 11am to 9pm. You'll be able to tube far into the evening hours along with night owl skiiers and snowborders participating in Twilight Skiing/Riding under the Ski Bowl spotlights.
How to get there: Adirondack Trailways from New York Port Authority. Gore has bus and lift ticket packages out of New York City.
Hunter Mountain | Hunter | 800.486.8376 | huntermtn.com
Starting December 23rd, trek up to Hunter Mountain for 20+ runs and nearly 1,000 feet of chute. Younger children (under 42″) have access to the Mini Tubing Park or can ride with an adult for a combined price of $30. Passes are good for two-hour sessions Friday through Sunday beginning at 5pm on Friday and 10am on Saturday and Sunday.
How to get there: Hunter Mountain has a great list of bus operators available on its website leaving from New York City. Alternatively, take the Adirondack Trailways bus to Hunter station (last on the line).
Mountain Creek | Vernon | 973.827.2000 | mountaincreek.com
Mountain Creek, located in the Appalachian Mountains of neighboring New Jersey, is spread out across four peaks, giving the illusion of a ski mountain much further than a stone's throw from the George Washington Bridge. The mountain's recently renovated snow tubing park has been expanded to offer 30 lanes that can accommodate up to over 100 tubers an hour. Tubing rates are $20 per two hours 4-9pm on Wednesday, Thursday and Friday; Saturday, Sunday, and Holidays 10am-9pm; $25/Saturday, Sunday, and Holidays daytime. Also new this season is the Wednesday Night Tubing Party, where you and 5 friends can purchase two-hour passes for just $60 from 5-9pm.
How to get there: Emilio's Ski Shop and Paragon Sports offer bus trips to Mountain Creek on Wednesday afternoons (Paragon) and weekends (Emilio's Ski Shop). Visit online for specific dates. NJ Transit out of New York Port Authority makes trips to Mountain Creek every Saturday, Sunday, and Holiday through March 8. A round trip ticket, including your lift ticket and travel, costs $25.50.