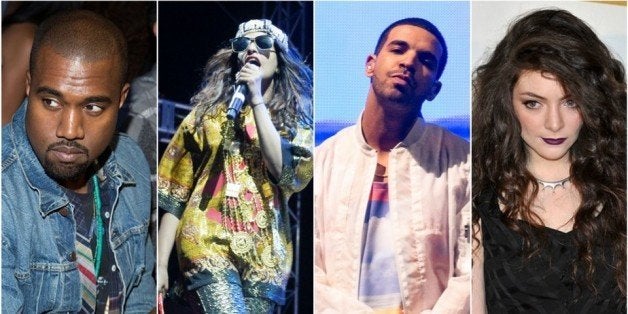 When it came to picking the year's best songs, HuffPost Entertainment's Kia Makarechi, Madeline Boardman and Ryan Kristobak looked for songs that moved the needle forward. If a song pushed the boundaries of its genre, challenged listeners or approached pop perfection in new, interesting ways, it fit the bill. 2013 brought a lot of disappointments from some of music's biggest acts (Katy Perry, Lady Gaga and Beyonce didn't make it on this list), but there is still much to celebrate. Ahead, take a look at 17 of the songs we're most glad to have heard this year. (Then run to the comments and tell us why we're wrong.)
1. Kanye West - "New Slaves"
Sure, "Black Skinhead" is more of a song, "Hold My Liquor" is more beautiful and "Blood on the Leaves" has more stuff going on, but "New Slaves" -- delivered late at night as a surprise that literally played on the side of buildings across the world -- was the opening salvo in the Year of Kanye West. As the rest of "Yeezus" permeated through culture and West headed out on a tour/revival, West would renounce "My Beautiful Dark Twisted Fantasy" as an act of pandering, cut ties with Nike, become a father, propose to Kim Kardashian and generally refuse to leave the conversation. But it was "New Slaves" that set the tone, from its devastating opening couplet ("My momma was raised in the era when / Clean water was only served to the fairer skin") to a blistering second verse (West wasn't just coming for your corporate ass, he was giving your entire Hamptons family the shakes) that the rapper would himself declare the best rap verse of all time. No matter how much he says he's mostly over rap, 2013's Year in Music belongs to Kanye West. -K.M.
Oh, Lord-e. "Royals" lived quite a life this year, right? From Hype Machine darling to Billboard No. 1, Lorde rode her rejection of hip-hop's opulence all the way to the bank. (A money tree born from a disdain for rich rappers!) As a country, we prefer to think of Lorde as a random teen from New Zealand, as though she just recorded "Royals" after grabbing some frozen yogurt after school. (Never mind that the singer has been signed to a major label for years, right?) Between dismissing David Guetta and stumbling her way through semi-criticisms of Drake and Nicki Minaj, Lorde actually acted like a teen -- aping a punk rock attitude and firing at the wrong targets. All that said, "Royals" is an amazing song and Lorde is pretty cool. -K.M.
3. Daft Punk - "Get Lucky"
Try to think about the first time you heard "Get Lucky." You were either stunned at how the robots -- assisted in no small way by Nile Rodgers and Pharrell Williams -- pulled off retro camp without approaching cheese, or you were underwhelmed. If you were underwhelmed, the song probably grew on you in spite of yourself, and if you thought it was a subtle treasure, you probably hated it by the time summer was in full swing. Like "Blurred Lines," "Get Lucky" helped define the year, and it did so by triumphing on radio and at cool kid cookouts. But unlike "Blurred Lines," it didn't sound exactly like a Marvin Gaye song. -K.M.
4. Lana Del Rey - "Young & Beautiful"
"Young & Beautiful" is perfectly suited to its singer, paired immaculately with Baz Luhrmann's adaptation of "The Great Gatsby." Del Rey, who cast herself as Jackie O. in her "National Anthem" video last year, has mythic aspirations, but until "Young & Beautiful," the 27-year-old (same as Gaga, seven years Miley Cyrus' senior) was so busy trying that it seemed unlikely she'd be anything but a woman in a Daisy Buchanan costume, an avatar. "Young & Beautiful" is so sincere in its plaintive insecurity that with it, Del Rey all but wipes clean the memories of that horrifying "SNL" gig and horrible early performances. In other words, it's her becoming. -K.M.
5. Earl Sweatshirt - "Chum"
"It's probably been twelve years since my father left, left me fatherless," Earl offers. "And I just used to say I hate him in dishonest jest / When honestly I miss this n---a, like when I was six." "Chum" is a blistering tally of disappointments of a 19-year-old's life, and Earl's not exactly suffering anyone lightly. The harshest words are reserved for Complex magazine and Earl's classmate Tyler Craven, who helped find the rapper when he was studying at Coral Reef Academy. It's just poetry. -K.M.
"Craven and these Complex fuck n----s done track me down
Just to be the guys that did it, like, "I like attention"
Not the type where niggas trying to get a raise at my expense
Supposed to be grateful, right? Like, "Thanks so much, you made my life" --
Harder, and the ties between my mom and I are strained and tightened
Even more than they were before all of this shit"
Been back a week and I already feel like calling it quits"
Dance music's biggest hits seemed far less urgent in 2013, in part because so many of them sounded the same (or, in other words, like Martin Garrix's "Animals"). It was also a big year for dance stars to dip further in pop, something no one did as gracefully as Zedd. The young German DJ and producer teamed up with Foxes for "Clarity," which is a song that anyone who has stepped foot in a bar or even a take-out restaurant in the past 12 months has heard. But it's also a sterling piece of pop music, pitting the best elements of euphoric festival EDM against a melancholic vocal track to great effect. - K.M.
7. Jay Z - "Beach Is Better"
Between pretending that selling hats for hundreds of dollars at Barneys is social activism and throwing shots at Harry Belafonte, Jay Z was pretty annoying this year. His Timbaland-produced album, "Magna Carta Holy Grail," was solid if mostly boring. It had flashes of brilliance ("Rumble, young man rumble / They try to dim your lights, tell you be humble"), but it peaks with an interlude. "Beach Is Better" sees Jay gloating about being married to Beyonce, a woman he compares to Halle Berry while just pissing away money at basic New York clubs like a start-up millionaire who just got his first taste of the good life. -K.M.
Glasglow trio CHVRCHES's gilded medley of dance-ability and earnestness make their take on synthpop transcendent in a heavily crowded field. "Recover" comes with a magnetic hook, and is all the proof needed to distinguish singer Lauren Mayberry as the quintessential frontwoman. Mayberry melts hearts as she croons, "And if I recover, will you be my comfort," but quickly makes it clear that this isn't some desperate pitch for penance. Just as she proved that she is no damsel in distress in her op-ed for The Guardian, Mayberry lays down the law when she sings, "I'll give you one more chance to say we can change or part ways." This isn't Mayberry sending out a distress signal, this is her taking control. -R.K.
MIA's "Matangi" is one of the year's strongest albums. Elsewhere on the record, she casually dismisses Drake ("YALA"), eviscerates critics ("Boom Skit") and somehow makes The Weeknd cool again ("Sexodus," "Exodus"). But it's the final minute of "Bring the Noize," a silky, infectious outro that almost sounds like you're on the other side of a wall from the best party you've ever been to, that sticks the most. Maya flips Kris Kristofferson's "freedom's just another word for nothing left to lose," into "freedom's just another word / choose / nothing left to lose." It's one of the best minutes in music this year, and sees MIA at her peak -- referential yet defiant, and effortlessly smooth after nearly four minutes of Eastern-inspired rave rap. -K.M.
10. Tegan & Sara - "Closer"
Long a staple of indie fans and the music supervisors of "Grey's Anatomy," Canadian duo Tegan and Sara reentered the charts this year with the release of the hit single "Closer." A cut off of the ladies' latest album, "Heartthrob," the electronic-inspired "Closer" rose to the top of the dance chart, and for good reason. The poppy single was written by the twin sisters with the intention of reminding "the listener of a time before sex, complicated relationships, drama and heartbreak." -M.B.
It's a bit baffling that one of this year's most important rap records is a non-album handout by Big Sean. "Control" sees Sean laughably out of his league, dusted by Kendrick Lamar's ready-for-the-rap-blogs verse. Announcing all of hip-hop's hottest young talents (and Pusha-T) as strokes on his hit list, Lamar set the internet ablaze when he crowned himself, a Compton kid, the king of New York. It's unfortunate that Jay Electronica's verse received little attention, but when a single verse manifests response after response for weeks -- hell, months -- there's little room for the res Call it baseless braggadocio or a spirited call to arms, but this year, Kendrick was the one keeping hip-hop on its toes. -R.K.
12. Arcade Fire - "Afterlife"
It's hard to live up to expectations after winning the Grammy for Album Of The Year, especially when you are an indie rock band that somehow managed to overtake some of the biggest names in the music industry. While one might assume that after such an unexpected victory -- lead vocalist Win Butler's first words at the podium being "What the hell?" -- that the band would look to streamline their sound, but "Reflektor" sees them at their most ambitious. It's the penultimate track, "Afterlife," that most triumphs. Glittered with galloping synths and a slick beat, the song hits and resonates as heavily as its post-mortem inquisition of love. It reduces you as equally as it fills you up, and you are left clicking repeat, ensnared in the strip of this treadmill metaphysical crusade. -R.K.
13. Justin Timberlake - "Mirrors"
From his "I'm ready" teaser in January to the Myspace-infused release of his first single, "Suit & Tie," none of us could have predicted that after almost seven years of silence, we would get not one, but two albums from Mr. Timberlake. While "Suit & Tie" brought us back into the world of Justin, it was "Mirrors" that reminded us why we want to--need to--live there. The sputtering clap-snap rhythm, densely stacked synths, and vocal loops of Timbaland's production bring us back to days of Justin past, topped off by Timberlake's alluring falsetto-tipped coos. But it isn't the eight-minute-plus single's grandiose nature that really sets it apart. It's the sincerity and optimism with which Timberlake is able to deliver super cliched lines like "I'm lookin' right at the other half of me." JT may not have reinvented pop like he did in 2006 with "Sexy Back," but I'll be damned if any man does it better than him, and now that he's back, let's hope he is here to stay. -R.K.
14. Migos - "Versace (Drake Remix)"
Drake's "Versace" remix catapulted Migos from rap demi-gods to household names, but it was Drake's verse that saw the rapper at his best this year. That's big talk in a year where he released Worst Behavior," lit a fuse with "Started From the Bottom" and made a bid for your "wedding song" with "Hold On, We're Going Home." By the time Drake rattles off the word "Versace" six times in a row late in the verse, the bottles are on the ground and everyone's ducking to avoid stray trap elbows. It's a good time. -K.M.
15. Miley Cyrus - "Wrecking Ball"
After bludgeoning our ears with "We Can't Stop," which not only includes already exhausted references to molly but also the phrase "we run things, things don't run we," Miley surprised us all by putting out a really good pop song. "Wrecking Ball" comes in like a phone call from a distraught lover, a cloud of sadness that doesn't even need a minute before exploding with Miley's full-throated anguish. "All I wanted was to break your walls," she sing-screams. "All you ever did was wreck me." Never mind that she sings the hook half a dozen times in 3 minutes and 42 seconds -- with one that good, who's counting? - K.M.
One of the greatest gifts of 2013 was the debut studio album of HAIM, "Days Are Gone." Made up of sisters Alana, Danielle, and Este Haim, HAIM has been performing for years, finally seeing major success this summer. The notoriety of the sister band was aided in large part by the release of "The Wire," which is the group's highest-charting single to date. Performed by the sisters on "SNL" (with Este's unforgettable bass face), "The Wire" offers an addictive feel-good quality with a decidedly retro vibe -- the kind of song to which you have a "Risky Business"-esque no pants dance party alone in your home. Don't be surprised if these ladies are solely responsible for bringing back the middle part after the completion of their international 2014 tour. -M.B.
17. Ciara - "I'm Out" (Nicki Minaj)
Ciara may have focused all the publicity for her self-titled album on inviting you to her "Body Party," but the sleeper hit of her 2013 project is undoubtedly "I'm Out" with Nicki Minaj. Made even better with an incredible music video full of Ciara's unbelievable dance moves, "I'm Out" is more than just a breakup anthem. The track showcases the best of Ciara's vocals with the type of boastful verses only Nicki can do. With lyrics like "Now tell me, do my ladies run this / Not even Hammer can touch this," "I'm Out" is a fitting 2013 substitute for the lady-empowerment banger of Destiny's Child's "Independent Women." -M.B.
Calling all HuffPost superfans!
Sign up for membership to become a founding member and help shape HuffPost's next chapter