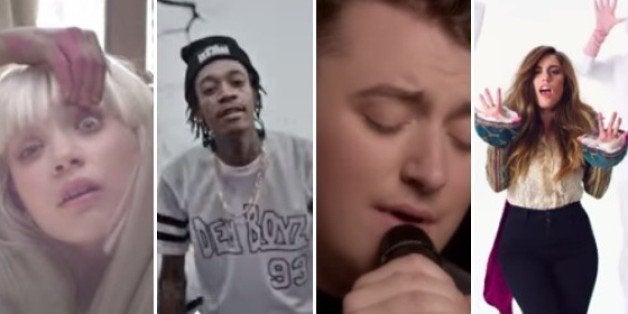 23. "No Black Person Is Ugly" by Lil B
Lil B has always managed to acquire some of the best beats in hip-hop, but it is #rare that the rawest rapper alive's unfiltered stream of consciousness permits him to really focus in on his flow and subject matter. "No Black Person Is Ugly" is Lil B's most purposeful and uplifting song, carefully delivering nuggets of truth like, "Never been racist so I understand if you wanted / Try to change places / I've seen the other side and I know that's amazin' / Life is amazin'." #TYBG. -- Ryan Kristobak
22. "Take Me Away" by Bleachers ft. Grimes
Short and sweet, "Take Me Away" is bizarre: A synth-heavy freak pop song fueled by Jack Antonoff's and Grimes' mismatching styles. Antonoff's an unabashed fan of grandiose hooks and Grimes has mastered dark, ADD-style electronica. The combined effect makes this song, off Bleachers' first album "Strange Desire," sound like something so comfortable and otherworldly all at once. -- Jessica Goodman
21. "Stolen Dance" by Milky Chance
German duo Milky Chance came out of nowhere, but the infectious combination of minimal electronic beats and indie strums in "Stolen Dance" provide the perfect closing number for any night out celebrating life with friends. -- RK
20. "Yayo" by Snootie Wild
Sometimes "bad" rap songs are just the best. Snootie Wild's "Yayo" says very little, but when he rhymes "burritos" with "torpedo," it's hard not to love it for what it is: a turn-up anthem. -- RK
19. "Trap Queen" by Fetty Wap
Fetty Wap, the New Jersey-based artist whose over-the-top "Trap Queen" clocked in some serious internet time this summer, had a no-nonsense debut. His four-minute after-hours party mixes melody rap with, yes, trap to leave you screaming one message at 4 a.m.: "I'm like hey wassup hello!" -- JG
18. "Down On My Luck" by Vic Mensa
Even in his relatively brief discography, Vic Mensa has proven his ability to flow overtop a wide variety of genres infused with hip-hop. "Down On My Luck" furthers that trend with some dance-floor-ready action. Spitting dizzying stabs that circle around a four-on-the-floor beat, the young MC's mesmerizing cut proves that he is one of Chicago's, and hip-hop's, best kept secrets (but for only a little while longer). -- RK
17. "Gunshot" by Lykke Li
On the surface, "Gunshot" is the peppiest track off Lykke Li's heartbreak-addled album, but violent lines like, "I'm longing for your poison like a cancer for its prey/ I shot an arrow in your heart where you waited in the rain" make it the soundtrack to a revenge plan we'd never actually have the guts to execute. -- JG
16. "Octahate" by Ryn Weaver
Ryn Weaver made her own little dent in the Internet in June, when she uploaded "Octahate," produced by Benny Blanco and Passion Pit's Michael Angelakos, to Soundcloud. It gained 1 million listens in two weeks and became one of the most talked about tracks of the year. Weaver's voice is subtle and imperfect, catching delicate lyrics and sharp house beats to make something so new seem so familiar. -- JG
15. "We Dem Boyz" by Wiz Khalifa
14. "Steal My Girl" by One Direction
One Direction's greatest new track -- on an album of straight-up surprise hits -- starts as a power ballad, hell bent on waxing poetic over "my girl." Everyone wants to steal her! There are a couple billion in the whole wide world! Find another one! If we can forget for just a second that they sing about women "belonging" to men, it's really the only song to sing at karaoke. -- JG
13. "True Love" by Tobias Jesso Jr.
It's not included on Tobias Jesso Jr.'s full album, "Goon," due out next March, but, wow, "True Love" is so sad and simple. It's like looking at your eighth grade diary and actually relating. Jesso Jr. has written what, on the surface, seems like the year's easiest track, but, let's face it, we could never build silence into lyrics like, "Everyday just trying to get by/ No time to cry, no he can't afford to/ And she waits through everything/ Anything for you." Nope, not if our betrothed's life depended on it. -- JG
12. "Waking Light" by Beck
"Waking Light" is the sum of all of Beck's "Morning Phase": it has piano, strings, guitar and soaring vocals. The final note of Beck's dream, the last minutes of night, the haze is finally broken with a closing guitar solo — after seven or eight years away from his guitar do to a spinal injury, this is a particularly powerful ending. It is with hope that Beck sings, "When the memory leaves you / Somewhere you can't make it home / When the morning comes to meet you / Fill your eyes with waking light." Beck is ready to embrace the new day, are you? -- RK
11. "Stay With Me" by Sam Smith ft. Mary J. Blige
Sam Smith's "In The Lonely Hour" was a very sad album, and nothing hit deeper than Smith's desperation for human contact in "Stay with Me." The search for love isn't always easy, and sometimes it just sucks, and when that story is told by the harmonies of Smith and Mary J. Blige, you're going to shed a few tears even if you're loved one is sitting right next to you. -- RK
10. "i" by Kendrick Lamar
All ears have been to the ground since murmurs of Kendrick's follow-up to "Good Kid, m.A.A.d. City" legitimately took form. While many were disappointed with the mainstream appeal of "i," Kendrick brought out a classic soul sample to match his call to action. "I love myself" is a message that couldn't have come at a more important time for black youth, and all those marginalized by the unjust powers that be. "I" proves that Kendrick is ready to change the world. -- RK
Sia has written for many of pop's biggest stars, but "Chandelier" finally gives her the opportunity shine like she deserves. A semi-insight into her own life examining the dangers of unchecked drinking and partying, there is a certain intensity to Sia that sets her apart from her many peers. "Chandelier" also features one of the most intriguing vocal progressions of the year in its chorus, a line that will be stuck in our head for years to come. -- RK
8. "Can't Do Without You" by Caribou
The first single from Caribou's sixth album is a postponed present. Ninety seconds in, the entire song morphs from a slow beating ballad into a psychedelic dance track before transforming again into a completely elated, thrashing surprise. -- JG
7. "Never Catch Me" by Flying Lotus ft. Kendrick Lamar
Beside Kendrick Lamar proving that he is capable of surfing the most un-rappable of beats, "Never Catch Me" is one of the most electrifying instrumentals of 2014. The song opens with a jazzy groove as Lamar calmly croons "I can see the darkness in me and it's quite amazing / Life and death is no mystery and I wanna taste it." Then, with little warning, the song breaks into a light-speed, laser-filled bass solo that has listener's asking, "Did I eat mushrooms earlier?" -- RK
6. "Turn Down For What" by DJ Snake and Lil Jon
Make way for the turn up song of the year. Though it came out last December, Lil Jon and DJ Snake's masterpiece became the anthem to frat parties, club life, your office's holiday party and, uh, the internet. In a horrible year for news, "Turn Down For What" was the song we needed to collectively say, "Ughhhhhhh." -- JG
5. "17 New Years" by Polyenso
Polyenso might be the most promising rising act in music today. "17 New Years" is nothing short of a perfect blend of R&B, indie and pop, and its chorus has listener's singing along before they finish their first play through. Feeling as refreshing as it does familiar, "17 New Years" proves that, even at such a young age, Polyenso wants to consistently experiment and take risks. But more importantly it proves that their evolution is on the right course. -- RK
4. "0 to 100/The Catch Up" by Drake
Very few phrases were uttered as often as "Zero to one hundred, real quick" was in 2014. Even without releasing an album, Drake managed to come out on top of hip-hop in 2014, and "0 to 100" shows him at his best. Mixing boasts like Stephen Curry comparisons in his ever-growing tone of confidence with self-examinations like "know yourself, know your worth." And to top it all off, the song's beat is so hot, that Diddy was willing to fight months after its release. -- RK
3. "Tuesday" by ILoveMakonnen Ft. Drake
Has there ever been a song that made you love a random weekday this much? Of course not, but there's more to Makonnen than this breakout song about getting effed up on a Tuesday. The Atlanta-based rapper rose to fame and earned a Grammy nod within six months, and this isn't even the best track on his EP, "I Love Makonnen." The club went up and Makonnen's still rising. -- JG
2. "Two Weeks" by FKA Twigs
The first single from Twigs' stellar debut album, "LP1," "Two Weeks" is a perfect combination of sexy and weird. No one else has brought us lyrics like this -- "Feel your body closin', I can rip it open/ Suck me up, I'm healin' for the shit you're dealin'" -- with a beat that makes us wish we could dance like the star delivering its message. She's made her self vulnerable, and we're grateful. -- JG
1. "Close Your Eyes (And Count To Fuck)" by Run The Jewels
Run The Jewels is at its most merciless on "Close Your Eyes (And Count To Fuck)," leaving no chambers unloaded on the corrupt politicians, manipulative clergy, prison profiteers, money-sucking corporations. Trading vicious line after line, Killer Mike and El-P demonstrate in full that no one is as lyrically adroit and pissed off as them, while Zach De La Rocha provides his most blazing verse in recent years, closing out the track with an unmistakable declaration of war, "The only thing that close quicker than our caskets be the factories." Run The Jewels has had enough of these "dog-fuck political agendas," and with a "grin and a gun," they are ready to give the "slavers of men and women" in this world a hearty serving of their "anarchist's cookbook." -- RK
Listen to the songs here:
Calling all HuffPost superfans!
Sign up for membership to become a founding member and help shape HuffPost's next chapter
BEFORE YOU GO
PHOTO GALLERY
HuffPost's Best Albums Of 2014