Fried chicken may not be the best option for our waistlines, but when your tastes buds are crying tears of joy (read: you're drooling), calorie intake is just a brief and fleeting afterthought.
That's why it's important to find comfort food everywhere, especially outside of typical Southern eatery destinations.
We've partnered with Buick to bring you the best Southern restaurants you won't find south of the Mason-Dixon line (and one that you will) to keep your chewing muscles strong, your stomach full and your emotional state extremely satisfied.
Portland, Oregon: Screen Door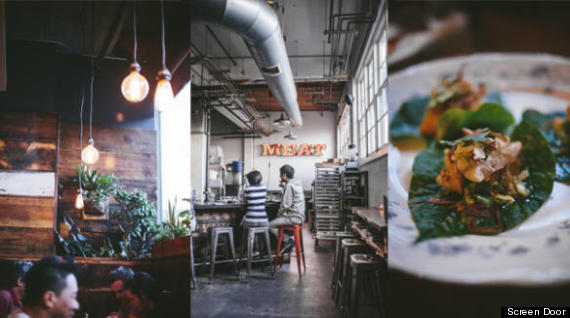 Flannel, sarcasm, Fred Armisen -- these are all things we'd expect to find in Portland. But Southern food? Not so much. Thankfully, Screen Door offers Southern cuisine as experienced by Southern natives -- AKA, all of the good stuff. Serving local and organic produce and meats, Screen Door's menu runs the gamut from South Carolina lowcountry cuisine, to soul food, to refined Creole and French plates found in New Orleans. The local, hipster spin is evident in their buttermilk drop biscuits, featuring vegetarian mushroom country gravy and two (we're assuming free-range) eggs.
New Milford, Connecticut: The Cookhouse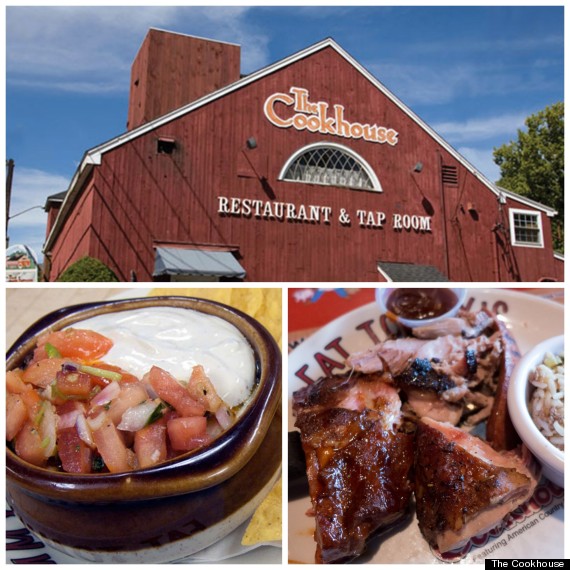 One of the most popular menu items anywhere in New England is clam chowder, but The Cookhouse in New Milford, Connecticut, has a different signature soup: cookhouse chili! The "spectacular crock" is filled with beef and pork BBQ trimmings, topped with pepper jack cheese, fresh salsa, lime sour cream and fresh tortilla chips. Uh, yum. The menu includes a chicken fried steak, a juicy cube steak battered and fried with cream gravy and two sides. One Yelp reviewer praises Cookhouse as, "hands down the BEST BBQ I have ever had...and I lived in Texas for 9 years!" We're convinced.
Atlanta, Georgia: One Flew South


Airports are typically known for being a hub of flight delays, lost luggage claims and disgruntled passengers -- essentially, chaos. However, the Hartsfield-Jackson Atlanta International Airport is home to something much sweeter: exceptionally great Southern cuisine. One Flew South, the airport's first-ever upscale dining experience, has a menu stocked with ingredients from regional producers and a brilliant to-go menu that allows guests in a time crunch to enjoy their meal. Schedule your next trip with a layover in Atlanta and treat yourself to a thyme-roasted pork belly or 'OFS' dirty south: an open-faced meatloaf sandwich with pimento cheese, sauteed spinach, bacon, BBQ sauce and a fried egg.
San Diego, California: The Tractor Room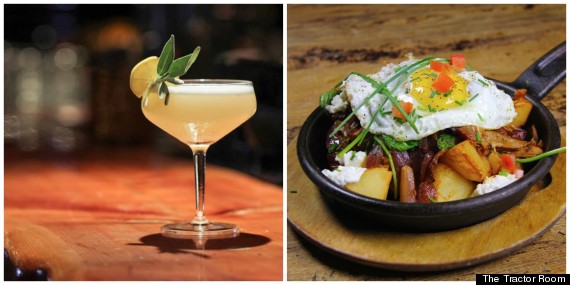 While exploring San Diego, see if you can drag yourself out of your margarita-and-taco bender long enough to try the beach town's best-kept secret: honest cocktails and meats! The Tractor Room specializes in bourbon, scotch and rye cocktails along with meat like elk ravioli with a barbecue demi-glace. For brunch, there's the lamb belly hash with eggs, sunny side up. Elena Rosemond-Hoerr, the woman behind Southern-style food blog Biscuits and Such, says that Southern food outside of the South usually disappoints, but her brunch at The Tractor Room proved the opposite. She claims their fried chicken eggs Benedict and bloody marys were "life-changing."
Syracuse, New York: Dinosaur Bar-b-que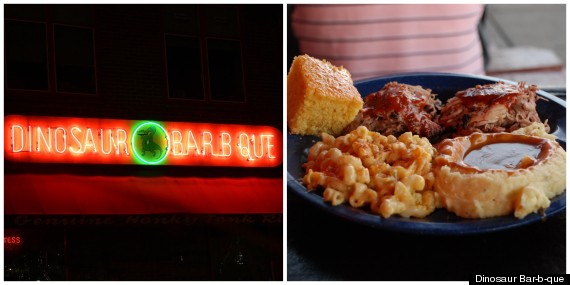 Central New York is home to lots of craft breweries, a "Game of Thrones"-level cold winter season and the original Dinosaur Bar-B-Que. The now-popular franchise that introduced New York-style barbecue to the national scene opened the doors of its original establishment in 1988, serving a menu of straight-up BBQ before expanding into a full bar in 1991. Featuring 21 beers on tap, the menu boasts fried green tomatoes, jumbo BBQ chicken wings and west Texas ribeye. What do Yelp users say? "In a world of uncertainty, Dino is a bastion of reliabilty [sic.] and eternal awesomeness."
Chicago, Illinois: Smoque BBQ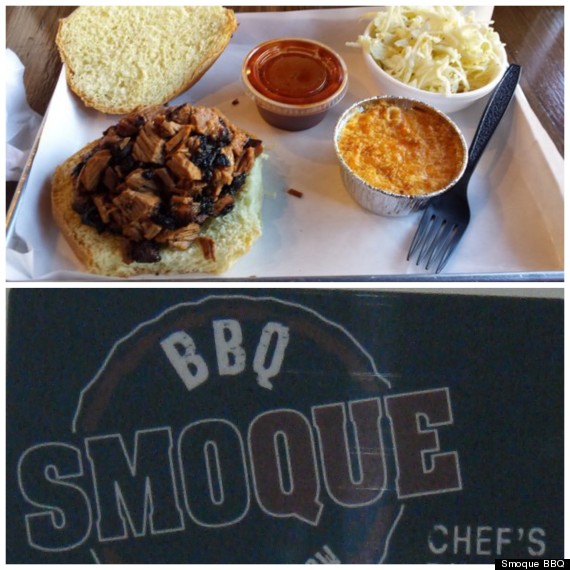 Everyone knows that deep-dish pizza and hot dogs are must-haves when paying Chicago a visit. But while you're there, you can also seek refuge from the high-octane winds at Smoque BBQ, a neighborhood BBQ joint that gets a near-perfect, 4.5 star rating on Yelp. Order the chopped brisket sandwich with a side of macaroni and cheese (pictured above) or their spicy Texas sausage, which the menu boasts is "unlike any other hot link in Chicago."
Nashville, Tennessee: Swett's Restaurant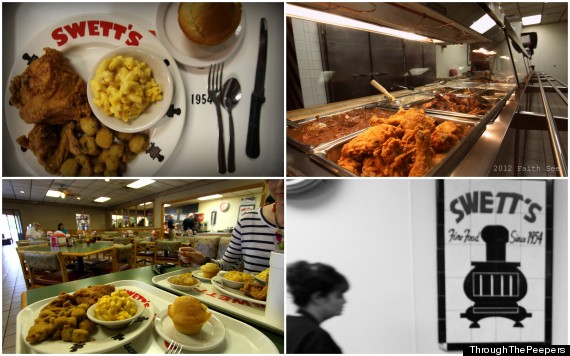 Phillip Fryman, foodie blogger behind SouthernFATTY.com, is outing Swett's Restaurant. Despite being smack-dab in the middle of Mouth-Watering Southern Food USA (er, Nashville, Tennessee), Fryman says Swett's is a local secret hot spot -- well, until now. The cafeteria-style venue has two locations: a small setup in Nashville International Airport, and a "sit-and-chat" version in between Centennial Park and Tennessee State University. Certainly no friend to your waistline, Swett's "vegetables" include fried apples and candied yams -- which you can pair with pulled pork, beef brisket or rib tips. Fryman promises, "You will leave happy and certainly not hungry from this hidden hole-in-the-wall!"
Okay, we know this isn't a definitive list: what'd we miss? Share your favorite southern restaurants and barbecue spots in unexpected places in the comments.
#Buick designs luxury cars inspired by the well-lived life -- and all the destinations, (food) discoveries and companions it's filled with.
Calling all HuffPost superfans!
Sign up for membership to become a founding member and help shape HuffPost's next chapter