The street art world has undergone a massive shift in the past few years, with famous figures like Banksy and Shepard Fairey elevating the medium to mainstream consciousness. What was once a clandestine act of art vandalism is now, more often, a celebrated form of public art, popping up in major metropolises across the globe. "Street art and graffiti is ephemeral, transitory, a moment in time," the experts at Brooklyn Street Art assert, emphasizing the contemporary allure of graffiti and street art.
With summer upon us, and months of travel opportunities on the horizon, we've put together a guide of the top cities around the world that prove street art is indeed a thing to be celebrated. From Brazil to France to Taiwan, these urban centers play home to works by street art stars like Nunca, Blu and the late P183. So if you're in the mood for a cross-continental trip, these are the 26 cities you need to add to your travel bucket list now.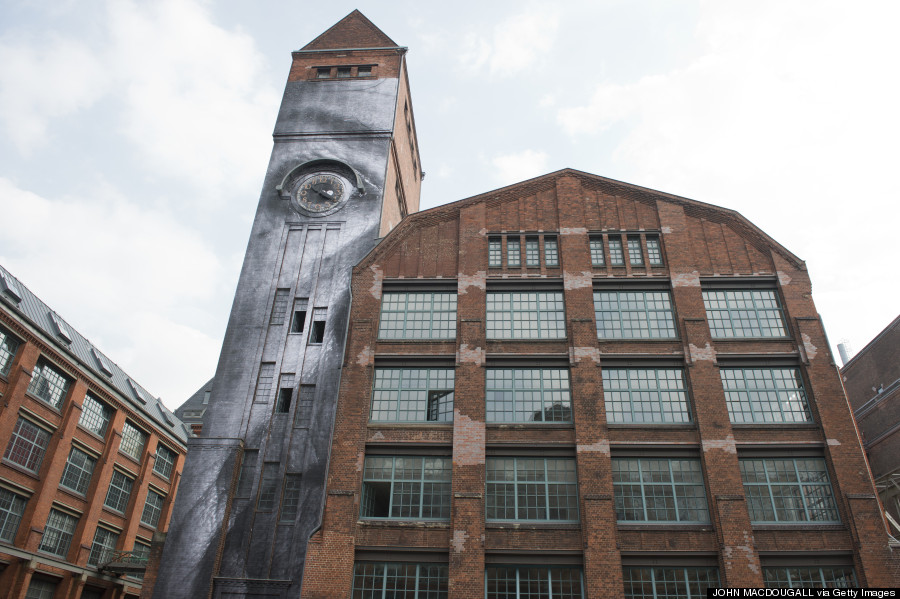 A street artwork by JR is pictured in Berlin on April 16, 2013.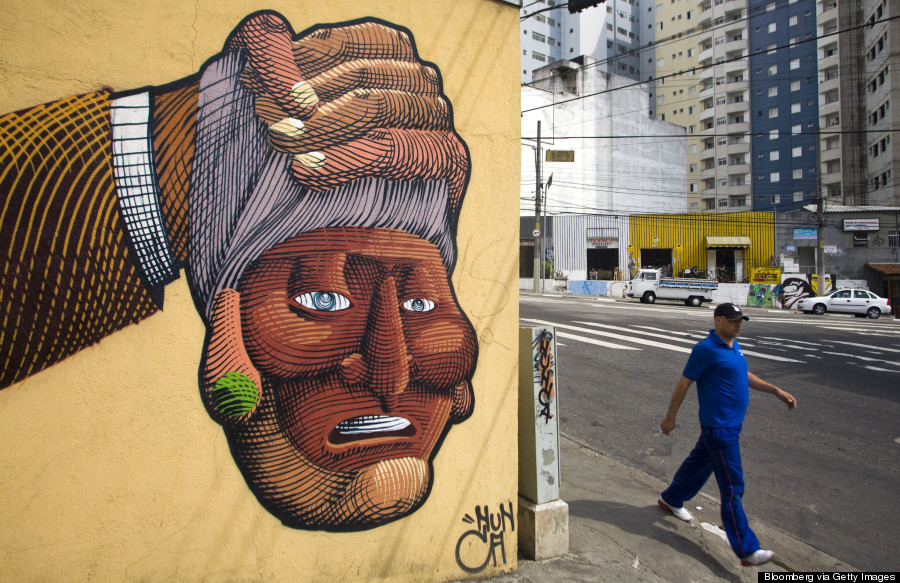 A mural by Francisco Rodrigues da Silva, known as Nunca, in the Liberdade neighborhood of Sao Paulo, Brazil, on Thursday, Aug. 7, 2008.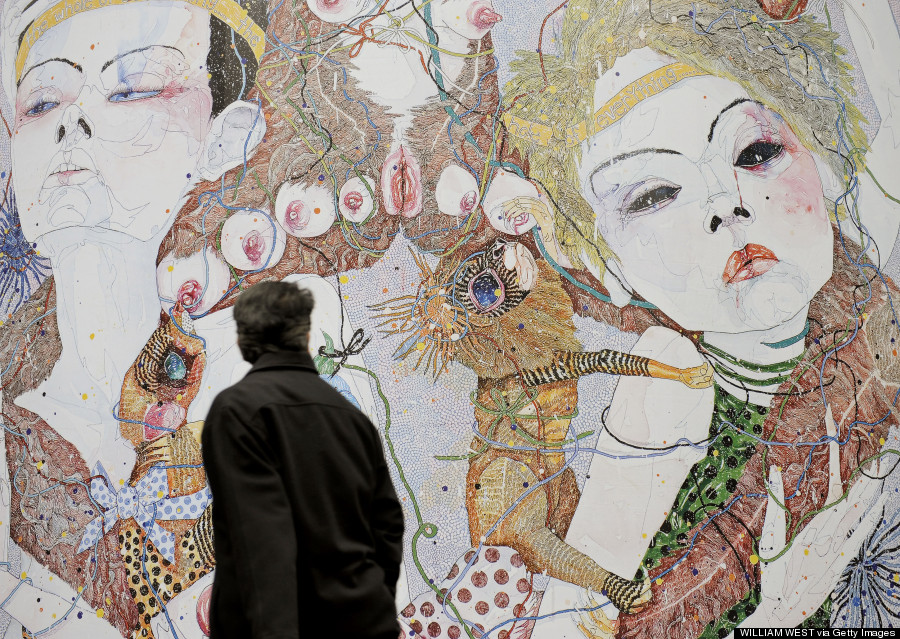 A mural by Del Kathryn Barton, tilted "The Whole of Everything," which adorns the side of an apartment block in central Melbourne, on July 8, 2008.
4. Cape Town, South Africa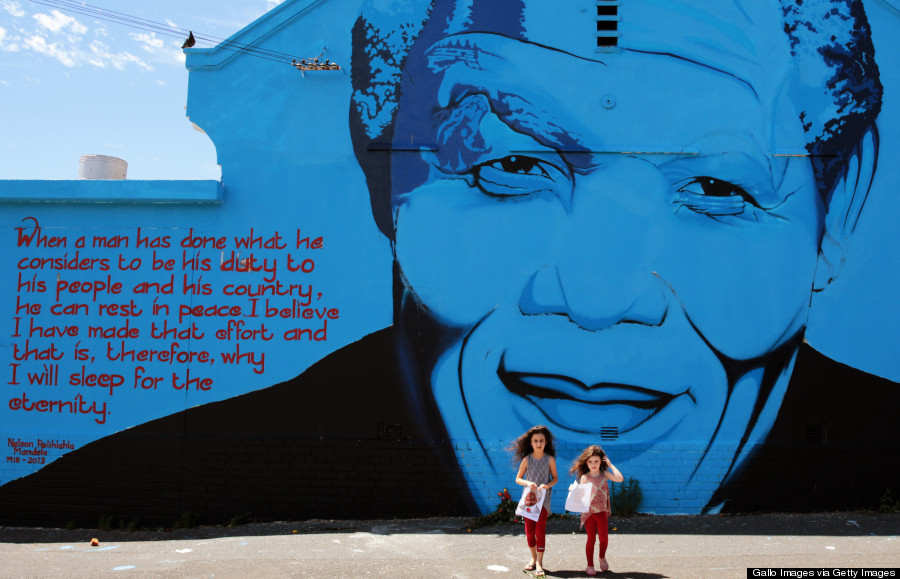 A mural of Nelson Mandela by graffiti artist Mak1One on December 7, 2013 in Cape Town, South Africa. Graffiti with a sign reading "Give to get a ticket home" made by the late Russian street artist Pasha P183 in a street in Moscow, Russia on Wednesday, April 3, 2013.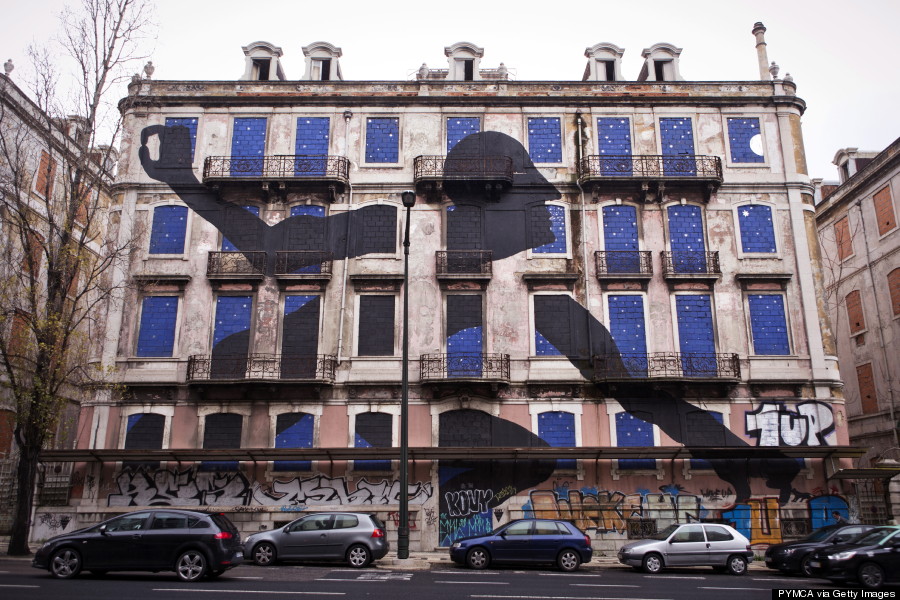 A mural by Sam3 created during the Crono Project in Lisbon, Portugal in 2013.
7. Los Angeles, California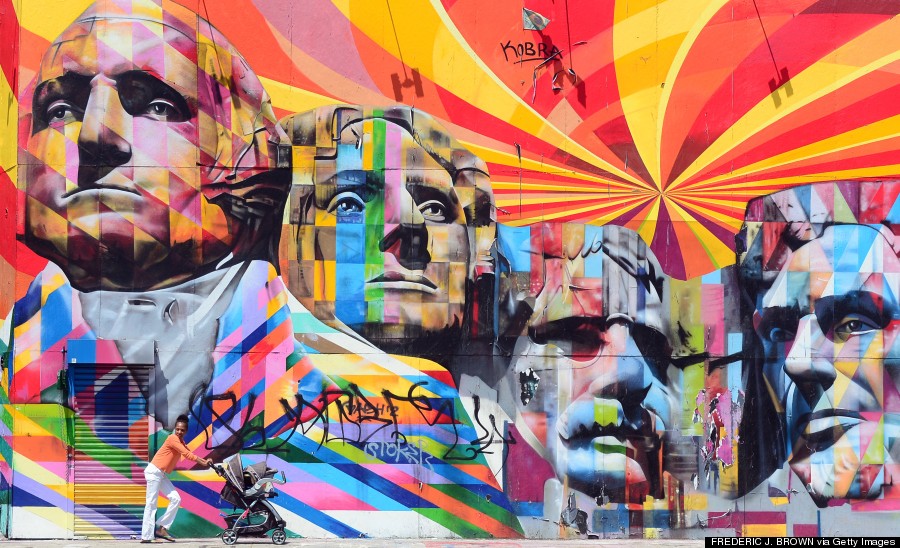 A giant mural of Mt. Rushmore by Brazilian street artist Eduardo Kobra on La Brea Avenue in Los Angeles on August 20, 2013 in California.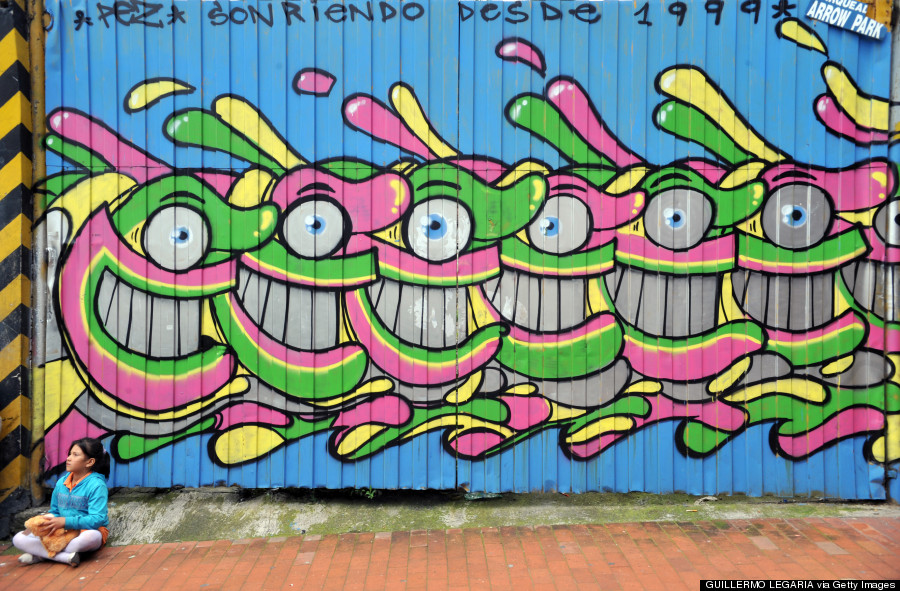 A graffiti wall painted by El Pez in Bogota, Colombia on July 9, 2010.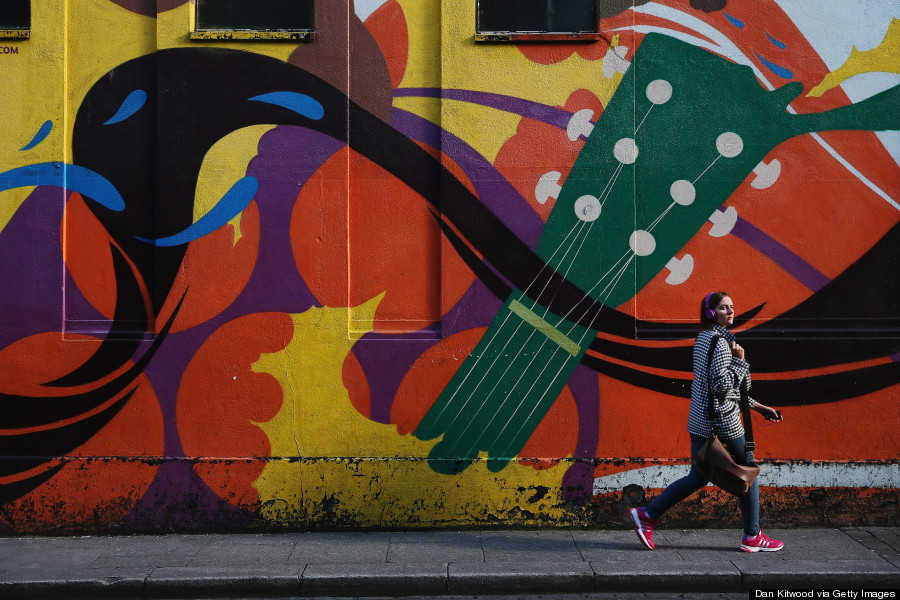 A mural in the Temple Bar area on October 23, 2013 in Dublin, Ireland.
10. London, United Kingdom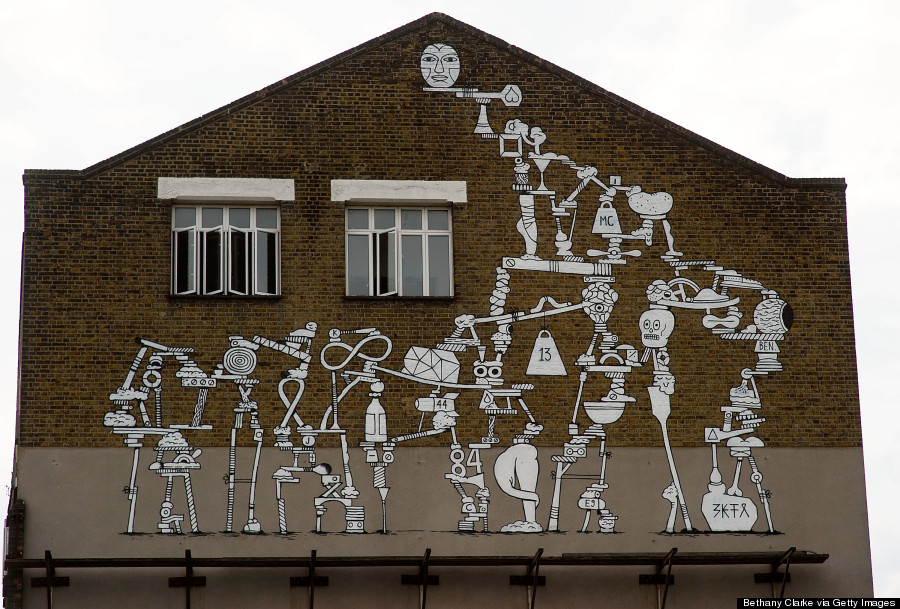 Street art by Ekta Ekta on the side of The White building, along the River Lea Navigation at Olympic Stadium on August 7, 2013 in London, England.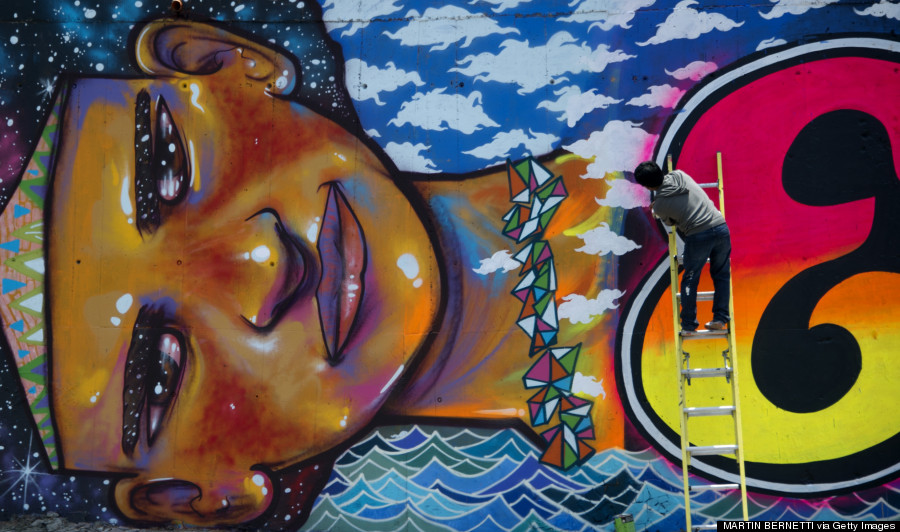 An artist works on a graffiti piece on the banks of the Mapocho river for the first festival of urban intervention, Home-made, in Santiago, on November 21, 2012.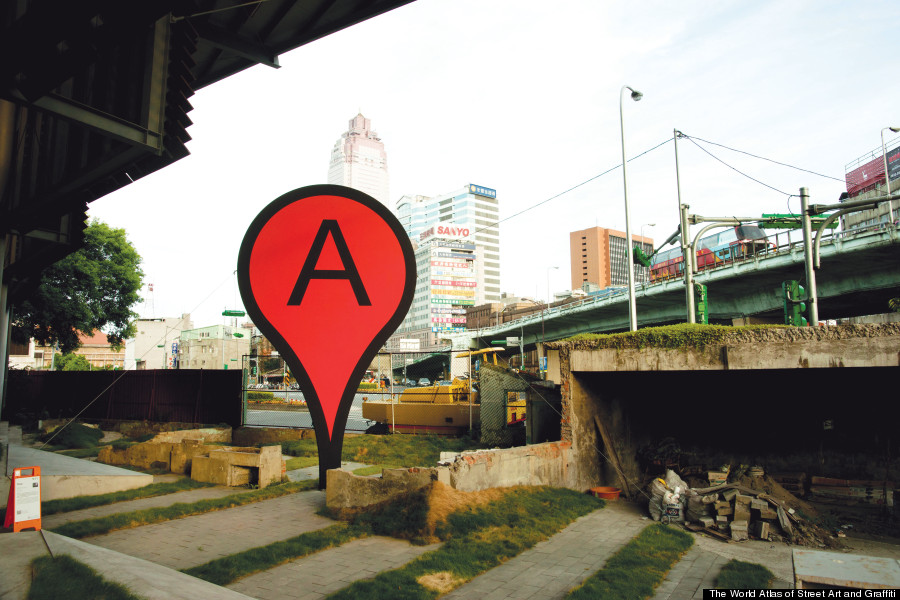 Street artwork by Aram Bartholl in Taipei, Taiwan.
13. Bristol, United Kingdom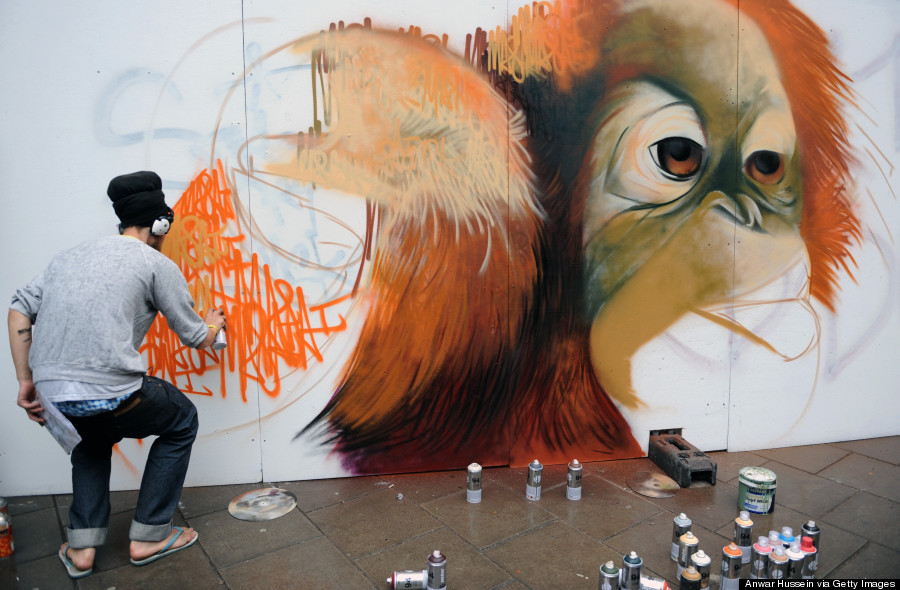 A graffiti artist puts the finishing touches to his painting for the "See No Evil" street art project in Nelson Street on August 20, 2011 in Bristol, England.
14. New York City, New York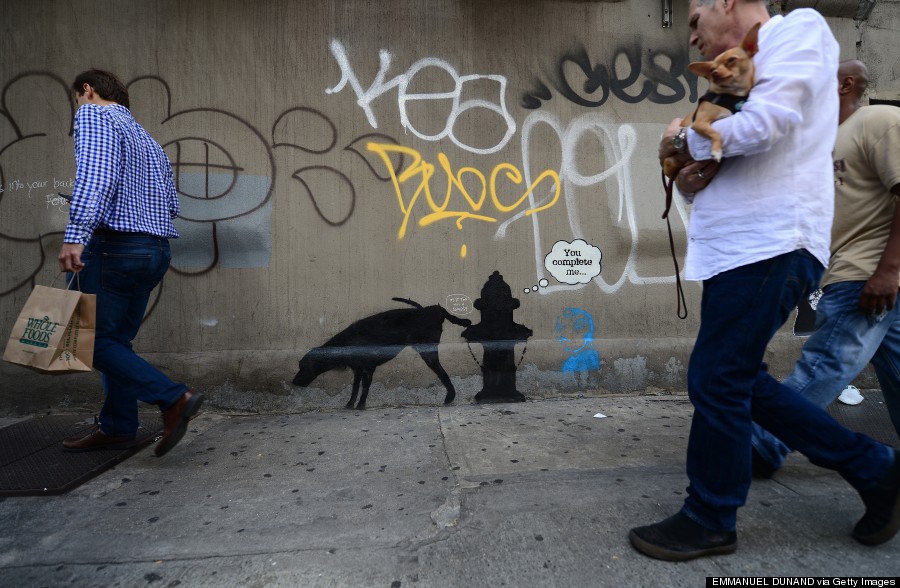 People walk by a street art graffiti by elusive British artist Banksy, as part of his month-long "Better Out Than In exhibit" in New York, October 3, 2013.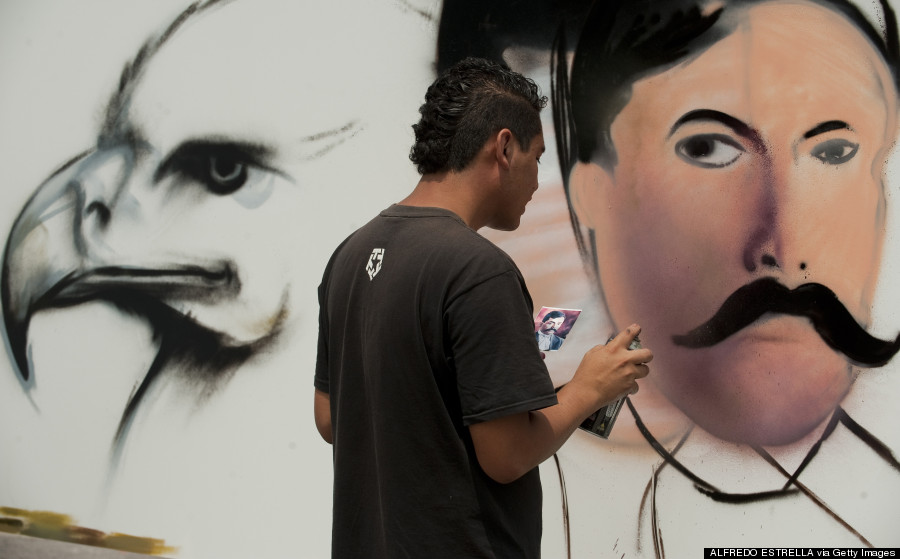 An artist works on his graffiti painting of Mexican Revolutionary hero Emiliano Zapata, during the "Independence Bicentenary and Revolution Centenary" contest, organized by local authorities, in Mexico City, on September 11, 2010.
16. Prague, Czech Republic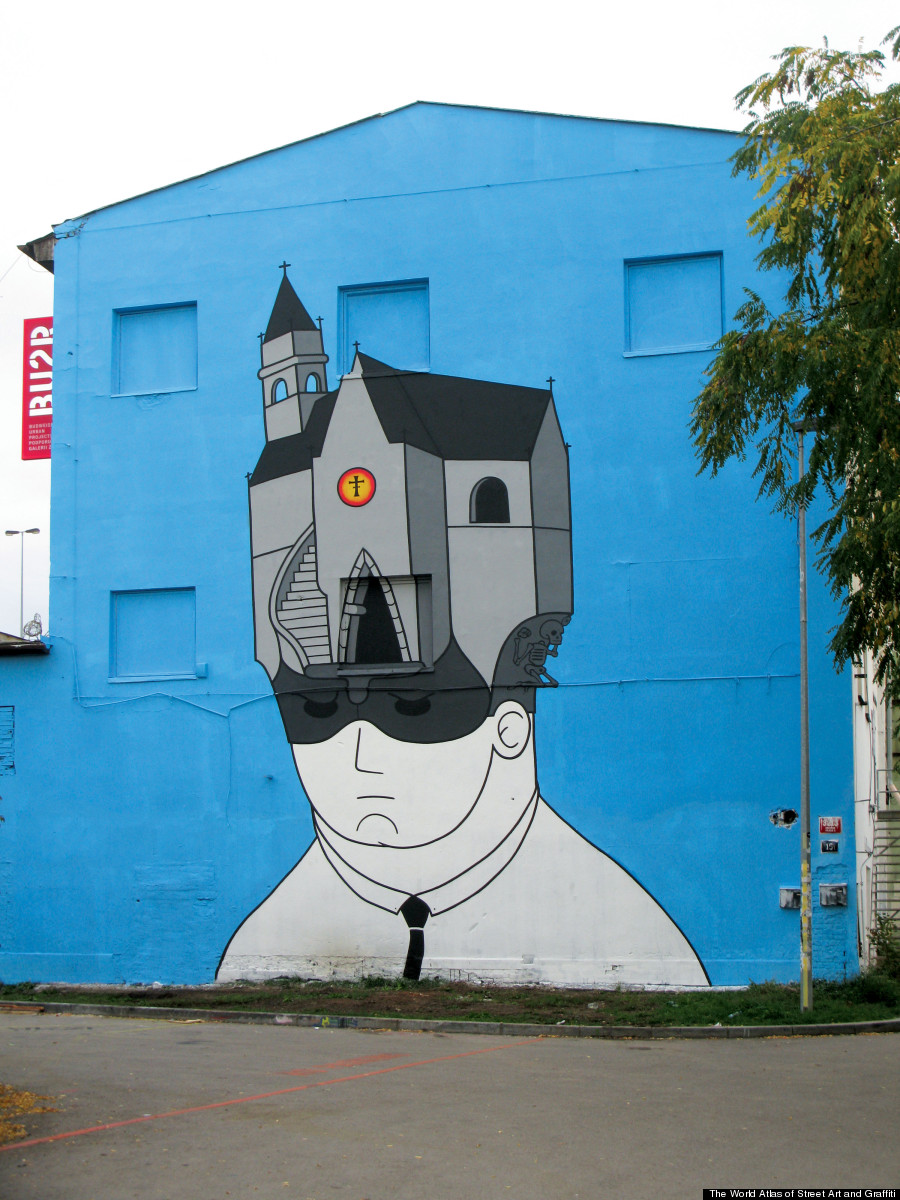 Mural by Honet in Prague.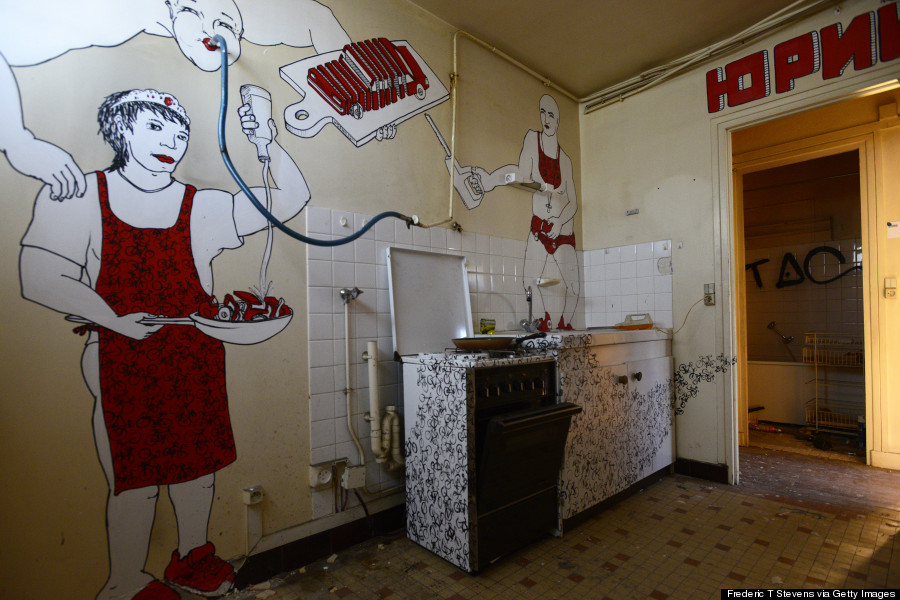 A general view of 'La Tour 13', a street art building demolished earlier this year.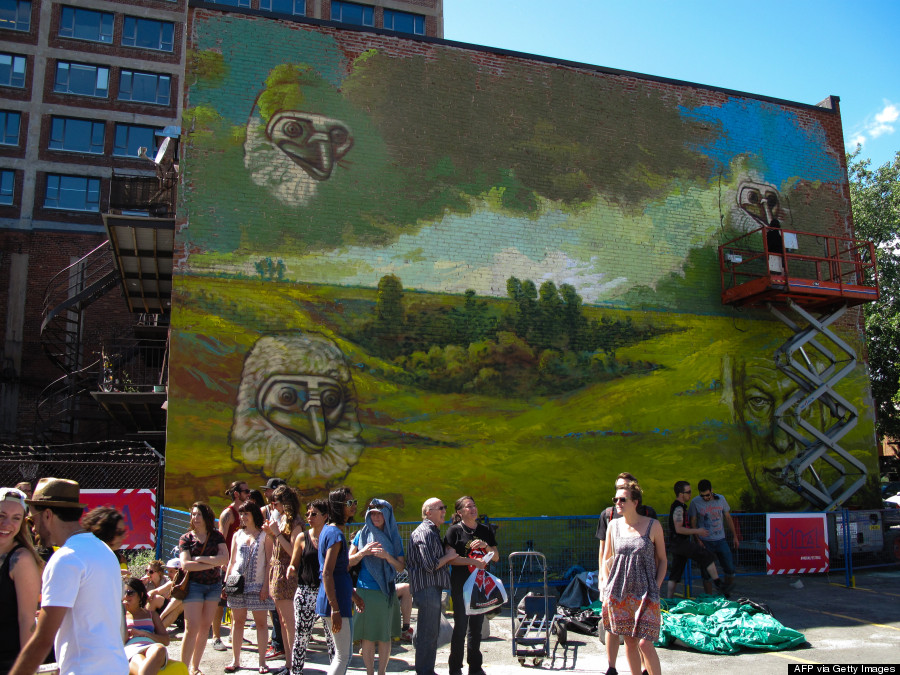 A mural in progress is seen on the side of a building during the Mural Festival on June 6, 2013 in Montreal, Canada.
19. Buenos Aires, Argentina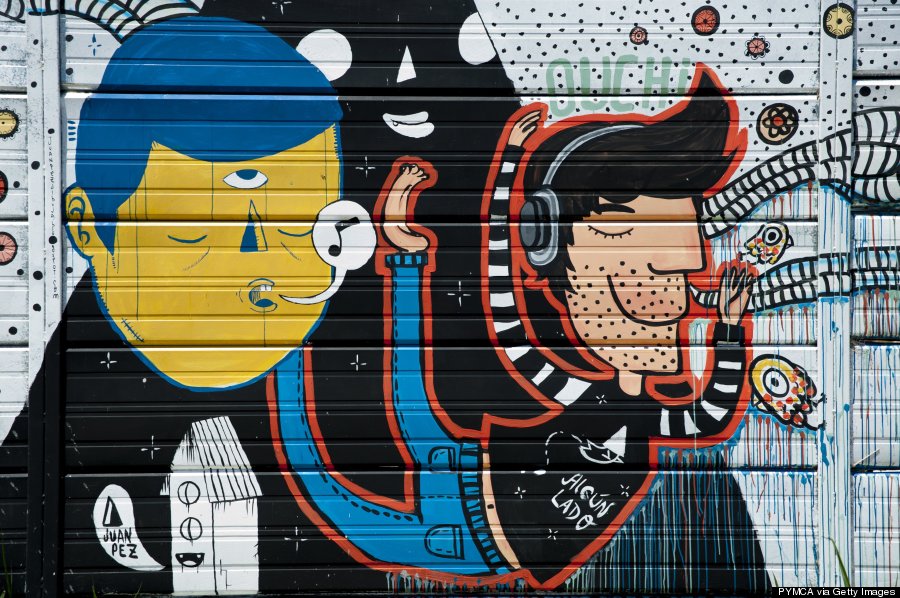 Street Art in Puerto Madero, Buenos Aires in June 2011.
20. Philadelphia, Pennsylvania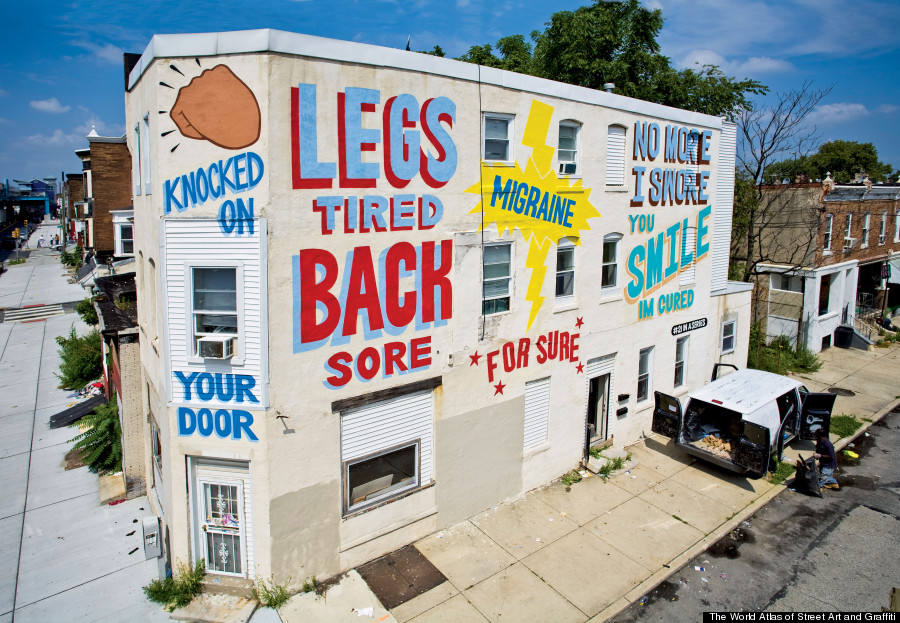 Artwork by Espo in Philadelphia.
21. Quintanar de la Orden, Spain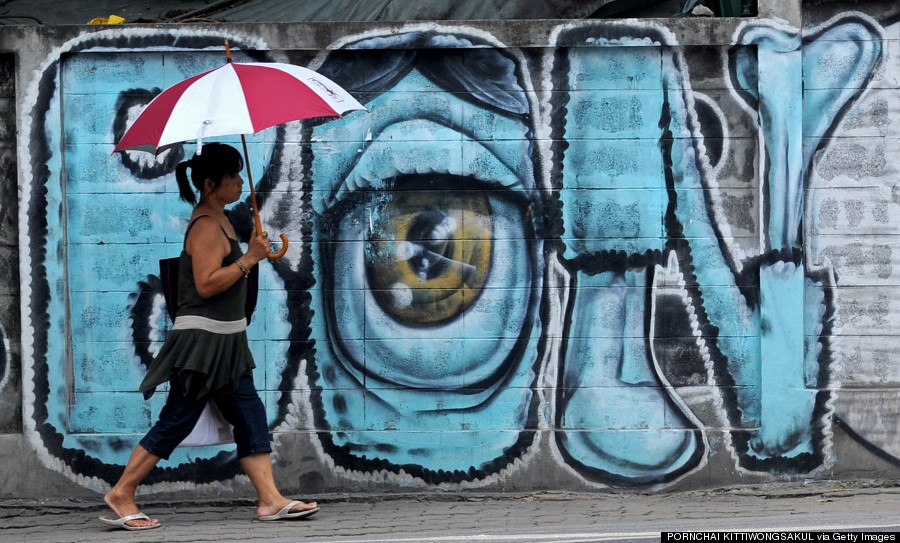 Graffiti paintings in Bangkok on July 14, 2010.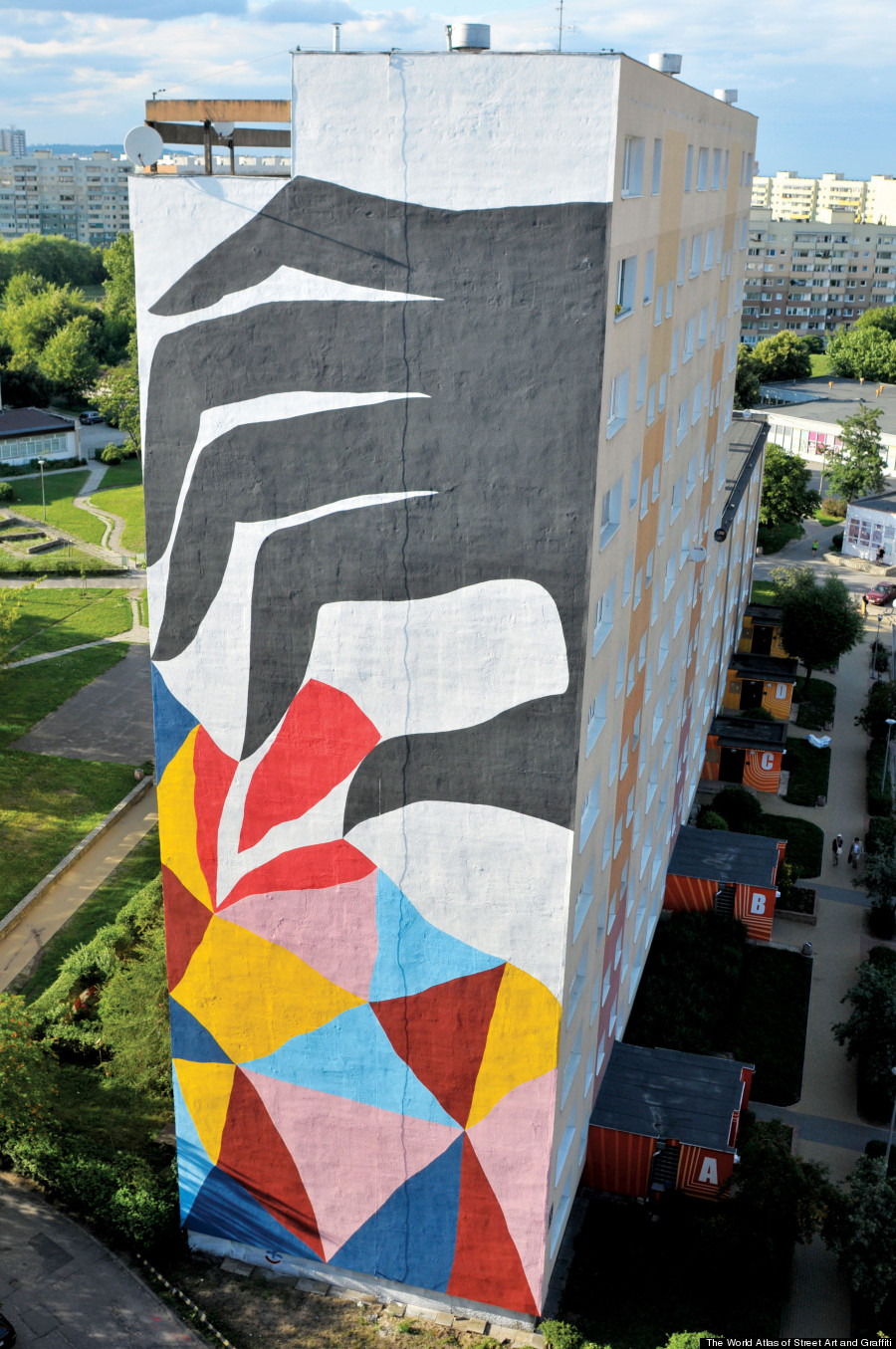 Mural by Etka in Gdansk, Poland.
24. Rio de Janeiro, Brazil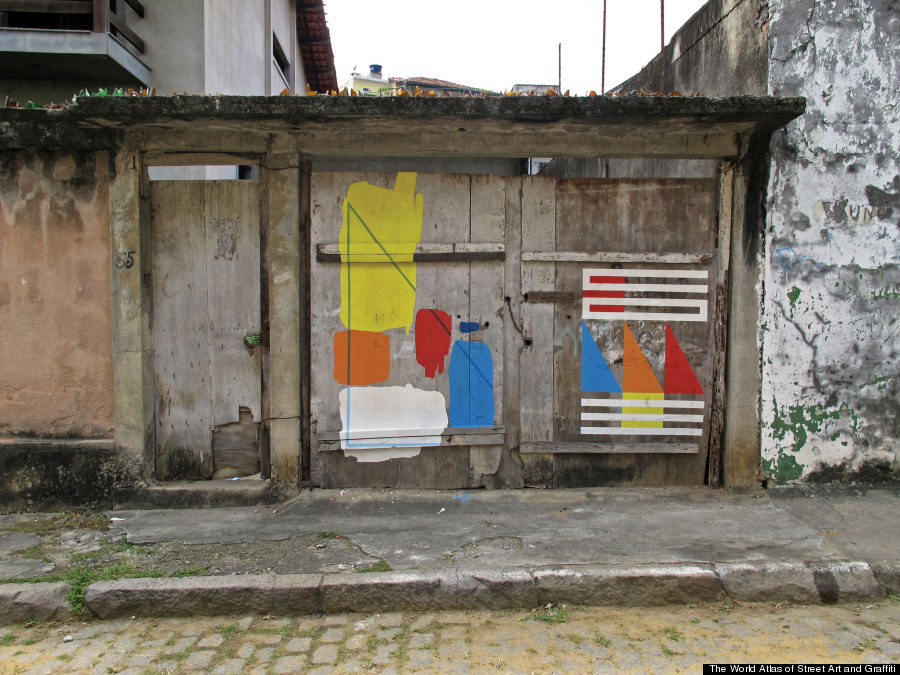 Street artwork by MOMO and Eltono in Rio de Janeiro.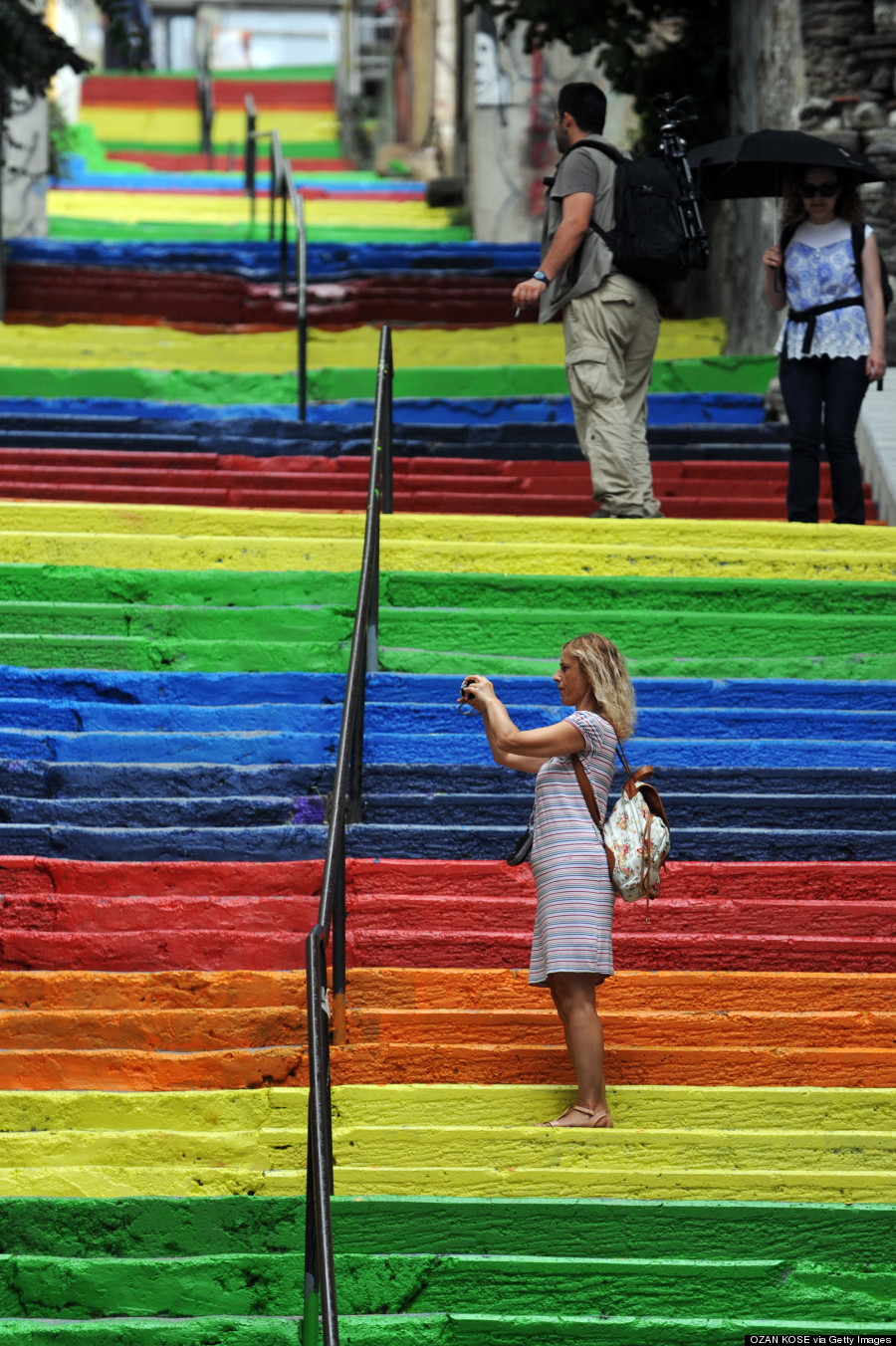 Rainbow-colored stairs in Istanbul painted by a local man in 2013.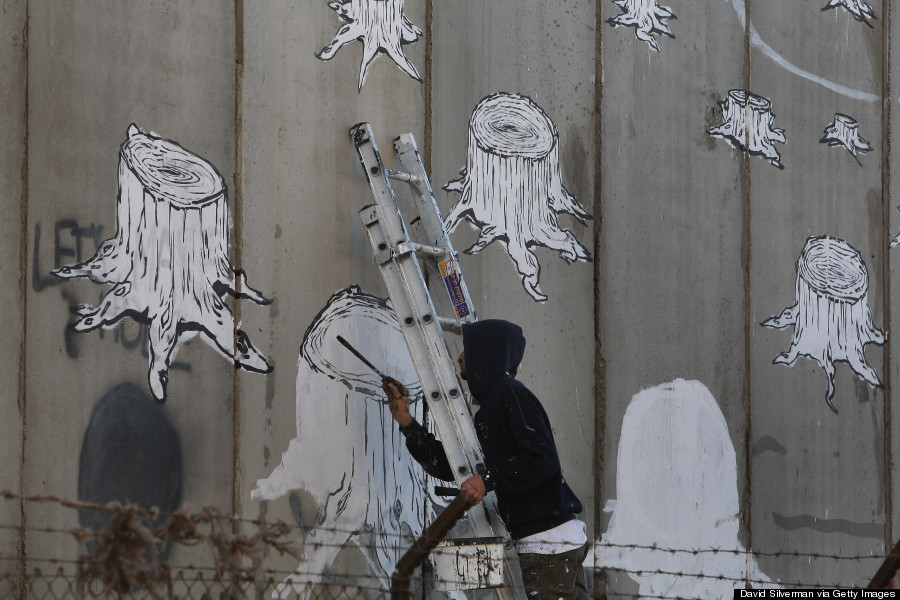 The Italian street artist Blu paints graffiti on Israel's separation barrier on December 5, 2007.
Support HuffPost
The Stakes Have Never Been Higher
Related
Popular in the Community