Ever since I can remember, my mother has drilled into me how important it is to take care of your skin. I remember being seven years old and her scolding me for being too lazy to put lotion on my skin after I got out of the shower. "You're going to have dry skin. Gross!" she would chastise.
Then, once I got into my preteen years, it was all about the sunscreen. "My biggest regret is not wearing sunscreen when I was a kid and look at all the freckles I have," my mother would warn.
I remember one time going to the tanning salon and getting an hour-long lecture about how foolish I was to purposely burn my skin. I shrugged her off.
But as I got older, I started realizing her point. I look at my mom's skin and I can finally understand why she is so adamant about always slathering on the SPF: Her face looks amazing. My mother's face looks like it belongs to a just-turned 40-year-old woman. She's 57 years old. She's also Chinese. So... not fair.
Now that I am in my early twenties, I make sure that I never leave the house without putting sunscreen on. It's the one beauty product that I don't mind splurging on. After all, the facts remain that wearing sunscreen will not only help you look younger, but will also help prevent skin cancer. I mean, the sun is a blaring hot star shining down on us every single day (yes, even when it's cloudy). Its rays will kill you, if you let it.
Because I don't want it to kill me, I have tested out many sunscreens in the past years -- which is why I've become a self-declared expert on sunblock. After extensive experience with SPF, here are my requirements for a good sunscreen:
1. It must be more of a "moisturizer that also has SPF" instead of a "sunscreen." Confession: I'm really lazy at "being a girl," meaning I don't like spending a long time primping and making myself up. I like to spend ten minutes at maximum getting my face ready for the day. (Picking an outfit, on the other hand, is a whole different story.)
I don't like the idea of putting something that is labeled exclusively as "sunscreen" on my face because I fear it may clog my pores. Also, I need a product with moisturizing elements because my face tends to get dry easily.
3. It must be oil-free. While this might not apply to everyone, I have found that whenever I try a moisturizer that isn't oil-free, I get major breakouts. Oil-free also just makes my skin feel freer and less congested.
With all those rules in mind and through much trial and error, I believe I have found what's good (and bad) about the most popular products and which ones are really worth investing in.
When I first got into my SPF obsession (back in my undergrad years of college), I didn't really feel the need to shell out money for the most expensive brands. I was happy perusing the drugstore aisles for a decent moisturizer. I also wasn't aware how important having an SPF of 30 was. The best one I found was Aveeno Positively Radiant Daily Moisturizer in SPF 15 ($16.99) (although a SPF 30 one does exist and I recommend getting that one).
It was a rarity in the drugstore world because it was oil-free. It smelled good and it blended in pretty quickly. I was also intrigued by the idea that it uses soybean seed extract, which is known to help reduce blotchiness and discoloration -- two things my Asian skin develops very easily.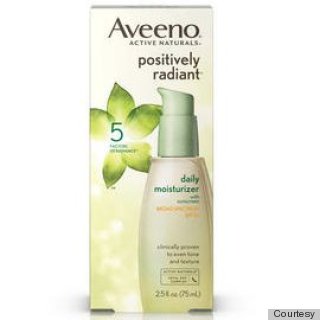 But after using Aveeno for a couple years, I started to notice that it would congeal very easily after sitting in the bottle for only a month or so. It also didn't seem like it was truly offering that great protection, and my dermatologist kept pushing me to try this higher-end brand called Murad.
I gave in and purchased the popular Sheer Lustre Day Moisture Broad Spectrum in SPF 15 ($70.00). I thought I was buying the most amazing and life-changing product -- I mean, just look at the price one more time. Well, I wasn't that impressed. Yes, it did offer a "dewy glow" like the product description said. But it was also really shimmery. I'm not so into sparkles, especially on my face. It just feels juvenile to me.
One "pro" of the Murad product, on the other hand, was that it was very thin and blended in quickly. But another major "con" was that it didn't provide enough sun protection, which is the most important factor in a good face moisturizer. SPF 15 just isn't enough (and Murad doesn't make a higher SPF version of this product). In the end, this product was more about making skin look good in the moment, rather than ensuring that it stays looking good in the future.
I dabbled with other high-end products that are also very popular, but found bad results. Lancome's Bienfait Multi-Vital SPF 30 ($45.00) sounded really promising, and the allure of vitamins mhad me thinking it was packed with added benefit that would make my skin look great. Well, just a little warning: This moisturizer is super oily -- so oily that after two weeks of use, I was breaking out so badly I felt like I was back in middle school. Every time I would put it on, my skin would feel like it was oozing oil all day... pretty gross.
After that unfortunate encounter, I swiftly made up my mind that I would never use a moisturizer that had any oil in it. I went to Sephora and ended up trying all the most popular oil-free sunscreens.

The first one was Ole Henriksen's Protect The Truth Vitamin C SPF 50+ Sunscreen ($35.00). I was skeptical because this was labeled "sunscreen" and not "moisturizer," making me nervous that it would reek like a typical sunscreen. But the high-SPF level intrigued me and the bottle just looked really enticing and welcoming (I'm a sucker for packaging).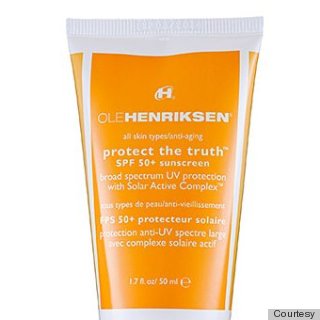 But after using the product, my doubts were confirmed. I loved the fresh, citrusy smell, but once I started applying it, it took quite a long time for it to feel like it was blended in. It was so thick, with the consistency of real sunscreen. My face felt heavy every day I used it.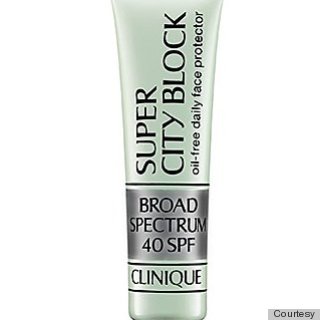 I opened up the bottle and the lotion was tan. I was put off because it seemed like the coloring would do weird things to my skin. Plus, the smell was a little strange, with the faint odor of chemicals. Once I applied the lotion, it took quite a while to blend in -- it felt heavy and matte-like. The whole time I was using it I broke out mildly, and I have a strong suspicion that even though the product description says it's oil-free, it really isn't (or there are some other chemicals in this that made my skin go crazy).
I decided that I should try to find a new one that was less thick and heavy. I settled on Clarin's UV Plus HP Day Screen High Protection SPF 40 ($40.00). It was a major relief to be using a product that was really thin and blended in very fast. It also smelled amazing, like a fresh batch of flowers! But again, throughout the day, my skin remained extra oily and it just felt like I was wearing sunscreen. I didn't like that feeling. However, if you find it really important to wear a very high SPF (even higher than 30), this is probably your best bet.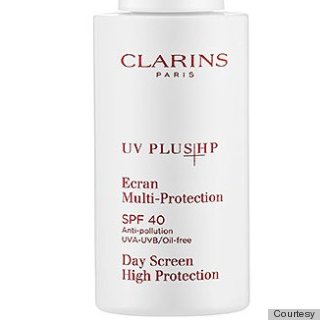 After constantly feeling unsatisfied with pricey products that felt like glorified sunscreen, I thought it would be best to lower my expectations with the SPF level, and focus more on a product that felt more like a moisturizer.
So I walked into Sephora for the millionth time, feeling a little dejected, and there it was: Philosophy's Hope Oil-Free SPF 30 Moisturizer ($40.00). The description on the packaging alone made me believe in it. It said: "fast-absorbing," multiple antioxidants," and "invisible matte finish that suits all complexions."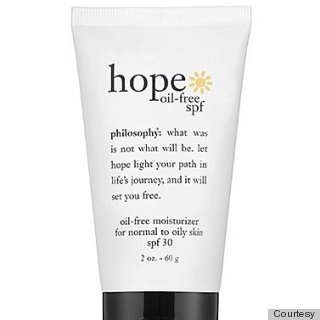 So did the actual product live up to its alluring advertisement? I am happy to report that it definitely did. It smells neutral and, while it comes out thick, it blends in to leave a great matte finish that feels super lightweight; but I also feel like I am getting extreme sun protection. It also balances out the oils in my face perfectly and leaves my skin feeling smooth and dewy the whole day long -- even with such a high SPF count! I actually look forward to putting this on every morning.
After countless promises and false advertisements with products that just couldn't live up to my expectations, I finally found a winner. I never thought the day would come. Philosophy really did give me "hope." I think I am in love with this moisturizer.
Here's some more sunscreens to look into for the summer: