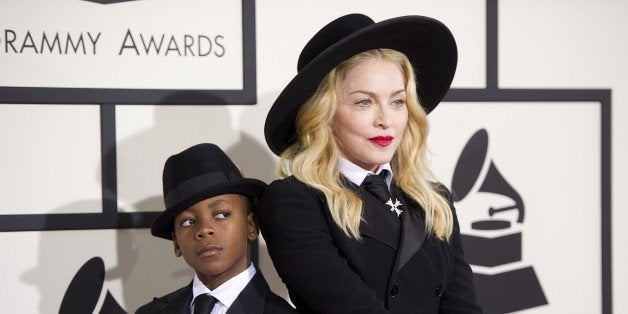 Here at Huff/Post50, we're fully aware that plenty of great things can happen late in the game -- everything from falling in love, to reinventing your career to, yes, even experiencing the joys of motherhood. In fact, we believe that motherhood at an older age can be just as sweet, if not sweeter, than having children early on, and we have the mothers to prove it!
Our own senior writer Ann Brenoff became a mother after age 50. "I brought my daughter home on my 53rd birthday and my son two years later," Brenoff says. "You are never too old to love a child -- and frankly, they have kept me young." Even post-50 celebrities like Sandra Bullock, Madonna and Kelly Preston are experiencing the joys of mothering young children. We asked our Facebook readers what they love best about being mothers later in life. Here's why they say motherhood only gets better with age:
1. You're wiser and more mature.
After a lifetime of hard knocks and many lessons learned, older moms have the life experience necessary to put things in perspective. "The wisdom in making decisions for my children is there," said reader Kimberly Agnew Dickey.
2. You've lived your single life to the fullest so now you can give motherhood your all.
We applaud younger moms who balance parenting with careers, social lives and their own ambitions, but we also can see the upside of waiting to start a family. Many older moms voiced happiness over not having to pick their kids over their careers or vice versa. "I lived my life and have no regrets," said Andrea Rosenberg Johnson. Other readers said having children later in their careers gave them more time to spend with the kids and also more flexibility, now that they are no longer climbing their way up.
3. People think you're younger than you really are.
Admit it, moms. It's nice when people calculate your age based on your kid's age.
4. You're more patient.
It's true what they say. Being a mother is really the hardest job in the world and a little extra patience can go a long way. "Personally, I was better prepared to be a mom than I would have been at a younger age," said Lea Buckley Davis. Several of our readers said that age had only made them more relaxed as well as calm enough to deal with the stresses of parenting.
5. The kids keep you young.
OK, so you may have had more energy in your 20s or 30s, but keeping up with the kids keeps you active both mentally and physically. "I know way more about 'young people stuff' (music, social media, etc.) than I would if I didn't have a young kid," said reader Sharon Hougham.
Happy Mother's Day to all the moms out there, young or old!
Calling all HuffPost superfans!
Sign up for membership to become a founding member and help shape HuffPost's next chapter
BEFORE YOU GO
PHOTO GALLERY
Celebs Who Got Pregnant After 40