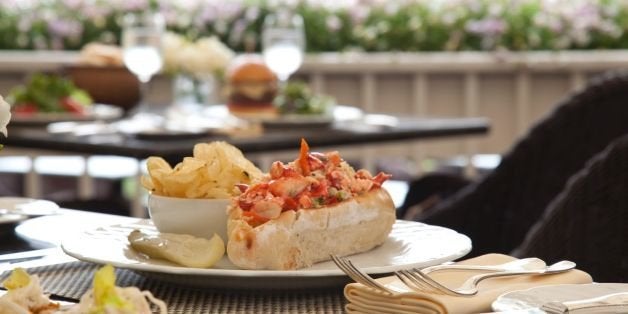 "Ant-hill in the sea," Herman Melville called it.
A mere hillock, and elbow of sand... Some gamesome wights will tell you that they have to plant weeds there... That pieces of wood in Nantucket are carried about like bits of the true cross in Rome; that people there plant toadstools before their houses, to get under the shade in summer time; that one blade of grass makes an oasis, three blades in a day's walk in a prairie.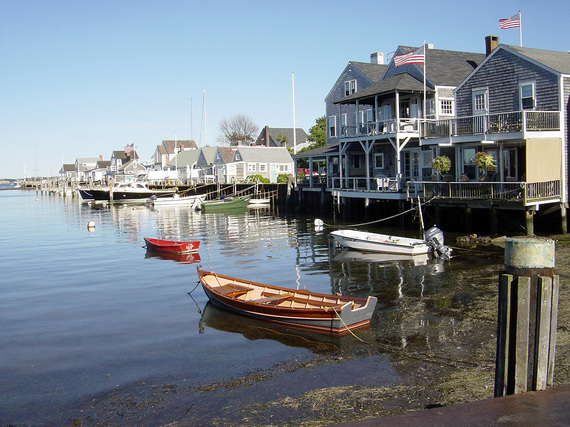 That was back in 1851. Times have certainly changed. For despite very strict landmark and preservation commissions that dictate the shape, colors and shingles of all structures and prohibit national chains from opening downtown (though somehow a Ralph Lauren boutique slipped in), Nantucket was planted and landscaped a long time ago. In summer it can be as crowded as Disneyland; in winter, as dreary as Lapland.
The best time to go is from now until November (when many hotels and restaurants close). The tourist season is still high right now, but those one-time visitors and day-trippers have slackened off.
Given the fact that Nantucket is both difficult and expensive to get to and because everything on the island is shipped in, this is a pricey destination, and as such, the entrepreneurs and restaurateurs have to make their money fast and in volume. As one told me, "During the season every night is Saturday night for us."
The most splendid resort outside of the congested downtown is The Wauwinet Inn, in its present form for 26 years, but with a history as an inn since 1875, named after a local Indian chief, this at a time when the steamship fare was 50 cents and a shore dinner 75 cents. Today owned by the Karp family, The Wauwinet is, if preciously so, the epitome of New England island elegance. And the restaurant here, Toppers, claims a consistent spot on everyone's list of favorites.
Although they were serving a "Bubble Brunch" at Toppers, I was able to avoid the clichés of that in-between meal by going straight for the tart flambé ($17) slathered with crème fraîche and piled with sweet onions, crisp lardons of bacon and a bubbly layer of Gruyère on a fine pastry crust. Also delicious was the Wauwinet turkey hash ($19), an abundance of poultry meat with two eggs, mushrooms, peppers, red bliss potatoes, a rich chicken velouté and caramelized onions. I could hardly resist trying the lobster roll ($28) on a brioche bun with Boston Bibb lettuce, pickles and the delectable addition of a brown butter mayo (below) that made it just different enough from most others. Hand-cut French fries were crisp and greaseless beside the lobster roll. Indeed, frying seems a bonafide virtue in this kitchen, for its fish and chips was so good I asked for the recipe. Start with great fish, it's tough to fail.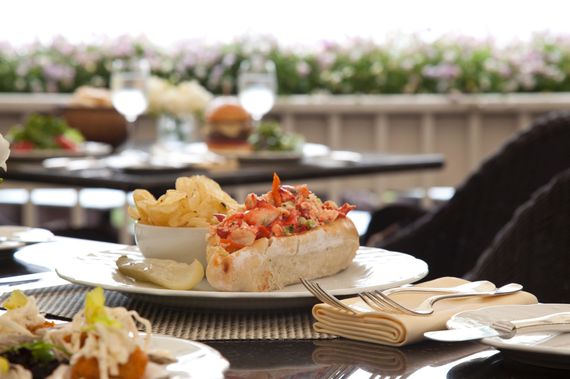 With a glass of Corton Rognet 2005 and a breeze off the water, life was very good that afternoon. The Wauwinet, by the way, has one of the finest wine lists in the nation to go with Chef Kyle Zachary's American menu.
And for dessert--though they are part of the brunch starters--have the cinnamon sugared churros fritters ($10) with a dark chocolate sauce. Then linger. The Wauwinet is located at 120 Wauwinet Rd; 508- 228-8768. Breakfast, lunch and dinner daily. Sunday brunch.
I was on Nantucket for its annual Book Festival, as a speaker, and I had the pleasure of hosting a lunch at the bright and sunny Italian restaurant Ventuno (below), owned by Gabriel Frasca and Amanda Lydon, who also run Straight Wharf Restaurant and Provisions. The name Ventuno is the number 21 in Italian, for the premises were for a long time home of the 21 Federal Restaurant. Once low-lighted and somewhat formal, the premises are now lightened up, with simple colors and furniture, black and white photography on the walls and vases of herbs on the tables.
The menu is divided into five sections: morsels, appetizers, pastas, entrées and desserts. And since this was an arranged event, the dishes kept coming fast, starting with various Italian charcuterie and cheeses, a very savory antipasto of pork and beef meatballs in a tomato sugo ($14), and fritelle chickpea fries ($5) with tomato and a touch of yogurt for brightness and creaminess. I could have gone on noshing, but there was a plate of light ricotta tortelli with green garlic, asparagus, fava beans and chanterelles ($17) to be gobbled up, and pappardelle with suckling pig, cracklings and the scent of marjoram ($17).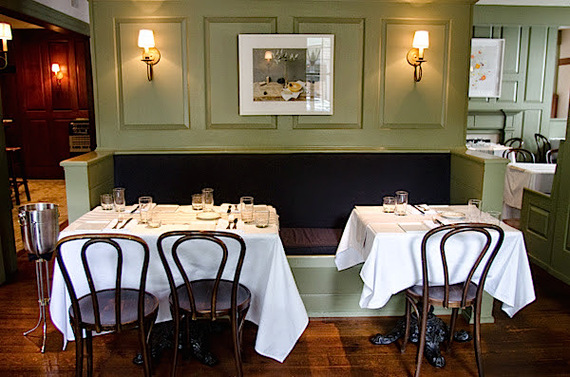 For dessert have the honey mousse ($10) with a walnut dacquoise crumble and a roasted blood orange granita, or the chocolate bombolini donuts with coffee gelato ($11).
The all-Italian wine list is remarkable well chosen, if top heavy with very pricy bottlings, though those prices are reasonable at that level of quality.
As much as I ate at Ventuno, I wanted more of everything, which, given my dining regimen, is a very high compliment indeed. Ventuno is located at 21 Federal St; 508-228-4242.
I was glad I had a chance to pay a quick visit to what is widely considered the best pizzerias on the island, and I'll throw in all of New England, too. Evan and Maria Marley's Pi Pizzeria, about ten minutes from downtown, has been turning out very credible Neapolitan-style pizza since 2006, baked in minutes in a wood-fired oven. True to Neapolitan style, the pizza ($12 to $16) is a little soft in the middle, with the right charred bubbling on top. It's a very simple formula--crushed tomatoes, good mozzarella, first-rate olive oil and a little basil to make the admirable margherita.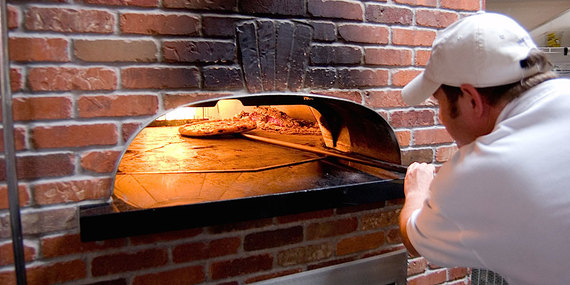 I was also talked by Evan into trying a strip steak (it's not listed on the menu), and I suspect it's the best on the island; seared and seasoned impeccably, with meat that has a good mineral and fat content.
Pi is always jammed, but eating at the bar as I did is a whole lot of fun. Pi Pizzeria is located at 11 West Creek Road; 508 228 1130; Open daily for lunch and dinner.

Oddly enough, it's tough to find really good restaurants on the Nantucket seaside, but Cru is easily the best. It's always jammed and managing partner Jane Stoddard is always there to direct an amiable crew on how best to appeal to a casual, hungry crowd willing to splurge on a bottle of Champagne.
You can dine inside or out but the sea will always be within view and you're surrounded by worn docks, bobbing boats and colored sails, so you get the quintessential Nantucket experience at Cru (below). That is, except for the pounding music piped in they play in the restaurant unnecessarily.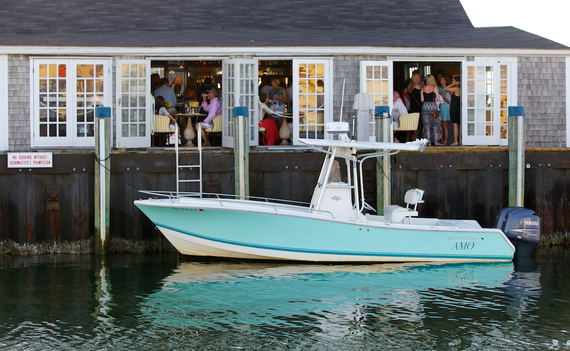 I had an outstanding lunch here, via Chef Erin Zircher, beginning with devilishly good hush puppies ($7) with a tender pâte choux pastry. There are also at least a half dozen species of oysters. Seafood salad ($20) was as fresh and sunny as the sea itself, a smoked fish dip comes with cucumber, radish and grilled focaccia ($14), and fried Ipswich clams ($24), with a Meyer lemon tartar sauce are kept creamy in texture and crisp on the outside. Sea scallops and white anchovy ($26) with chickpeas and chickpea panissa logs with red peppers and green beans manifests a kitchen dedicated to pristine freshness.
Cru serves its lobster roll ($28) cold, which is the way a lot of New Englanders like it, so who am I to argue about such a huge amount of lobster packed into a good roll? If I like mine warm, so be it.
I finished off with a finely texture Key lime pie in a jar. Cru is located at 1 Straight Wharf; 508-228-9278;
Possibly the most evocative meal I had on a summer's evening was at the renowned American Seasons, whose dining rooms (below), both inside and out, pretty much nail down the word "cozy" to a tee. But it's a very well wrought coziness, via lighting at its most romantic, slatted ceiling, bare tables, candles in wind funnels, and nature murals of more than a little interest, as is the menu, which is definitely not traditional Nantucket. Chef Michael LaScola draws from many nations for recipes, and they are always very much his own ideas; his wife Orla Murphy oversees a 500 label wine list of small producers.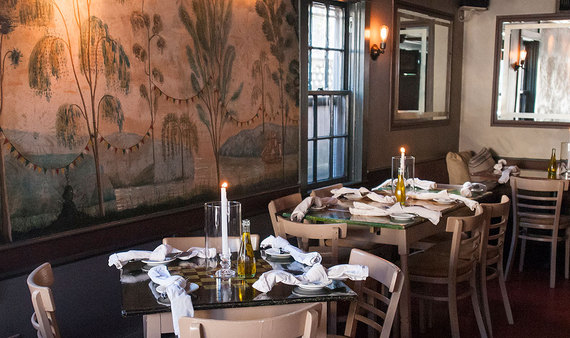 I let myself be guided by Orla's recommendations and ate widely across the menu beginning with a fine chicken and carrot terrine with lovely zucchini fritters and tangy-sweet apricot slaw ($16.50). Spicy but not too hot kimchi pancakes ($16.50) made with succulent pork belly, smoked shrimp and sesame dressing might have come from the best Korean restaurant in Boston, while tilefish -- a species often in need of help to bring it alive -- got plenty of enhancement from smoked tomato grits, bacon succotash and buttered corn broth ($34).
What distinguishes all of Chef Michaels' food is an exceptional attention to contrasting flavors and, especially, textures, so you always get a taste of salty and savory, briny and tangy, along with crispiness and spark. Portions are also very generous.
The crowd, by the way, knows precisely what is meant by the owners' request for "casual, proper attire -- no jackets or ties required." This is not a place to play the beach bum.
American Seasons is located at 80 Center St; 508-228-7111.
Related