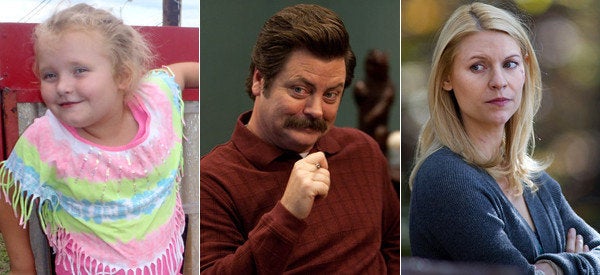 I've compiled a dozen lines from the past year that I really loved below, but that's just a little appetizer to kick off the discussion. We're keeping the discussion going on Twitter, using the hashtag #BestTVLines2012. Please share your favorites there and check out the slide show below with more than 150 of your submissions.
Here are 12 of my favorite TV lines of 2012:
"Never half-ass two things. Whole-ass one thing." - Ron Swanson, "Parks and Recreation" (That has to win Best Line of the Year, in my humble opinion. Another contender from Tom: "Last night at approximately 2:30am, I woke up from a dream that felt so real it had to be a premonition. Me, Drake, and the T-Mobile girl were playing baccarat on a private jet. Ann Perkins walks up to me and says "Tommy, tomorrow night, I'm taking you back". Then Blue Ivy Carter high-fived me and gave me40 million dollars. It was all so real." Another contender from Andy: "From now on, we will be using code names. You can address me as Eagle One. Ann, code name: Been There, Done That. April is Currently Doing That. Donna is It Happened Once In A Dream. Chris, code name: If I Had To Pick A Dude. Ben is Eagle Two." Another contender from Leslie (sniff): "Wait, wait. I need to remember this. Wait, just hold on. I need to remember this. I need to remember every little thing about how perfect my life is at this exact moment.")
"You know what I was thinking about? If Mary Tyler Moore married and then divorced Steven Tyler, then married and divorced Michael Moore, then got into a three-way lesbian marriage with Demi Moore and Mandy Moore, would she go by the name Mary Tyler Moore Tyler Moore Moore Moore?" -Max, "Happy Endings"
"Obama!" - Lori, "Louie" (Another contender: David Lynch's character, Dahl, to Louie: "Now, have you ever had experience being funny?")
"You know what the weirdest part about having a job is? You have to be there everyday, even on the days you don't feel like it." - Jessa, "Girls" (Another contender from Hannah: "I just want someone who wants to hang out all the time, thinks I'm the best person in the world, and wants to have sex with only me.")
Glen: "How's the city?" Sally: "Dirty." - "Mad Men" (Another contender, from Roger Sterling: "Who knows why people in history did good things? For all we know Jesus was trying to get the loaves and fishes account.")
"You gave me cookie, I gave you cookie.You gave me cookie, gave you cookie. Gave me cookie, got you cookie.You gave me cookie, I got you cookie, man! Gave me cookie, got you cookie! We're even! We're even, Schmidt!" - Nick, "New Girl"
"You know what they're saying at the office? I dis-armed him." - Raylan Givens, "Justified" (Another contender: "It's a piggy bank!" from Robert Quarles)
"So once again you're left with the classic Irish man's dilemma, do I eat the potato now or let it ferment so I can drink it later?" -Malory, "Archer" (Another contender, from that show's "Space Race": "Happy, Cyril?! You just destroyed Alderaan!")
"Sentiment is a chemical defect found in the losing side." - Sherlock Holmes, "Sherlock"
"Don't be defeatist, dear. It's very middle class." - Violet, Dowager Countess of Grantham, "Downton Abbey"
"I am for wine and the embrace of questionable women." Gannicus, "Spartacus: Vengeance"
I have to make this an even dozen with one last quote from "Happy Ending's" Brad, to his dentist: ""No, no, no, no, I don't do drills or shots. I can't do pain, OK? Give me the goof juice, just give me the goof juice and don't be bashful. Put me under, put me all the way under. I won't get mad if I make in my pants. Seriously, I won't sue if I poo."
Now it's your turn! Tweet your favorites using #BestTVLines2012 or leave them in comments below.
Popular in the Community