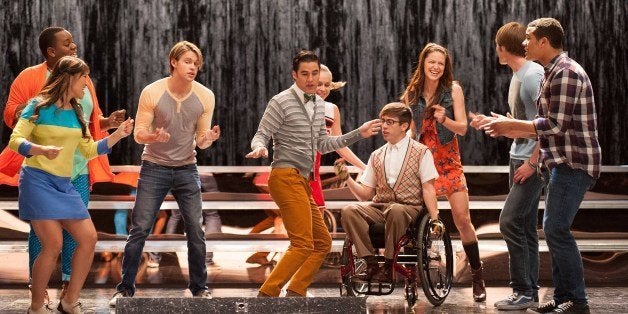 Glee has been my favorite television show since I discovered it two years ago. The wide range of music they cover has fueled my inner theatre nerd -- and, the creepy guy who accompanies the club has inspired me to be a better pop culture pianist. Now, don't get me wrong, I've heard all the "Glee is a terrible show" retorts from some of my friends. "It's unrealistic!" "They ruin my favorite songs!" and, "Why are there so many gay people?" I genuinely believe that two of those retorts are good observations (however, I don't think Lea Michele or any of the Glee cast could ruin a song if they tried). I actually think that these statements are what makes Glee such a great show for teenagers to watch. Here are a few reasons why I love Glee and why I think you could love it, too -- if you don't already.
1. Glee is so clearly not realistic, not true and not possible. It's literally perfect. Teenagers are simply too easily swayed. Our emotions and hormones are crazy, and we're clearly a few hundred thousand steps away from being able to figure out who we really are. I believe that television shows that portray teenagers as (a) realistic and (b) well-put-together should be cancelled. It's not fair to watch Gossip Girl and hear Blair, Nate, Dan and Serena casually remark that each of them got into some of the most elite schools in the nation -- such as Brown, Columbia, Yale and Dartmouth -- without really even trying. It's not fair to watch Pretty Little Liars and see a teenage girl attracting a twenty-something teacher. These kinds of things just simply don't happen to everyone. Thank goodness teacher-student affairs don't happen to everyone.
Glee approaches reality in a very different way -- Glee ignores it. Rachel's dream school -- The New York Academy of Dramatic Arts -- doesn't actually exist. The cheerleaders -- the Cheerios -- go to competitions... but with all the theatricality of Lady Gaga. Who shoots a cheerleader out of a canon? The show choir itself is so impossible that it's nearly laughable. Nearly every leader in the school hates the program, yet they have a full orchestra on hand at all times.
I believe that I should note that I am not actually criticizing Glee. I'm praising it. I love being able to find these "faults" in the show. Why? Because it reminds me that these actors are freakishly talented; Broadway and Juilliard-trained actors, dancers, and singers; and most of them aren't even teenagers. I could easily compare myself to Gossip Girl. I'm applying to three Ivy League schools... knowing that the chance of rejection is 90 percent at each of them is unsettling enough. It doesn't help to watch a television show where every character could have paper airplane wars with their acceptance letters. Glee is different. It's not reality. It's not true. It's not possible. I never compare myself to Rachel or Kurt while watching the show. I just watch it in peace, knowing that it takes a lot of work to be as talented as Lea Michele or Chris Colfer.
2. Glee gives its audience musical literacy. Lady Gaga, Barbra Streisand, Imagine Dragons... those are just a few of the artists I probably never would have listened to if I hadn't heard Glee cover their songs. Not to mention my obsession with the musical Wicked. And the coolest thing about this is that I don't just hear music and musicals -- I learn about them. I made a connection when Rachel and Kurt auditioned for West Side Story with a scene from Romeo and Juliet. I made connection when the cast performed Grease not just on the stage, but in other parts of the show as well -- especially when Kitty made fun of Marley, singing "Look at Me, I'm Sandra Dee."
Learning about music is one great thing. Learning about some of the roots of my favorite music is another thing entirely. Glee does an amazing job teaching its audience all about the most iconic music from all times. And considering I've only been around for 17 years, I want all the musical immersion I can get.
3. Glee teaches more than tolerance. It teaches love and acceptance. This is perhaps the most amazing thing about Glee, and it has truly affected me. I can honestly say that my thoughts on equality and gay marriage have changed for the better after watching Glee. The funny thing about Glee's approach to acceptance is that it's done through the people that need to do the accepting. Kurt had no problem being himself -- his dad and Finn had to come to terms with Kurt's different lifestyle. Wade/Unique is content in his high heels -- Ryder had to deal with his issue of accepting that Wade identifies as a girl. So what did Glee teach me about acceptance? That it's my job to accept. The people I'm accepting are perfect and lovely just the way they are. I've got to put in the work to accept my LGBT brothers and sisters. They're doing nothing wrong and they don't need to change.
Glee's most recent act of love was with actor Cory Monteith's tribute episode. The show could have easily acknowledged the actor's struggle with drugs and his overdose. But they didn't. I was reminded through this episode that it didn't matter how Monteith/Finn died. It mattered how he lived. Glee has taught me to see the best in people and understand that a fall doesn't define them.