 LAS VEGAS -- Has television killed the mobile star?
At this year's Consumer Electronics Show, at least, the focus seems to have shifted from the latest smartphones to advances in televisions; while in years past the show-stealers have included the ill-fated Palm Pre and Nokia Lumia 900, this year the biggest crowds -- and all of the excited chatter -- have surrounded increasingly high-definition, increasingly huge and increasingly expensive home TVs.
Choosing the absolutely best display can be a bit like telling the difference between Derek Zoolander's signature looks -- "They're all the same!" -- because the screens on these latest televisions are certainly uniformly incredible and almost definitely better than the one in your rumpus room.
Yes, Samsung, LG, Sharp and Sony are packing in conferene attendees, who herd in front of their latest televisions to drool at the displays that could one day show football or "New Girl" in their dens. The crowds are huge, and stationary, transfixed by screens whose colors pop like never before, thanks to a higher number of pixels.
(Side note: The big buzzwords you'll be looking for at Best Buy in the coming years will be "Ultra HD," "4K" and "8K." Gizmodo has a handy explanation of what this marketing gobbledygook means, but basically, 4K and 8K refer to the horizontal count of pixels on these super high-definition televisions. 4K televisions pack in about 4,000 pixels horizontally; 8K packs in about 8,000, and the higher the better. 4K and 8K top your typical "1080p" TVs, which featured (you guessed it!) 1,080 pixels as their measuring stick. The term "Ultra HD" then refers to either 4K or 8K screens.)
You're still probably a couple years out from owning an Ultra HD set, due to a combination of factors: price, difficulty of mass-production and a lack of television and movie content specially produced to take advantage of all of those new pixels. Sony has announced its first 4K Blu-Rays, but we're still waiting on Ultra-HD-optimized live television. The availability of that content, much like that of 3D content, could determine the future success of these TVs and their brilliant screens.
While we're waiting, though, let's take a gander at the most astounding, drool-worthy televisions we've seen thus far at the Consumer Electronics Show, the ones that have set the bar for TV beauty heading into 2013. Set your eyes to "envy" and dig in: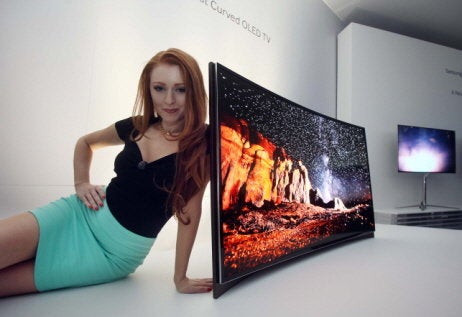 The Best TVs Of CES
Related