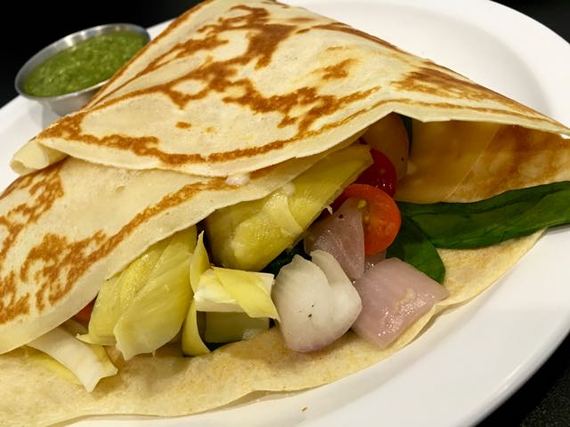 I love crepes because they taste so fresh and delicate and yet are always filling. Crepes work for any meal of the day including dessert and snack-time. They can be made sweet -- filled with luscious fruits and topped with whipped cream; or savory -- brimming with veggies and the right amount of protein.
What I love most is that crepe wrappers are only about 80 calories each. These delightful wraps are perfect for those trying to stay slim and healthy. They key to keeping them healthful and tasty is based on what you put inside. Here is one of my favorite vegetarian combinations:
Ingredients (choose organic when available):
6 (5-inch crepes) premade or homemade
3 teaspoons cold-pressed extra-virgin olive oil
8 ounces baby portabella mushrooms, chopped
1 small red onion, chopped
5 ounces baby spinach
9 cherry tomatoes, cut in half
3/4 ounce (1 small bunch) fresh basil leaves, chopped
3 pieces hearts of palm, chopped (if canned or bottled, discard water)
6 artichoke hearts, quartered (if canned or bottled, discard water)
1 cup fresh mozzarella cheese, chopped and evenly divided
Make crepe wrappers if preparing them at home and set aside. Preheat oven to 350 degrees Fahrenheit.
Heat oil in large skillet over medium-high heat. Add mushrooms and onions and stir for 10 minutes or until onions are transparent and mushrooms are browned.
Stir in spinach, tomato, basil, hearts of palm and artichoke hearts. Cover and cook until greens are wilted, about 2 minutes. Spoon mixture down the center of each crepe and evenly sprinkle with fresh cheese. Close the crepe and arrange side by side in a large baking dish. Cover pan with foil and heat 15 minutes or until warm. Serves 6.
Optional: Serve with pesto sauce.
Nutrition facts per crepe: