Secondhand shopping, with all of its required digging and rummaging, is more treasure hunt that traditional shopping trip. Turn your thrifting into an all day adventure by getting out of Los Angeles, (where most if the thrift stores are completely picked over anyways), and heading to the great vintage and secondhand emporiums in the greater LA area.
Destination: VenturaShop: Main StreetDrive Time: 1 hour, 15 minutesThis bustling street in downtown Ventura features a bounty of funky secondhand shops nestled among high-end boutiques and restaurants. Coalition Thrift is great for housewares; Harper Blue is a hot spot for designer duds and cute summer dresses; and Blue Moon is the go-to spot for shoes and accessories. All three of these thrift shops -- and several more -- are within walking distance on Main. Coalition Thrift, 70 East Main Street, at South Ventura Avenue, Ventura (805-643-4411)Harper Blue, 2415 East Main Street, at North Evergreen Drive, Ventura, (805-667-8167)Blue Moon, 600 East Main Street, at North Chestnut Street, Ventura, (805-643-2553)
Story continues after slideshow.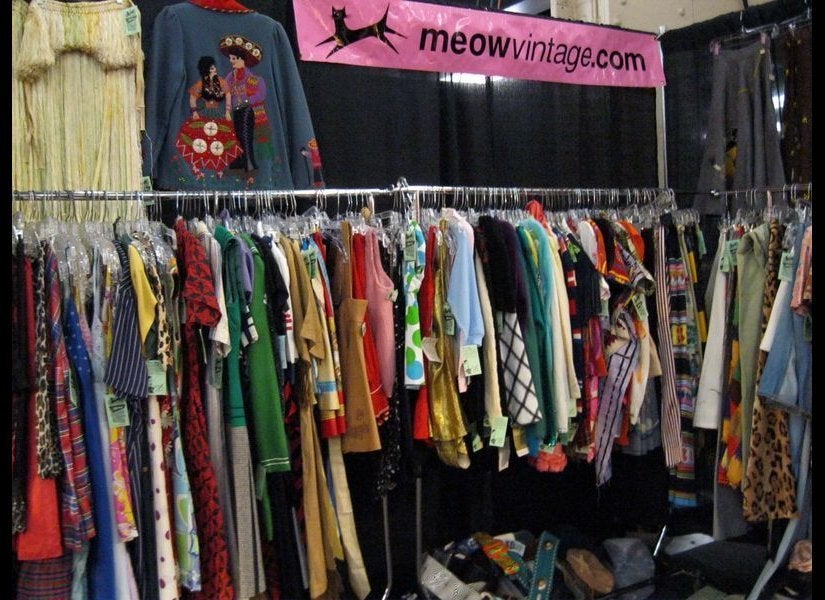 Destination: BakersfieldShop: In Your Wildest DreamsDrive Time: 2 hoursThis 21,000-square-foot mega-store is stocked with an astounding amount of clothing, furniture, vintage décor and artwork. The shops' clothing section is 7,000 square feet of vintage and designer goods, including a huge array of shoes and accessories. Everything at In Your Wildest Dreams will be 30% off on June 3 for the store's monthly First Friday sale, and hours will be extended until 7:30pm. This might be the best reason you'll ever have to spend a night in Bakersfield. 1723 18th Street, at G Street, Bakersfield (661-324-6484 or www.buywildestdreams.com)
Destination: AnaheimShop: Rewear WarehouseDrive Time: 31 minutesThis two story re-sale emporium is stocked with used and vintage clothing in addition to furniture, books and albums on vinyl. The organization factor requires a bit of dedicated digging, but the treasures to be found are worth the effort, especially on Wednesday, Saturday and Sunday, when everything in the store is 50% off. 845 North Euclid Street, at West Catherine Drive, Anaheim (714-635-8786)
Destination: Long BeachShop: MeowDrive Time: 28 MinutesThis vintage clothing boutique specializes in "dead stock," never-before-worn pieces from the 1940s through the '80s. Meow owner Kathleen Schaaf rounds up old/new pieces from fur coats to underwear, and many still with their original tags, at warehouse sales throughout the country. The remainder of Meow's stock is composed of gently used vintage clothing and accessories for men, women and children. 2210 E. 4th Street, at Cherry Avenue, Long Beach, (562-438-8990 or www.meowvintage.com).
Related
Popular in the Community