The World Wine Guys, Mike DeSimone and Jeff Jenssen, have done something nobody has ever done before: They've written a book dedicated 100 percent to "Wines of the Southern Hemisphere." Earning them the Gourmand World Cookbook Award "Best Wine Book, USA" in 2012, Wines of the Southern Hemisphere is both an homage to the plethora of fine wines from below the equator, and an encyclopedic source of information on the wine-producing countries and regions of the Southern Hemisphere, the wines themselves, and the people who make them.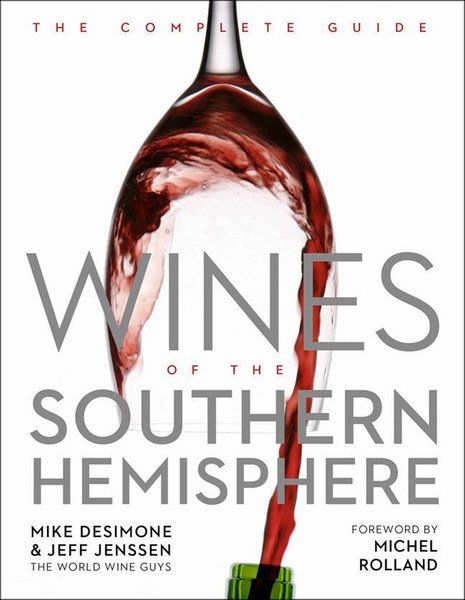 "Wines of the Southern Hemisphere" by Mike DeSimone and Jeff Jenssen (Photo courtesy Mike DeSimone and Jeff Jenssen)
"We have all of these Southern Hemisphere wines on the market but people just don't know about them," said Mike DeSimone over a dinner they cooked that was paired with all Southern Hemisphere wines. "It kind of makes us want to say, 'Wake up people! Get adventurous with your wine because there's a big world out there!'"
"These are wines to be reckoned with," added Jeff Jenssen. "They're wines that can compete with any French or Italian wines, and they're ready to compete today."
That desire to introduce -- and familiarize -- people with the wines of the Southern Hemisphere was the motivation behind writing the nearly 600-page tome. Mike and Jeff have traveled to each and every wine-producing region in the Southern Hemisphere, and in their travels, said Jeff, "We discovered that there really are wonderful wines coming out of the regions, and we want people to know that."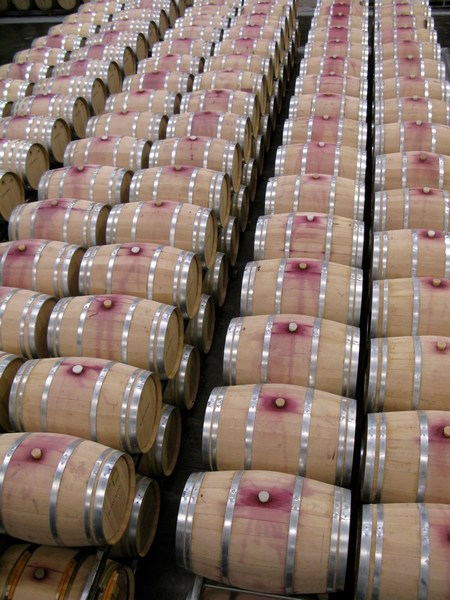 Barrel-aging Chilean wines (Photo courtesy Mike DeSimone and Jeff Jenssen)
Some people, even great chefs, already know this. Recently in NYC, Michelin three-star chef Daniel Boulud collaborated with Michelin two-star chef Mauro Colagreco to create a stunning meal paired with wines from Argentine winemaker Rutini. Colagreco, a second-generation Italian transplant who grew up in Argentina and now lives in Cote D'Azur where he owns restaurant Mirazur, praised the wines of his native Argentina. Boulud, French to the bone, was so impressed by the wines of Rutini that he offered up his talent and his restaurant Daniel, and had enough confidence in Rutini that he was pairing stunning courses with $10.99 Trumpeter Torrontes (2011) and $17.00 Rutini Chardonnay (2008).
Rutini Wine Lunch at Restaurant Daniel, NYC. Left to right: Mauro Colagreco, Daniel Boulud, and Ariel Menniti, Brand Ambassador for Rutini Wines. (Regina Varolli)
Another reason Americans should seek Southern Hemisphere wines is, as Mike and Jeff put it, because they have more bang for the buck. "You're going to find some great wines in the under $30 category from the Southern Hemisphere that are just as good as their more expensive Northern counterparts," proclaimed DeSimone.
While not old-world wines in the sense of European regions that have been producing for 800-1,200 years, wines of the Southern Hemisphere are hardly new-world in the sense of California or Oregon wines. Many regions in the Southern Hemisphere have been producing wine for roughly 300-500 years.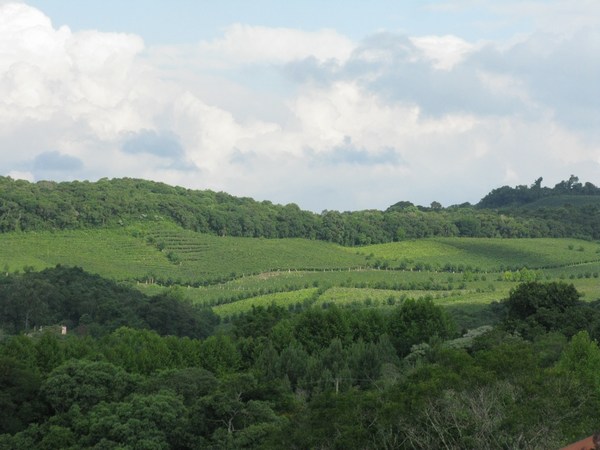 Rolling Brazilian vineyards (Photo courtesy Mike DeSimone and Jeff Jenssen)
In Wines of the Southern Hemisphere DeSimone and Jenssen write about not only the broader history of wines from down under, they go into detail on the history of each country and region, and even every winemaker covered in the book. In a very accessible voice and readable style, Mike and Jeff make learning about Southern Hemisphere wines a simple pleasure. Their enthusiasm for Southern Hemisphere wines comes through in their book, and is downright contagious.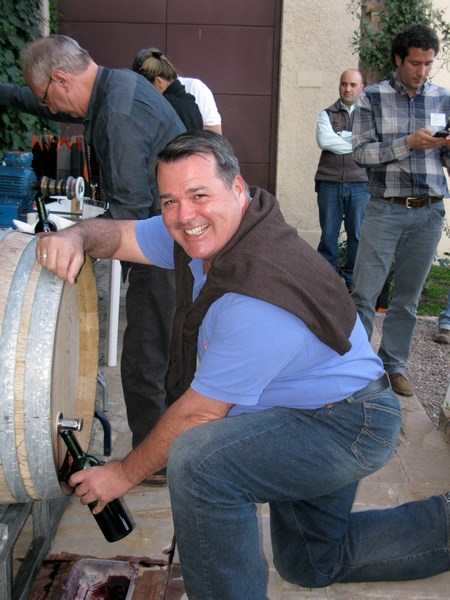 Jeff Jenssen fills bottles at Renacier in Argentina (Photo courtesy Mike DeSimone and Jeff Jenssen)
Complete with images of all the winemakers' labels, so you can spot them easily at your local wine store, DeSimone and Jenssen have also included recipes to go with the wines, as well as interviews with many of the winemakers, of whom Mike said, "The winemakers are real pioneers. In Europe they're bound by tradition, in the Southern Hemisphere everything is in flux. There's a sense of adventure in everything they do, even in looking for new terroirs."
Jeff added, "I feel like the Southern Hemisphere winemakers try harder. They don't have 800 years of tradition like they do in Europe, none of them are resting on their laurels!"
One particular winemaker they profile is Chester Osborn of d'Arenberg Winery in McLaren Vale, Australia (from whose restaurant the book includes a recipe). Jenssen calls Osborn "a total wild man when it comes to winemaking, he'll crush the grapes with his feet! Chester was a real eye-opener for me. He's totally flamboyant with crazy curly blond hair. He's one of those personalities that made me think 'Wow, winemaking can be really fun!'"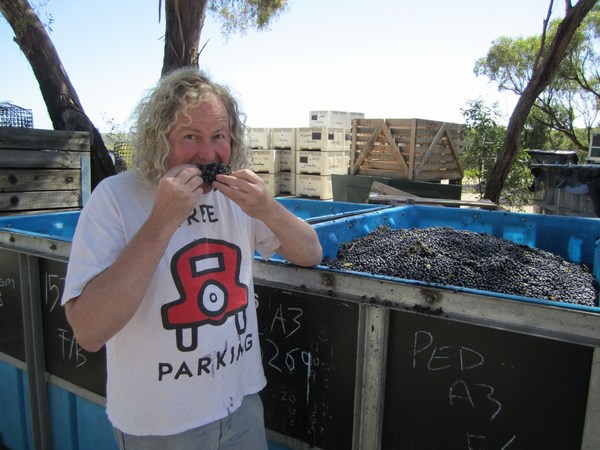 Chester Osborn munching on some grapes (Photo courtesy Mike DeSimone and Jeff Jenssen)
But it's not just the people of the Southern Hemisphere wine scene that made the World Wine Guys realize that winemaking down under is a huge adventure, it was some crazy experiences they had traveling to all these regions. Mike described a particularly surprising time they had with Adam Mason, formerly the wine-maker at Klein Constantia in South Africa. "Adam Mason is a very proper guy, British, very professional. There we were with him giving us a tour of the vineyard when all of a sudden dozens of baboons came over the hill screaming. Baboons like to eat the vines, and in one split second, Adam became a wild man! He just started screaming back at the baboons to scare them off! You'd never see that in Europe or California!"
In addition to all the differences between Southern and Northern Hemisphere wines and winemakers, there's a lot of similarities. "They do have the same seasons as we have in the North, just at opposite times of course," said Jeff. "And there's an amazing interchange of ideas, technology, and techniques between the North and South because wine-makers will work the alternating seasons in both the North and South," added Mike.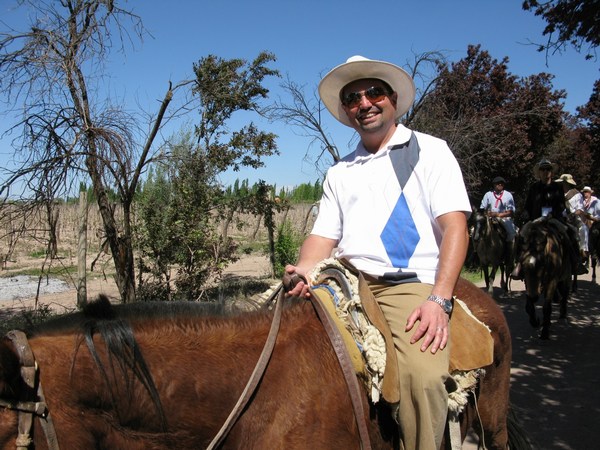 Mike DeSimone takes a ride through the vineyards of Mendoza, Argentina (Photo courtesy Mike DeSimone and Jeff Jenssen)
Being someone myself who always thinks "Argentina" when I go for a Malbec (especially Rutini Malbec and Rutini's Apartado Gran Malbec), I asked the boys what wines by country they could recommend for Southern Hemisphere neophytes. They had quite a few suggestions to make. So in addition to getting their book and venturing into the Southern Hemisphere for your wine, here's some of their suggestions:
• Riesling from South Africa, New Zealand and Australia
• Sauvignon Blanc from New Zealand
• Cabernet Sauvignon, Syrah and Carmenere from Chile
• Chenin Blanc and Merlot from South Africa
• Pinot Gris and Gewurztraminer from New Zealand
• Shiraz from Australia
When they were talking about their recommendations, their pure love of Southern Hemisphere wines shone through in their faces. With each wine they named, Mike and Jeff beamed proudly and spoke highly of these often undiscovered gems. Having consumed a copious quantity of Southern Hemisphere wines by the end of our evening together, Jeff declared: "You're going to see these wines really kicking Europe's ass, and you can quote me on that!"
Calling all HuffPost superfans!
Sign up for membership to become a founding member and help shape HuffPost's next chapter