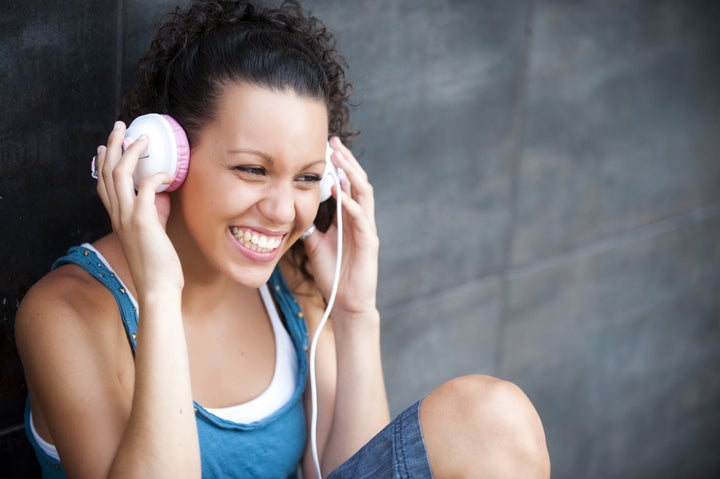 I am running up a stupid, crazy hill. It is 92 degrees. I am sweating. Actually, no, I'm not sweating -- I'm seeping sweat. I have two miles left in this godforsaken 15-miler (oh, marathon training in the summer!). And my iPod Shuffle has just clicked to the next track. On repeat in my head: Pleasebeagoodsong, pleasebeagoodsong, pleasebeagoodsong.

Happens to you every workout, right? There's a reason for it too. SELF talked to researchers from Keele University in England and found that when you cue jams you really love (vs. songs you're so over, or music from genres you dislike), you move faster and push harder during your workouts. And while yes, it's super easy to recycle that go-to playlist every time you work out, to really rev your mojo and burn you've got to ditch the songs you used to adore and move on to new aural obsessions.
SELF has 100 ways to do just that. For our July issue, we polled hundreds of readers, top trainers, pro athletes and staffers for their No. 1 crush-that-session song and created the ultimate playlist from the top hundred. You'll see a little bit of everything -- sugary pop, badass hip-hop, clap-happy indie, and even country -- and I guarantee you'll find something that makes you want to move right now. I've loaded them all on my Shuffle, and I'm always psyched to hear what's next.
"Sexy and I Know It," LMFAO
"Stronger," Kanye West
"On the Floor," J. Lo (featuring Pitbull)
"Rolling in the Deep," Adele
"Moves Like Jagger," Maroon 5 (featuring Christina Aguilera)
"I Gotta Feeling," The Black Eyed Peas
"Bad Romance," Lady Gaga
"You Make Me Feel..." Cobra Starship (featuring Sabi)
"Burn It To The Ground," Nickelback
"Poker Face," Lady Gaga
"Where Them Girls At," David Guetta (featuring Nicki Minaj and Flo Rida)
"Whip It," Devo
"That's Not My Name," The Ting Tings
Drop It Low," Kat Deluna
"The Show Goes On," Lupe Fiasco
"Bass Down Low," Dev
"Party Animal," Gucci Mane
"Gotta Get Thru This," Daniel Bedingfield
"Memories," David Guetta (featuring Kid Cudi)
"Bounce," Calvin Harris (featuring Kelis)
"Hearts on Fire," Cut Copy
"Zero," Yeah Yeah Yeahs
"We're All No One," Nervo (featuring Afrojack and Steve Aoki)
"Little Lion Man," Mumford & Sons
"The Season," The Dodos
"You Be Killin' Em," Fabolous
"Lemonade," Gucci Mane
"On to the Next One," Jay-Z (featuring Swizz Beatz)
"Pon De Floor," Major Lazer (featuring VYBZ Kartel)
"Back In Your Head," Tegan and Sara
Marissa Stephenson is SELF's fitness editor. She edits and writes the magazine's fitness and workout features and columns, tests new routines weekly, and is currently training for her second New York City marathon.
Popular in the Community