HuffPost Food recently went on a tour de force of some of America's major casual dining chains. Regardless of your taste in cuisine, chances are you've found yourself at a casual dining restaurant before, whether one is your go-to Friday night spot or a road trip-only meal. These national chains pride themselves on creating a menu that can appeal to a wide variety of eaters. But are these calorie-heavy appetizers worth it? We pitted eight appetizers from eight casual dining chains against each other to find out. Week 8: Chicken Strips.
What originally turned us on to evaluating the most common fare at the biggest restaurant chains was a surface level understanding of how many major casual dining restaurants work. In some of these chains, food is often pre-prepared in a central kitchen, and then frozen to be shipped and re-heated across the country. We read fascinating tales of this process, such as the section on Applebee's in Tracie McMillan's "The American Way Of Eating" or the discussion of Chili's in David Kessler's "The End Of Overeating."
In our evaluation of American casual dining food, we chose eight prominent chains that serve similar American fare across the country: Applebee's, The Cheesecake Factory, Chili's, Hard Rock Cafe, Planet Hollywood, Red Lobster, Ruby Tuesday and T.G.I. Friday's. Although locations and number of outlets vary, we felt that all eight epitomized the casual dining experience, perhaps best evidenced by the amount of dish overlap on all menus. In choosing which dishes to evaluate, we stuck to what we deemed the most sought-after appetizers.
As we kept eating our way through the various menus, we were surprised by the huge range across the food categories. While certain chains overall performed better than others, the more appropriate comparison was really about single dishes, rather than a restaurant as a whole.
For our eighth installment, we examined chicken strips. It was no surprise that all eight chains served chicken strips, but it was surprising how bad some of them were. From the strangely sweet to dry meat, it's apparently hard to get chicken strips right. But when they're good, they're some of the best comfort food out there.
Check out the results below (high score: 5, low score: 1).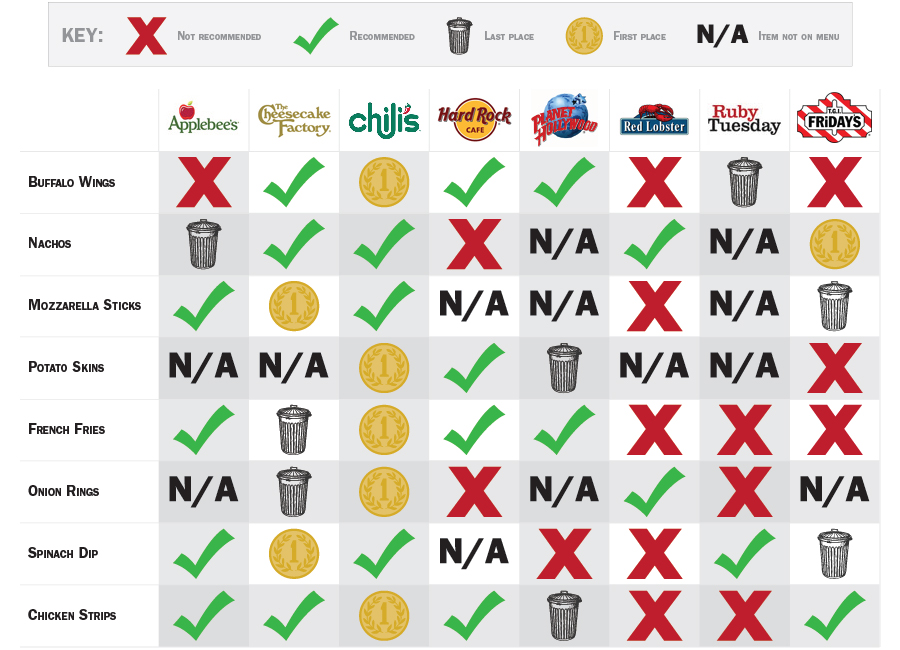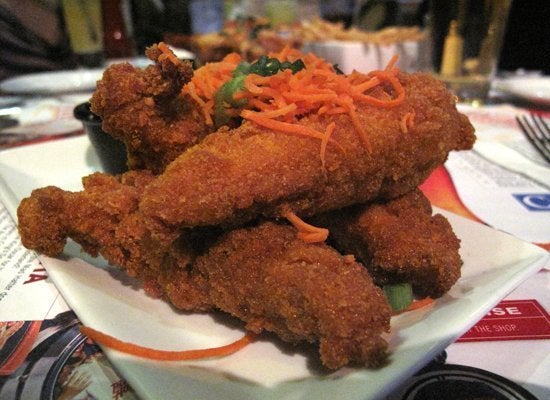 Chain Chicken Strips
Editor's Note: We dined at all chains anonymously -- no restaurant knew that we were evaluating the cuisine. The chains we visited were all located in the New York metro area.