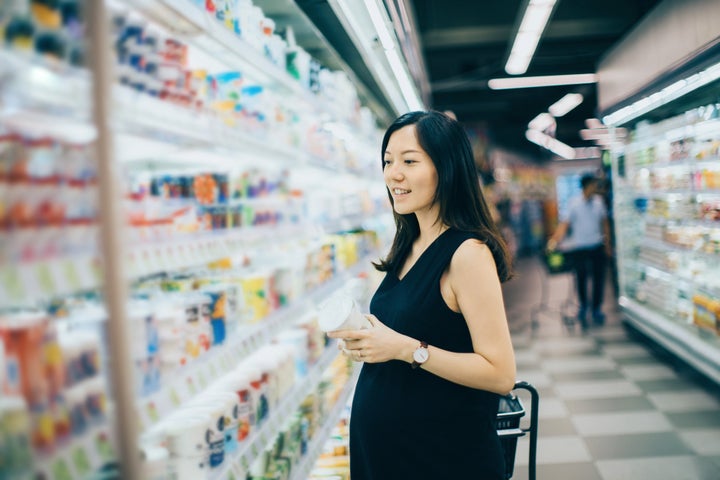 For most adults, the morning hours before work are usually filled with some combination of snoozing through an alarm (or scrolling through Instagram for fifteen minutes after it goes off), throwing together an outfit and making it out the door with minutes to spare. With so much to accomplish in such little time, it's no surprise that a 2011 study found that roughly 31 million Americans end up skipping breakfast every day.
On those magic mornings when the stars align and a meal seems within grasp, most of us look for something quick and easy –– like yogurt –– that will keep us full until lunchtime.
Brooke Alpert, a registered dietician and founder of B-Nutritious nutritional counseling services in New York City says, "Yogurt, when done right, can be a great healthy food choice. When done wrong, it can be more of a sugary dessert than a nutritious option."
Yogurt also has probiotics that help the healthy ecosystem in our guts thrive and also keep our immune system and GI tract in good shape.
Whether you're hoping to find a new yogurt brand that has more protein than sugar, or you just want to know how to pronounce "skyr" (hint: It's skee-r), here's a guide to some of the most popular yogurt options you can find in your grocery store.
The Low-Sugar Options: Siggi's Triple Cream and Icelandic Provisions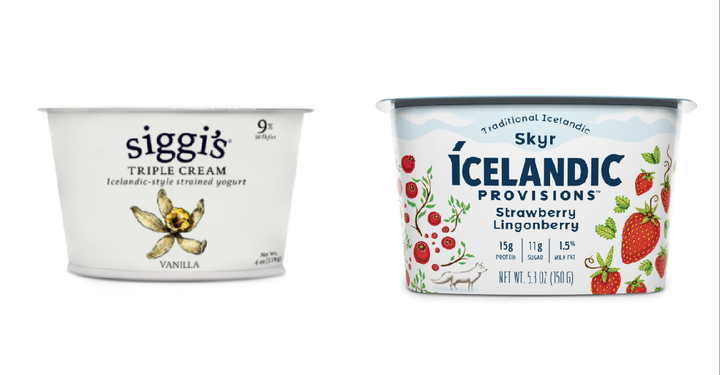 Ask any Icelandic person, and they'll say skyr is cheese; ask any American, and they'll say skyr is one of their favorite yogurts. Known for its thick, creamy consistency and high protein content, skyr is a cornerstone of Icelandic culinary culture –– this is the stuff that fueled the Vikings, which means it can definitely get you through marathon meeting days. Siggi's triple cream offering is about as close to pudding for breakfast as you can get, but with a small fraction of the sugar content.
Meanwhile, a single serving of Icelandic Provisions packs almost double the amount of protein of Siggi's (albeit with a few extra grams of sugar). These brands might be especially up your alley if you're hoping to get away from the usual strawberry-vanilla-blueberry yogurt rotation. Siggi's orange and ginger has delightful little pieces of crunchy orange, while Icelandic Provisions' strawberry lingonberry flavor is the perfect balance of sweet and tart. Plus, they both have millennial-friendly, minimalist branding. What's not to love?
Icelandic Provisions, Strawberry-Lingonberry
Calories: 130
Total Fat: 2 g
Saturated Fat: 1 g
Sugars: 11 g
Protein: 15 g
Siggi's, Vanilla Triple Cream Skyr
Calories: 170
Total Fat: 10 g
Saturated Fat: 7 g
Sugars: 8 g
Protein: 9 g
The Dairy Alternatives: Forager and Kite Hill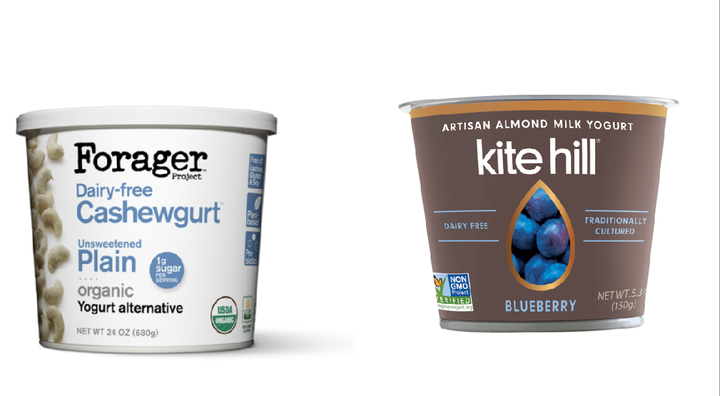 Maybe you're lactose intolerant, or maybe you're cutting dairy out of your diet because it makes your skin break out –– whatever the reason, Forager and Kite Hill are two non-dairy yogurt brands that are easy to find in grocery stores across the country.
Forager's Organic Cashewgurt is very runny (think of Forager as the polar opposite of Siggi's when it comes to consistency), which makes it a strong contender for breakfast smoothies –– the vanilla flavor plays especially well with frozen strawberries and blueberries.
Kite Hill is made from almond milk, but it has a surprisingly thick custard-like texture. Relative to other yogurts on the market, dairy-free options tend to have higher sugar and lower protein content –– Forager's cashewgurt has only a quarter of the protein content of Siggi's. When it comes to choosing between alternative brands, Alpert, the dietician, said to pay close attention to thickeners in the ingredient list –– natural options like cassava root and tapioca starch are okay, synthetic ingredients are not.
Forager Organic Cashewgurt, Vanilla
Calories: 140
Total Fat: 6 g
Saturated Fat: 1 g
Sugars: 12 g
Protein: 2 g
Kite Hill, Blueberry
Calories: 170
Total Fat: 11 g
Saturated Fat: 1.5 g
Sugars: 14 g
Protein: 5 g
The Sweet Life: Wallaby Organic Low-Fat Aussie Greek Yogurt
If you get really hungry in the mornings, you'll want to go for Wallaby Organic's low-fat Greek yogurt – the 5.3-ounce size makes it one of the largest single-serve options in the dairy aisle. Wallaby's honey flavor has 28 grams of sugar, which, for context, is more than the amount of sugar in a Kit Kat bar.
But it makes you wonder –– how much sugar is really too much for yogurt?
Toby Amidor, a registered dietician and author of The Greek Yogurt Kitchen, said that as a general rule, she recommends no more than 20 grams of sugar total in Greek yogurt.
Wallaby Organic Low-Fat Greek Yogurt, Honey
Calories: 190
Total Fat: 2 g
Saturated Fat: 1.5 g
Sugars: 28 g
Protein: 12 g
The OG Greek Yogurt: Chobani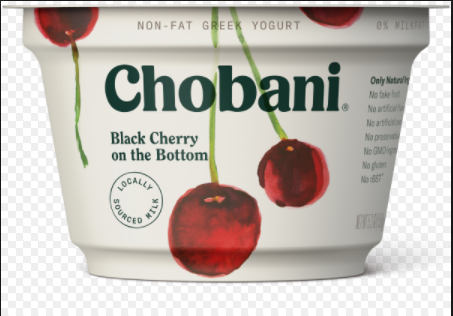 Since 2007, Chobani has been spearheading the Greek yogurt craze in the United States. Ever since its minimalist, modern rebrand last year, the brand has been occupying a growing chunk of the dairy aisle, offering drinkable yogurt, and its "hint of flavor" yogurts for those looking for less flavor.
Chobani also offers a long list of fruit on the bottom yogurts (the black cherry flavor is juicy and tart enough to make you feel like you bit into a slice of pie), which Samantha Cassetty, a registered dietician based in New York City, warns against. "Take a pass on fruit-on-the-bottom varieties or yogurts that come with a lot of dessert-type toppings unless you're clear on the fact that these are treats," she says. "They have too much sugar to be considered a healthy snack or meal."
Chobani Greek Yogurt With Black Cherry On The Bottom
Calories: 120
Total Fat: 0 g
Saturated Fat: 0 g
Sugars: 16 g
Protein: 12 g
The Decadent Traditionalist: Brown Cow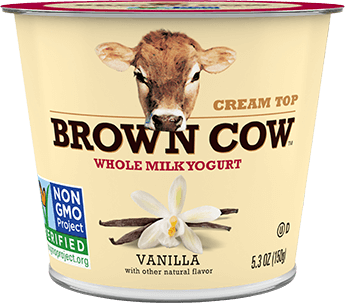 Brown Cow's cream top yogurts are an especially decadent way to start the day. Many of the brand's offerings have more than 20 grams of sugar, but the vanilla, maple and coffee flavors are safely below that benchmark. Although vanilla is one of the simpler (read: more boring) flavors for yogurt, the heavy layer of cream makes it one of Brown Cow's best offerings.
One reason to choose a cream top yogurt over a Greek yogurt? Calcium.
Kelsey Conrow, a registered dietician, says "To create the thick, creamy texture of Greek yogurt, it is extensively strained. This results in a product that is higher in protein and lower in sugar. This can be a great choice for individuals looking to monitor their blood sugar or increase their protein intake. However, calcium is also reduced in the straining process. If you are looking to increase your calcium intake, choose traditional yogurt."
Brown Cow Cream Top Yogurt, Vanilla
Calories: 150
Total Fat: 6 g
Saturated Fat: 3.5 g
Sugars: 16 g
Protein: 5 g