New York Times bestselling author Sarah J. Maas puts a completely different spin on fairy tales with her epic-fantasy series Throne of Glass. Her third book and latest in the series, Heir of Fire, hit stores this week and is packed full of heart-pounding action and swoon-worthy romance. "It's a big difference from the first two books," Sarah says. "There's lots of action and lots of big things happening, but it's also very emotional and it's about the character's journey."
For the author, Heir of Fire is a book that rests close to her heart. "I kind of opened up a vein and just bled all over the page with it," she admits. "I ended up drawing on stuff that was more personal than I realized. I'm really proud of it and I really hope readers like it too."
Talking with Sarah was an absolute treat. Besides discussing her books, we laughed about our love for pop culture, Netflix, and all things paranormal. Seriously, Sarah is the kind of person you could sit and have coffee with and chat for hours.
But long before the days of interviews, selling out in bookstores, and drawing large crowds on tour, Sarah was a young girl obsessed with fantasy books. "I've always been a huge fantasy fan," she says. "I was always interested in fairy tales, and anything with magic or dragons. . . I was always drawn to those types of stories."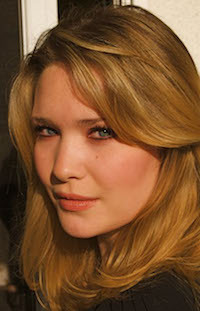 Her love for fairy tales was also a major influence for her series Throne of Glass, which started as a retelling of Cinderella. "I got the idea for Throne of Glass when I was sixteen. Music always inspires my books and when I was listening to the 'Cinderella' soundtrack, I thought, 'What if Cinderella was actually an assassin who liked getting dressed up all pretty and going to the ball, but then she wouldn't mind kicking butt," Sarah explains. "Then of course, I wanted to know who this assassin was. So it started off as a Cinderella retelling and later it became it's own original fantasy."
Sarah, who wrote fan fiction for years, decided to put some of the early drafts of Throne of Glass on fictionpress.com, which quickly became an online hit. "I decided, why not put some chapters on Fiction Press and see if anyone likes it?" she says. "Instantly, I was flooded with responses from strangers from around the world, telling me they loved it! It was so amazing and it really made me realize I wanted to be a published author."
After years of writing the series through high school and college, the author eventually nailed a book deal and is now signed on for a total of six books in the series. Sarah also has a New Adult Fantasy series in the works titled A Court of Thorns and Roses, which is set for release in the spring of 2015. "Like Throne of Glass, it started as a fairy tale retelling of Beauty and the Beast and then evolved from there," she explains. "It's romance and fantasy. I'm super excited about it."
But with all her success, and surely more to come, Sarah says the ability to reach people with her work is the thing that matters to her most, "Hearing that people read my books when they were sick, or that the books helped them find an escape when they were having a hard time. . . stuff like that makes all the hard work pay off."
Calling all HuffPost superfans!
Sign up for membership to become a founding member and help shape HuffPost's next chapter