Secretary of Education Betsy DeVos released her long-awaited proposed Title IX guidelines Friday morning, and there's a lot to unpack.
The proposed regulations essentially provide more protections for the accused and make it harder for survivors of sexual violence to report harassment and assault by narrowing the definition of sexual misconduct. Additionally, the guidelines essentially prioritize schools above all by creating fewer sexual misconduct cases, which reduces costs (saving colleges anywhere from $286 to $368 million over 10 years, according to estimates included in the proposed guideline).
"The Trump Administration's proposed rule is designed to let schools off the hook for sexual assault and harassment," Sage Carson, manager of the anti-sexual violence organization Know Your IX, said in a Friday morning statement.
"These proposals signal the Department of Education's decision to prioritize schools' bottom line over survivors' right to an education," she continued. "If these draft rules become law, more survivors will be forced out of school by harassment, assault, and their schools' indifference to their complaints."
"These proposals signal the Department of Education's decision to prioritize schools' bottom line over survivors' right to an education."
The suggested guidelines are similar to a copy partially leaked in August which faced swift criticism from survivor advocacy groups for making it harder for victims to report harassment and assault.
Below are the provisions that could have the largest impact on how sexual misconduct is handled in school settings across the country:
1. Narrowing The Definition Of Sexual Misconduct
Keeping with the leaked copy, Friday's suggested guidelines narrow the definition of sexual misconduct, defining it as "unwelcome conduct on the basis of sex that is so severe, pervasive, and objectively offensive that it effectively denies a person equal access to the recipient's education program or activity."
Jess Davidson, executive director of survivor advocacy organization End Rape on Campus, described this portion of the regulations as "one of the most harmful parts of the rule."
"The definition is extreme and it's going to require that students are harassed multiple times before they are able to receive any form of accommodation," she told HuffPost.
2. Schools Are Only Responsible If Assaults Take Place On Campus
Under the proposed guideline, a school "is only responsible for responding to conduct that occurs within its 'education program or activity.'" The Education Department loosely defines "education program or activity" as "all of the operations of" a school including anything that has "any academic, extracurricular, research, [or] occupational training."
This definition, however, does not include off-campus housing or bars and other settings within a school environment where assault and misconduct often take place. This is one of the most worrisome provisions of the entire 149-page proposal because 87 percent of college students live off campus.
Davidson noted that this provision could prove disastrous for marginalized students, specifically community college and commuter students who spend a majority of their time off-campus.
Additionally, this would allow schools like Michigan State and Ohio State, both currently embroiled in sexual assault scandals, to sidestep misconduct perpetrated by staff at off-campus events.
"Would it make sense for Larry Nassar not to be held accountable if he only abused student athletes at off-campus events? It's absurd," Sejal Singh, policy coordinator for Know Your IX, said to HuffPost in August.
3. 'Mediation' Instead Of Investigation
Under the proposed provisions, the accused can participate in a live cross-examination of the alleged victim through a third party (although this does not apply fully to K-12 incidents).
Unlike the earlier leaked copy, Friday's proposed rule would not allow the accused to cross-examine their accuser personally. Additionally, the accuser is allowed to request that their alleged perpetrator watch the live cross-examination from a separate room which prohibits "any unnecessary trauma that could arise from personal confrontation."
This process, known as mediation, encourages schools to simply work it out themselves instead of following a regulated investigation protocol.
"Before the 2011 Dear Colleague Letter (DCL), schools pushed survivors to 'work it out' with their rapists, fostering a climate where students were afraid to come forward" anti-sexual violence organization Know Your IX said in a Friday statement. "The Department's decision to revert back to a harmful status quo will allow for schools and rapists to intimidate survivors into silence."
Additionally, the Education Department has not offered any guidelines on how this mediation process would potentially play out.
4. Victims Can Only Report To Certain People
The guidelines would restrict whom a victim can report to in order to implement corrective measures through the school. College students would only be able to report a Title IX issue with the school's Title IX coordinator which, Davidson said, is cause for concern.
"The lived experience of most college students don't set them up to go first to the dean of students or to the Title IX administrator directly," she said. "Most students want to talk to ― as anybody does ― students want to talk to a campus official or an adult who they trust, who will be on their side, who will affirm them, and will help them find safety and an answer."
"To see this definition go forward ― that would essentially give a free pass to OSU and Michigan State and Larry Nassar ― is really horrifying," Davidson added.
It's worth noting that mandatory reporting laws still apply, but for a student to receive help and protection from their school specifically, they would need to seek out a Title IX coordinator.
This provision would not apply to students K-12.
5. A Higher Standard Of Evidence Needed To Prove Guilt
The proposed guidelines state a school can use "either the preponderance of the evidence standard or the clear and convincing evidence standard." Many survivor advocate groups, however, highlighted that using a "clear and convincing" standard would treat sexual misconduct survivors more harshly than victims of other discriminatory campus crimes.
"Instead of imposing discriminatory procedural hurdles for campus sexual harassment cases, schools should use the same standards that they use for other serious campus wrongdoing, such as physical assault or arson," Know Your IX noted.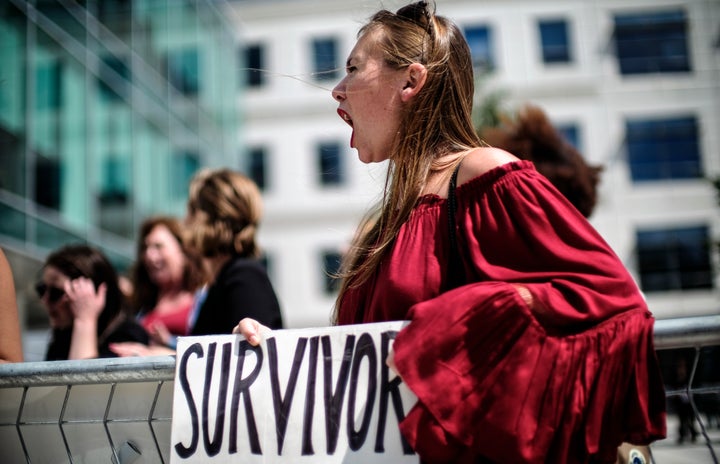 Many politicians and Title IX advocates were up in arms over the proposed guidelines. Rep. Carolyn B. Maloney (D-N.Y.) urged Congress to stand against the proposal, writing that it "seems intended to make college campuses safe spaces to commit sexual assault and harassment instead of safe spaces to learn."
In a Friday statement, Sen. Patty Murray (D-Wash.) called on "every woman, man, mom, dad, and anyone else who cares about campus safety and preventing sexual assault to make your voices heard and demand that Secretary DeVos and President Trump withdraw this proposal immediately."
Lara Kaufmann, Director of Public Policy for Girls Inc., pointed out how damaging this proposal could be for K-12 girls specifically.
"All girls should be able to grow up safe, respected, and valued," she said in a statement to HuffPost. "Unfortunately, these new proposals will lead to fewer students reporting assaults and harassment, more dangerous K-12 schools, and more girls being denied their civil right to equal access to education."
President of the American Federation of Teachers Randi Weingarten also condemned the proposed rules in a Friday statement.
"This rule abdicates the responsibility to protect every student's right to safety on campus," she said. "It tells academic institutions that they needn't bother helping to protect students; they won't be liable. These changes once again demonstrate that students are not DeVos' priority."
Since she was confirmed as Secretary of Education last year, DeVos has been on a mission to overhaul the Obama-era Title IX guidelines and regulations. In 2017, DeVos met with people "wrongly accused" of sex crimes (a group consisting mainly of so-called men's rights activists) and, not long after, rescinded an Obama-era Title IX guideline, The Dear Colleague Letter.
"It's worth noting that the secretary has talked a lot about the importance of a fair process but that's not what this reads like to me," Davidson said. "This isn't somebody trying to create fairness in the process, this is somebody who is trying to prevent the process from taking place at all."
Head here to read the Education Department's proposed Title IX guidelines in full.
Popular in the Community