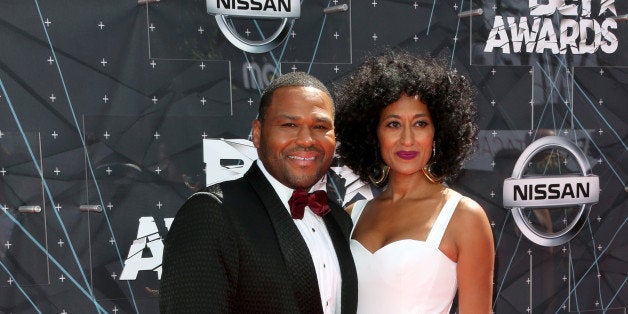 The BET Awards took over Los Angeles -- and our Twitter timelines -- on Sunday night. In case you missed this year's award show, we rounded up all the entertaining moments worth rehashing. From the iconic performances to shade-filled-one-liners, here are the most memorable moments from the ceremony.
1. Janelle Monae And Jidenna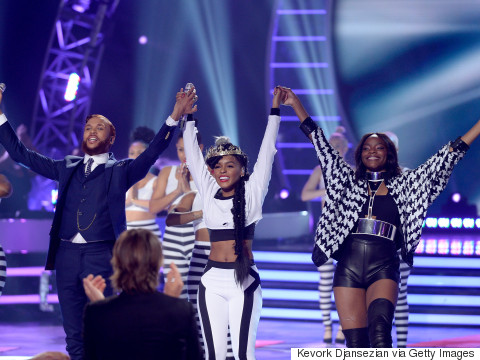 Janelle Monae and Jidenna took to the BET stage to perform the songstress' ever-danceable single 'Yoga'. Jidenna, who is one of R&B's refreshingly new artists, also performed his new hit and proved to everyone, that he is indeed a "Classic Man."
2. Rihanna Wants Her Money
Rihanna was up to all kinds of antics Sunday night to promote her new song, "B****h Better Have My Money." Perhaps the most shocking moment was when she threw a stack of money in Stephen Hill's face. In case you were wondering, Hill is the president of programming at BET -- but don't worry, it was obviously staged.
Bad Boys reunited but the best part was Lil Kim's epic entrance, popping up in her signature squat.
4. Diddy's Dive Downtown
Actually, no. The best part of the Bad Boy reunion was definitely when Diddy essentially dived feet first into the hole Lil Kim popped out of.
5. Rihanna Sat Next To Floyd?
Another awkwardly staged RihRih moment came earlier in the show when the Bajan singer was caught on camera playfully duct-taping and tying up seat-mate Floyd Mayweather. BET caught flack for the gag, though -- was it the best idea to seat Rihanna next to an alleged domestic abuser?
6. K. Michelle And Tamar Braxton Unite With Patti LaBelle
7. Ciara Channelled Janet Jackson -- And Slayed
The Janet Jackson tribute was great. Tinashe and Jason Derulo did their best to channel Janet in "Pleasure Principle' and "All For You" but, for 30 seconds, Ciara all but became Ms. Jackson in an amazing dance rendition of 'If' and 'Rhythm Nation.' Slay.
8. Jussie Smollet's Moving Speech On Marriage Equality
In the middle of singing the catchy (but super cheesy) song "You're So Beautiful" from his hit show "Empire," actor Jussie Smollett took a moment to deliver a timely and important speech about marriage equality and gay rights on the BET stage.
9. Nicki Minaj As Candid As Ever
Nicki Minaj's acceptance speech for Viewer's Choice had a couple highlights -- she forgot what award she was winning, for one. But the best part? When she said: "One day, you will wake up and look around and your dreams will be gone, and then you will be mad at somebody, but be mad at your goddamn self!" #Hairflip
10. Tracee Ellis Ross And All Her Shade
Tracee Ellis Ross expressed what we were all feeling when she introduced Tyga and Chris Brown to the stage. It was brilliant.
11. #BlackExcellence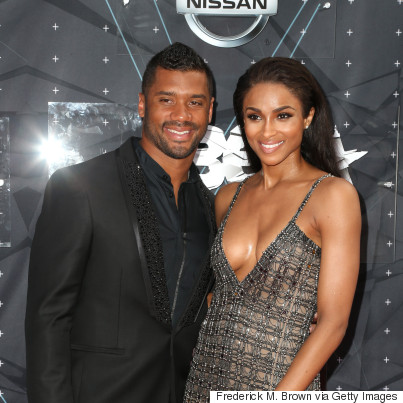 As if she weren't already having an awesome night looking amazing and paying tribute to queen mother Janet Jackson, Ciara also made her BET red-carpet debut with new bae Russell Wilson.
12. Janet Is Back!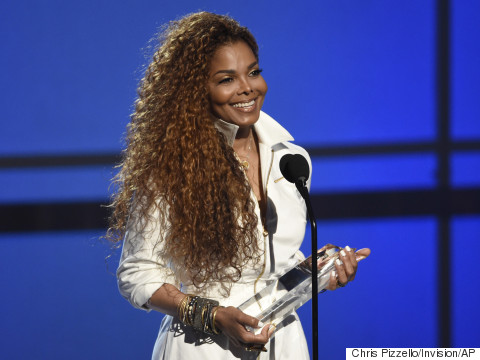 Although the Janet Jackson tribute was flawless, nothing can compare to the real thing. Jackson was serving it when she received her award. At 49, the legendary singer still looks amazing and is set to release a new album later this year!
Popular in the Community