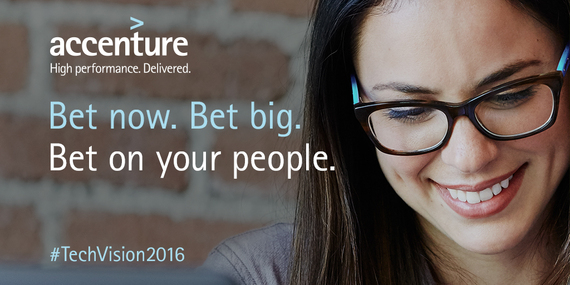 Every business--whether selling products, services or ideas--is a digital business. "Opting out" of the digital revolution is not a choice. It is here, and it's fundamentally changing every aspect of the business: strategies, business models, processes and the future workforce. But are your people able to keep up? Answering "yes" to this question could be a competitive advantage for years to come.
The key is to proactively help people adapt to rapidly changing demands. It means innovating workforce strategies to be more fluid and flexible in three areas: skills development, project planning and organization structure.
That's the core idea behind the "Liquid Workforce" trend in this year's Accenture Technology Vision. It's about using technology as an enabler to transform people, projects and entire organizations into highly adaptable, change-ready enterprises (see Figure 1).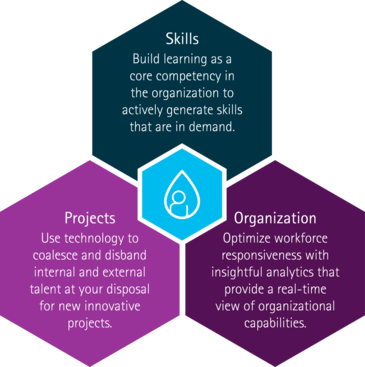 Figure 1: Elements of a liquid workforce
All of this starts when digital businesses put their People First. Human beings are at the center of the digital revolution. Companies that win focus on workplace innovation and view their people as a strategic differentiator. This is not only something that we advise our clients but a part of our own DNA at Accenture. Our mission is to improve the way the world works and lives. To do this, we need to improve the way our people work and live. It means having talent practices that attract, develop and inspire people in a uniquely human way - on their own terms. Transparency, hyper-personalization, and listening to our people are the cornerstones of our employee experience.
Assume constant, high-velocity change
At Accenture, we are leading the digital disruption on behalf of our clients. Business goals change regularly, and many organizations must reinvent themselves multiple times. To keep pace, technology helps fuel workplace innovation in three areas:
· Skills: Successful organizations make continuous learning a core competency. With the skills shortage and constant reinvention, employees need learning opportunities powered by technology. These include massive online open courses (MOOCs), 1:1 virtual training and boot camps that allow employees to reskill rapidly. Given the high demand for skills in areas like robotics, artificial intelligence and data science, Accenture predicts that eventually "corporate education will replace some higher education" as forward-thinking organizations develop their own alternatives to fill the skills gaps. Ultimately, companies, government and academia must collaborate to build the skills needed for tomorrow. And we'd be remiss if we focus only on technical skills. Creativity, social skills and EQ accelerate people to higher-value work that machines can't do.
· Projects: To solve the world's most challenging problems, organizations need teams with top talent. Many times, these deep skills do not exist within the organization. Leading companies must blur traditional boundaries to broaden their definition of "workforce" -- finding the right combination of internal employees, freelancers and technology for each new challenge. GE's Global Brain is a glimpse into the future as a "buzzing hive of knowledge, connectivity, technology and access that unites the human and the machine, the physical and the digital, in previously unimaginable ways" as Beth Comstock, GE's Chief Marketing Officer, describes. And, in the sharing economy, governments and companies must collaborate to reimagine a new social contract for those in today's liquid workforce. Leading companies also use collaboration tools and cloud-based workflows that empower anytime, anywhere working. As the future of work increasingly goes virtual, Accenture believes the "rise of digital reputation" may replace resumes and traditional performance processes.
· Organization: In order to sustain a highly skilled workforce and fluid project model, digital businesses must have an equally flexible organizational structure. Leaders need to shift to more horizontal styles of leadership, where they co-create vs. manage. With artificial intelligence and data at workers' fingertips, more decisions will happen on the front line, where work occurs. Leaders need to be clear about expectations, transparent with feedback and ultimately trust their people to make decisions. Trust is the new currency of the digital age. Predictive analytics also enable greater flexibility by driving better decisions about hiring, roles and advancement. We've dubbed this movement toward using data-driven HR as the "predictive workforce."
Accenture is in the midst of our own transformation toward a liquid workforce, and we're doing it at scale with 373,000 employees. Here is a glimpse into our workplace innovations.
In our Operations business, we have 4,000 pieces of automation ("mini-bots") we use in transaction processing activities. This year, we've reduced over 10,000 roles because of this technology, but we haven't lost one person.We've reskilled our people to take on higher-value roles in analytics and other hot skills. This shows how workplace strategy and workplace innovation can intersect to be extremely responsive to our clients while also transforming the careers of our people. Losing jobs does not mean losing people.
At the heart of this story is a commitment to grow our people in order to grow our business. In 2015 alone, we invested $841 million to develop our people, much of which is delivered through Accenture Connected Learning - our virtual campus of 50+ connected classrooms, 800+ digital learning boards and thousands of online courses - that supports learning 24/7. People can also reskill rapidly in our academies that provide practice in a simulated environment and capstone projects to ensure mastery.
Another example that enables fluid rotation to new roles is our Careers Marketplace, a digital jobs platform providing employees with a transparent view of opportunities personalized based on their skills and passions. Ultimately we retain highly valued employees, and our people contribute in ways most meaningful to them and have multiple careers without leaving the company.
These are just a few examples of how we help our people be agile and thus, our organization be agile - a cornerstone of the liquid workforce. Watching the future of work unfold, it's not too far-fetched to think that within 10 years, there will be a "fully liquid enterprise" operating with no full-time employees outside of the C-suite. Success in the digital age is not about transformation of processes but about truly disruptive ideas that put the power of digital in the hands of people. Bet now. Bet big. Bet on your people.
To learn more about this year's Accenture Technology Vision, I invite you to read the chapter highlights, check out a range of informative at-a-glance visuals, view our videos and slideshares, and keep checking this blog for more discussion of these trends.
Related