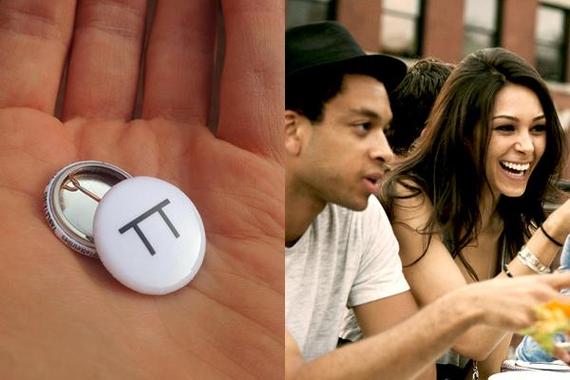 "If an entire city could share a single conversation, what would we talk about?"
That's the premise of TableTribes, a mobile app that aims to bring online conversations into offline interactions to build trust and empathy among people in a given community. While the technology is still in beta testing for iOS development, the actual TableTribes network is fully operational.
On three consecutive Sundays this past February, TableTribes hosted a series of evening meetups, known as The Radius Project. Each meetup revolved around a different theme: Inclusion, Opportunity, and Transformation.
People were asked to indicate their availability and location on Twitter, and they were matched with other available participants at bars, restaurants and coffee shops across the city, including All Souls Bar, Right Proper Brewing Company, Vinoteca, Mockingbird Hill and Bistro Bohem.
People who opted in to participate were prompted with guiding questions and links to articles to discuss with the people they met.
The meetups attracted 50 visitors over 3 evenings with 25 percent repeat users.
The average length of time for a conversation was 1 hour and 45 minutes. The longest group conversation Radius has on record is 3 hours.
"In addition, hundreds of people signed up to be an early tester as we use our app to continue bringing people together," founder Hosan Lee said.
Lee said her mission is to scale empathy development.
"We're currently in talks with various civic groups around the country about how TableTribes can effectively bridge communities and facilitate sustained channels of trust and empathy," she added.
Making Progress

With stories of anger and frustration currently at the center of the nightly news cycle, it seems fitting that "Progress" is the theme of TableTribes' latest series of gatherings, occurring at Dupont Circle, Metro Center and Chinatown throughout the day on Tuesday, April 28.
TableTribes provides three questions to facilitate the self-organized discussions:
a. What does progress mean to me?
b. What does progress mean to the city?
c. What's something I can do right this second to contribute to moving things forward?
"The issues that affect our life in D.C. are shared with cities and towns across America," Lee said. "The only way we can start to rebuild basic human understanding again is to find commonalities and embrace differences through face-to-face conversations."
The assumption, of course, is that human understanding is broken and needs re-building.
You can read Lee's treatise on the subject here. Some highlights:
And then there are all the staggering statistics about the threats of social media and technology to self-esteem.
Some analysts say the social media tools we use are extensions of male fantasy, which has fueled sexism and discrimination in our technology-saturated world.
"It's inarguable that white, upper-middle-class young men have applied the new technologies to make things that reflect their desires and culture and foisted them on the world," writes Nina Burleigh in her recent Newsweek article, "What Silicon Valley Thinks of Women."
For a commonly cited example, look no further than the world's largest social network: it is said that only a socially awkward boy like founder Mark Zuckerberg would deem it appropriate to "poke" a girl to get her attention.
In the context of this so-called "brogrammer" culture, the fact that TableTribes' founder is a woman is not trivial.
My own experience with TableTribes offered a pleasant realization--that it was possible to connect with strangers, without the premise of a romantic hook-up, professional exchange or business transaction.
Here's the tweet that started it all for me:
https://twitter.com/TableTribes/status/564549608211501057
I was the first one to sit at my table at All Souls Bar. Sandhya and Brian joined me. A few others trickled in. Thanks to some preliminary Twitter-stalking, we recognized each other, shook hands.
Someone broke the ice: "So, let's go around and introduce ourselves. Why are you here?"
I quickly said, "I'm here because I enjoy awkward blind dates with strangers." They laughed.
I was only half-way joking.
After some perfunctory chit-chat, we soon engaged in a lengthy, nearly 2-hour conversation along the theme of "Inclusion." We talked about the (lack of) diversity in American public radio, gentrification, and what it means to show up as our "authentic selves," a new phrase that our group moderator Amy Lazarus taught us.
While I walked into the bar giving out handshakes for hellos, I left the bar giving out hugs for goodbyes.
All it took was a couple of tweets plus a couple hours of deep conversation to get connected. To feel like we were all in it together. To be part of a tribe.
REAL LIFE. REAL NEWS. REAL VOICES.
Help us tell more of the stories that matter from voices that too often remain unheard.