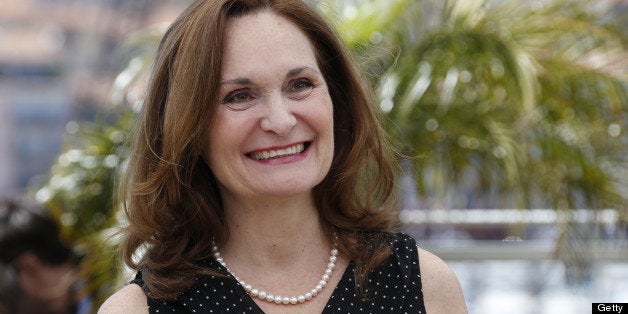 If you saw Beth Grant on the street, you'd probably recognize her ... but you might not know from where.
"Frequently, over the years people have thought that they know me," Grant told The Huffington Post in a phone interview. "Every character actor has this story, I'm sure. It goes like this: 'Um, do you play soccer?' 'Did you go to such and such church?' 'I knew you when you were with so and so ... ' Then I go, 'Well, sorry ...' and then they say, 'Wait a minute. Are you an actor?' and I say yes. Then they go, 'Were you in so and so?' I go, 'No, no, no.' Pretty soon you want to go to the car and get your resume and give it to them."
It's clear the public knows Grant's face from her various roles, even if they don't know her name. That's why the actress was the perfect subject to launch The Huffington Post's new feature, "Isn't That ... ?," which will highlight those character actors you recognize from a variety of projects, but don't know much else about.
Grant's career has spanned decades, genres and mediums. She's appeared in multiple Oscar-winning films and cult hits -- like "The Artist" and "Donnie Darko" -- and acted on some of the biggest shows on TV -- "The Office," "The X-Files" -- all the while remaining slightly under the radar.
Her latest role? "The Mindy Project," a Fox comedy she recently joined as a series regular. Grant appeared in the second episode of the series as Beverly, a nurse who is fired for doing all sorts of wrong things. She did one episode and was set to come back, but scheduling conflicts prevented it. Then she was asked back to be a series regular.
"It went very well and I had the time of my life and I really fell in love with Mindy and her voice," Grant said about her initial experience on "The Mindy Project" and its star and creator Mindy Kaling. "I just think her voice is so unique. It's such great comment on pop culture and social satire, yet she's so fresh and sweet. My brother Bubba in North Carolina said, 'Beth, she's cute as a button!' [Laughs.] I don't know how she'd feel about that comment, but I think it's true. To be able to have a character that has so many flaws and then be so likable, it's just an amazing thing."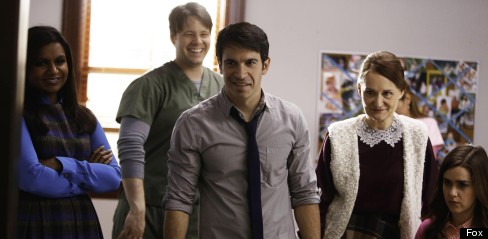 One of the perks of being a character actor, according to Grant, is getting lost in the character. "I love not being seen. It's funny, after all these years -- in the last, I'd say, five years -- people have started to recognize me more as me. People say, 'Are you Beth Grant?' and I just about faint because I was under the radar for so long that people would only recognize the character." Those characters include Helen from "Speed," her pageant official character from "Little Miss Sunshine," and now Beverly from "The Mindy Project."
"I was at the mall the other day and this woman came running up to me and scared me to death," she said. "It was from the first episode of 'Mindy.'"
"The Mindy Project" is just the latest credit on Grant's impressive resume. Her IMDB page boasts more than 160 listed roles. "I don't trust my instincts at all," Grant said with a laugh. "I trust my acting instincts and human instincts, but not career. I just don't have a clue." Still, Grant said she does draw a line when picking roles. "I think most character people that you talk to, it's like whatever they offer us we are thrilled to do," she said. "I won't do anything that's immoral or illicit. I did turn down eating a dead body once. I turned down a few really creepy horror movies. For the most part, I can usually find a way into whatever character."
But sometimes, Grant admitted, she even forgets some of the projects she's done.
"Somebody called me and said something was on. I said, 'I'm not in that!' and they said, 'Well, I'm looking at you!'" she said, laughing. "It was 'Sabrina, The Teenage Witch.' I said, 'What!?' and I recurred on that and my dear friend produced it! It just kind of flew out of my mind. I'm getting to that age."
Thanks to her lengthy career, Grant, 63, said she gets respect from her peers and casting directors -- and appreciates it very much. "I can remember before 'Rain Man,' I just couldn't get in on anything, any features. After that and it winning the Oscar -- the next year I co-starred in six movies. I just cannot tell you the acceptance because I was 39 before that happened and that's pretty old when you think Jennifer Lawrence is 22," she said with a laugh. "It was a pretty late start and so it means so much to me. I noticed in the last, I'd say five or 10 years, people will thank me for coming in. Gosh, that feels so great instead of waiting in the hallway and hearing 'Next!' ... It really does mean the world because obviously none of us character folk are rich and we don't have a lot of the perks."
Because she's not often top-billed -- or even billed at all -- Grant said there's a struggle to be included when it comes to industry events. But there are some people in the business who have her back, including Harvey Weinstein and Sandra Bullock.
"Last year, Harvey included me in everything for 'The Artist' and I'm telling you, I could have wept," Grant said. "I didn't have any clothes. I had no clue, you know all those women get designers coming to them and bring them sketches and stuff? Here I am, invited to all these things, so I'm calling friends asking 'Have you got anything? Who's a size 10!?' [Laughs.] ... It was just such a trip for me. I did my own hair and makeup; there was no time to figure out who to call. In retrospective, I have to say I probably could have used some assistance [Laughs.] There was one that I went to and I was working that day, so I was doing my makeup in the car on the way there. It wasn't very well lit. I thought I looked just gorgeous and the next day I'm looking at the pictures ... I look like one of those old ladies that can't see anymore. I thought, 'Oh god, I look like "Whatever Happened to Baby Jane?"' It's not something I'm used to."
Something Grant is used to is playing the Southern lady, but she's not hurt by the typecasting, and she does have some favorites. "I think my two masterpieces are 'Donnie Darko' and 'No Country For Old Men,'" she said.
In "Donnie Darko," Grant played Kitty Farmer, the conservative physical education teacher.
"I read that script and I realized I was standing in my bed at the end of that script," Grant said about. "I was saying, 'Oh my god, I've got to get this part.' I knew that character inside. It was my ninth grade PE teacher and I knew exactly what to do. I knew how to do my hair, how to dress, what bra she wore, it was just thrilling. I blew into that meeting like a hurricane, I wanted it so badly. We get there and I'm trying to be calm, Richard Kelly [writer and director of "Donnie Darko"] is explaining things to me, and so I read the scene and I got the name wrong. I said instead of 'Sparkle Motion,' I said, 'Miracles in Motion' and I said, 'Oh, you have just got to give me this part!' They laughed so hard and [producer] Sean McKittrick told me later, he said, 'Honey, you had that part when you walked in the door.' I was so Kitty Farmer-like, I just had to have it. That certainly was a huge one."
In "No Country For Old Men," Grant played Agnes, Carla Jean's ("Boardwalk Empire" actress Kelly Macdonald) mother. She said she loved taking risks with how her character looked.
"They did something very bold with my character," Grant said. "I had not planned on having that wig, big glasses and stuff. I went into the costume fitting and they had all these pictures, this great research of West Texas in the '80s and all of those women looked like that ... It was so scary. You hear actors say this all the time, but it was a thrill to be dangerous, to be scary because in a big movie like that, you knew everybody in the world was going to be paying attention. I felt like I was sort of the comedic relief, a lighter character that came at a time when you really needed it and really wanted it. Yet she's the one who gets him killed …"
But is there a defining role amongst that list of film and TV credits? Grant struggled to give an answer.
"The corny answer and the truth is being my daughter's mother," she said, laughing. "That's kind of my motivation for life." Grant said she was going to quit acting once she had her daughter, but a friend convinced her to stay in the industry, saying if she didn't have the drama on the stage, she'd have it home.
"My defining role is being a character actress and telling the stories of forgotten women. That is, to me, a very high calling. I wanted to be Joan Crawford or Marilyn Monroe. That's the truth. Those were my two heroes. Can you believe it? That's who I wanted to be. I didn't want to be Thelma Ritter, I didn't want to be Colleen Dewhurst, I didn't want to be Anna Manahan," Grant said. "I had this great acting teacher, Milton Katselas, and he said, 'Why do you keep trying to be a Rolex watch when you're just salt of the earth?' He got me."
Grant said she meditated on that statement and did a lot of work on herself. "I have this whole long corny story, literally this meditated where I went to this white clapboard house and I came to the door dressed in a house dress with no makeup and a ponytail and I said to myself, 'Come in. We've been waiting for you.' I knew out of that meditation that the 'we' was all these women whose stories need me to tell them. Jennifer Lawrence isn't going to tell the stories of those women because it takes my angular features, my thin lips, my pointed chin, my big hands and my big feet and my big butt to tell their stories because they're forgotten. They're not heralded. Frequently, they are not the heroes -- they're just color and history."
The 2013 Best Actress in a Leading Role nominees were: Jennifer Lawrence, 22; Jessica Chastain, 35; Quvenzhané Wallis, 9; Emmanuelle Riva, 86; Naomi Watts, 44. Grant said she found it inspiring.
"When I hit New York in 1972, I thought I was a sprinter. I thought that I would star in a Broadway show and do a movie and win an Oscar by the time I was 25. It turned out that I'm a long distance runner. It turned out that I'm the turtle and not the hare ... I used to carry a piece of paper in my day planner that was a 100-year-old actor celebrating his birthday on stage. At 100 years old! I carried that with me thinking I would like that to be me. Then I think of Ruth Gordon, a character actress -- when did she win the Academy Award? My gosh, she was in her 70s -- and she said something like, 'This is really encouraging.' [Laughs.] And then Betty White. There are others before me who have had great careers after 60, so I feel like I'm not alone. I feel like I'm inspired and on we go. Yeah, slow and steady wins the race. All you have to do is stay alive and don't quit. [Laughs.] You can't get rid of me!"

"The Mindy Project" airs Tuesdays, 9:30 p.m. on Fox.
Calling all HuffPost superfans!
Sign up for membership to become a founding member and help shape HuffPost's next chapter
BEFORE YOU GO
PHOTO GALLERY
2013 Renewal Index: Canceled, Renewed & On The Bubble Shows