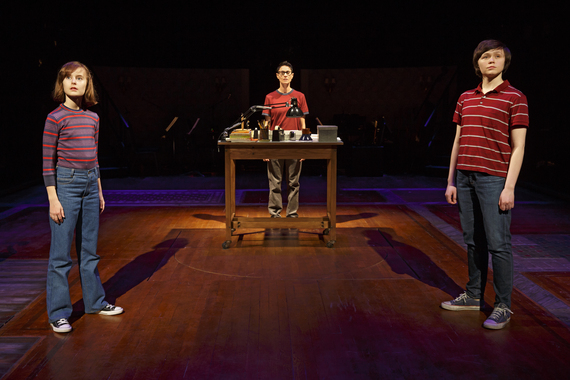 I first saw Beth Malone three years ago in a tiny theater in Hell's Kitchen performing a solo show called Beth Malone So Far. The actor, who billed herself as "part dude, part lady... all lesbian," examined her life, delivering a witty and affecting tour of America's family dysfunction with its gay children. With songs! She was a dazzling mix of opposites: delicate and muscular, warmly engaging and spikily articulate, humble and wildly charismatic.
Today Malone is taking audiences on another pilgrimage, this time on Broadway with actors portraying her preteen and young-adult selves -- or rather, those of Alison Bechdel, the real-life protagonist of Fun Home. In the new musical alchemized by writer Lisa Kron and composer Jeanine Tesori from Bechdel's memoir-in-cartoons, Malone's character is our narrator and guide, excavating her past for clues to why her father killed himself. Together we witness the growing tension between the openness of her younger incarnations -- filled with wonder as they express and act on their desires -- and the stifled lives of her parents, from whom years of repression have exacted a devastating price. Malone's role is not as flashy as that of Bechdel's father (Michael Cerveris, performing a dance of complexity and nuance) or her young alter egos (Sydney Lucas and Emily Skeggs, each remarkable), but she is Fun Home's stealth weapon, bringing dry humor and deeply banked emotion to the Alison Bechdel who survives the cauldron of memory.
Malone's own past has given her considerable inspiration to draw from. She shared some of the raw material that made her what she is today.
She was born a little bit country.
When Malone was 12, she and her mother, a lounge singer who performed in bars and VFW halls all over Denver, went to a Barbara Mandrell concert. Young Beth snuck from their seats "in the nosebleeds" to a spot closer to the action -- and the singer picked her from the crowd. "She pulled me over and she kissed me on the lips," recalls Malone. "She kissed me on the lips! On the lips!!! I was like, 'What?!' I couldn't -- I couldn't -- I mean, I. Could. Not. I floated home."
Her life felt like a movie.
"You know The Natural, when [Robert Redford] gets on the train to go to his life and he gets shot? That's what coming out was like for me. I got on a train and then I had this bullet and it was my gayness," Malone says. Out for a last hurrah before her planned marriage to a man, she met a woman named Rochelle "Shelly" Schoppert and fell -- hard. "It was like getting shot, because I was so in love, and it was so not okay with my family," Malone says. "It was devastating, and it ruined my family for many, many years." If she couldn't run from what she felt, facing it "was horribly destructive to the life that I had been living. To change that into the life I am living took years of reassembling something from wreckage."
She lost more than her heart.
"Skiing can be a good reason to live," Malone told herself amid that wreckage. Jettisoning her Equity card, she became a waitress (and "a really fucking good skier"). When Shelly, raised Catholic in a close-knit Midwestern family, decided she had to try to be straight, Malone reached her lowest point. "Thank God Shelly dumped me and I was all heartbroken," Malone says, "and I needed to do something to save my life." She finished getting her undergraduate degree, then applied to grad schools "because I just didn't have another idea." Auditioning was off the table: "I didn't have the strength for the rejection, or the organizational skills or an agent or the wherewithal to get one, or even a knowledge of the industry." She had no faith in herself: "I thought, 'Well, I'll get this master's degree and I'll learn to act... And even if I just teach, I won't be a waitress.' "
Graduating UC Urvine armed with new training, she didn't have the confidence to take the next step. The she discovered readings -- "where the writer is there, and the piece is read in front of you, and you actually get a voice in the direction that it goes." Malone was hooked.
She found different rewards acting in commercials. "I'd never made so much money," she says of her pitchwoman period in L.A. "This is not a bad life," she thought as several years passed, but "the anesthetizing spell, the quality of the status quo" felt more like a nightmare than a dream. "I have a house and a life," she told herself, "I have a bank account, I have sunshine every day, and why do I want to chew my arm off?"
Her life became a different movie.
Then Shelly came back. "I was a bartender in the only gay bar for 200 miles in Greeley, Colorado, and she walked back into my bar and sat down again. It was like Casablanca. It was like, 'Of all the bars of all the towns...' She came back for me."
Luck turned on a dime in her career as well -- one phone call at a time. Malone's former Groundlings teacher invited her to collaborate on a lesbian musical, The Break Up Notebook, a call that would later bear fruit. Another call brought her to New York when an actress dropped out of Ring of Fire -- "almost like a job that was handed to me" -- Malone's Broadway debut. (She traded homes with a woman named Lawrence and her daughter, Jennifer, whom Shelly had found on Craigslist.) Within three months Ring had closed. Malone landed a role as a young nun in Sister Act, a part she thought would be her breakthrough -- "and then I got replaced because I was, uh, 40, basically."
It seemed a sign. "Well, it was an awesome run," Malone told herself. "Now maybe I should think about teaching."
One night by chance she was performing The Break Up Notebook again, this time in Asbury Park, when Lisa Kron, vacationing with her girlfriend on the Jersey shore, came to the show. Malone got another life-changing call: it was her agent, saying, "They want you to put yourself on tape for this reading at the Public." Malone knew something of Bechdel, from her cartoon strip Dykes to Watch Out For: "I'd had a single cartoon panel on my wall when I was an undergrad in Greeley, Colorado, at UNC, in the middle of Buttfuck, Nowhere."
Ten years earlier she couldn't have done the play, she says. "Fun Home requires more minutiae concentration of every second than any job I've ever done ... It just requires you to open a vein every damn day. To really tell the story of this person, to give it as much honor as it deserves, you really have to put yourself in the room with your dead father." She does get a catharsis, for eight whole measures -- "and then we all bow," she says. "But it's a very satisfying eight measures." There's grace in being "courageous enough to re-create your history and write it down and give something to the world that other people are going to find useful," she says. "There's a catharsis in realizing the gifts [your father] gave you, you can never lose."
Malone's own father had been a huge part of her life as a young girl. But this memory play would prove a challenge. "Fun Home was really, really hard for my parents, because they're Fox News watchers from Colorado, and we disagree about pretty much everything." The fallout from their conflicting worldviews plays a big part in Beth Malone So Far. "My dad didn't talk to me for seven years after I came out. I didn't speak to them after the second time Bush got elected, because I just was so angry." It doesn't mean they don't love one another, she knows, but "it's an amazing disconnect. They love Shelly, they love spending time with us, but they cannot wait for their next opportunity to stand at a voting booth and deny me my basic rights. They cannot wait."
As bureaucrats and businessfolk distort the meaning of "religion" to strip vulnerable groups of the few protections they have, hers aren't the only parents who'd like to wish the gay away. Starring in a Broadway show that looks unflinchingly at the high costs of denying one's true sexual identity is not likely to let the topic fade. "It is kind of their worst nightmare. It's like getting a cactus as a present -- like, 'Oh! A cactus!' My mom wants me to be a success, but this is not the kind of attention she had imagined."
Closer to her mother's fantasies was her turn last fall in a new work that could be Fun Home's polar opposite: Dick Scanlan and Kathleen Marshall's reboot of Meredith Willson's The Unsinkable Molly Brown. Malone landed the lead in a surprising casting coup and went on to electrify audiences in the Denver Center's production. "Molly Brown was as physically demanding as [Fun Home] is emotionally demanding, mentally demanding," Malone says. Molly made use of every last tool in her arsenal: "I was climbing over stuff and jumping off of stuff and singing my face off, and [exercising the best] comic chops I could bring to it." If Molly goes to Broadway, the actor could find herself facing an enviable choice. The possibility is something she treats lightly; she knows all too well the shifting tides of the theater.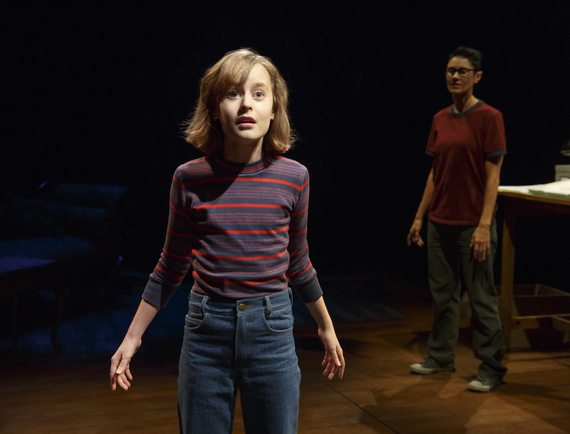 Years after first reading for Fun Home, a "labor of absolute love" and a project she knew was the least likely route to fame or fortune, its composer and Malone were getting into shiny dresses when she learned the quirky little piece they'd workshopped at the Public Theater was headed to Broadway. "We were at the Helmsley Hotel overlooking Central Park getting ready for the Tonys," Malone says. (Tesori had been nominated for her musical Violet.) "We're getting dressed and I look at my phone, I'm looking over some things, and the email comes that we're moving. And I burst into tears." The story of a girl raised in a funeral home whose lesbianism is the trigger that detonates her family would not seem obvious Broadway gold. Yet the originality, boldness and exceptional artistry that pervade every aspect of the production have forged a work of power and magic.
Work wasn't the only thing that came full circle for the actor.
Last year Schoppert and Malone "rode bikes to City Hall -- it's like the DMV of marriages. You're sitting there with a bunch of people wearing wedding outfits and it's like, 'Take a ticket, go here and do this,' and once you do that, you get a new ticket, and then you wait, and you get a new ticket." It took two days to finish the job; Malone had to run off to rehearsal. But now their 23 years together can't be erased: "There's this old ancient book behind a case in the room where you get married that has, like, 'Sophie Smith married Abe Tucker in 1785,' and it goes down in the book of life: this union happened and now it's in the catacombs of history. And you know what? I'm married to Rochelle Schoppert. We were here."
These days Malone cannot believe her life. She wants accolades to rain down on the show she considers herself lucky beyond words to be a part of. "My hope is that a lot of people are exposed to Fun Home, because it has this beautiful message about shame and freedom and the amazing power of creating something, too."
The play inspires fierce devotion from its fans. Jake Gyllenhaal babysat for his sister, Maggie, so she could see the show. Sally Field was overcome. The late Joan Rivers waited afterward and raved, making sure to speak to every member of the cast. A lot of famous people have waited after the show; also "a lot of stricken people" -- but "whether it was somebody famous or somebody moved, it was really satisfying." Past and recent guests include Hugh Jackman, Cherry Jones, John Lithgow and Tracy Letts. One superfan is Edie Windsor, whose own love story propelled her all the way to the Supreme Court, making history. "Edie gave Alison one of the original documents from the court in a frame," says Malone with awe, "and Alison gave her one of her original panels from the book."
Right after they got married, in fact, Malone's new wife put the documentary Edie & Thea: A Very Long Engagement into their DVD machine and told her mother-in-law, "You should really watch this." Afterward, "My mom was like, 'That's the most beautiful love story!' " says Malone. "So you know, hope."
She holds out faith Fun Home will affect her parents as it has others: "not just on a surface level where they're like, 'Oh, we get it now, we're proud of you,' but on a cellular level. My hope would be that it would actually change the way they see me and my community."
With the play's unconventional subject and hero, "I don't think anybody in their wildest dreams could have imagined that Fun Home would become the thing," says Malone. As she finds herself taken "to places personally that I didn't expect," she is discovering nightly with her audiences the transformative power of theater. "Fun Home takes you places where you really have to ask yourself, 'Are you all in?' "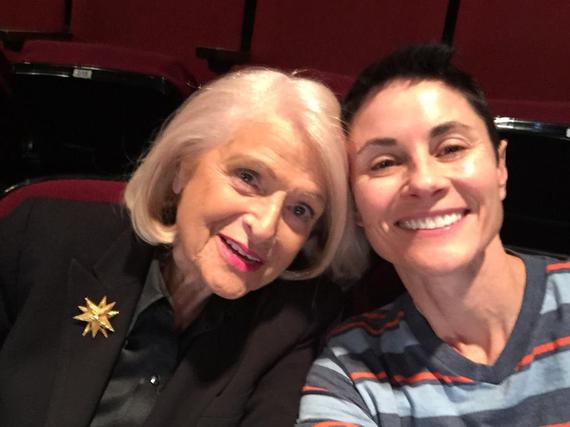 (Pictured, from top: Sydney Lucas, Beth Malone and Emily Skeggs make a stunning trio; Lucas haunts (and is haunted by) Malone: photographs by Joan Marcus (2). Selfie with Edie Windsor courtesy of Beth Malone.)
Calling all HuffPost superfans!
Sign up for membership to become a founding member and help shape HuffPost's next chapter