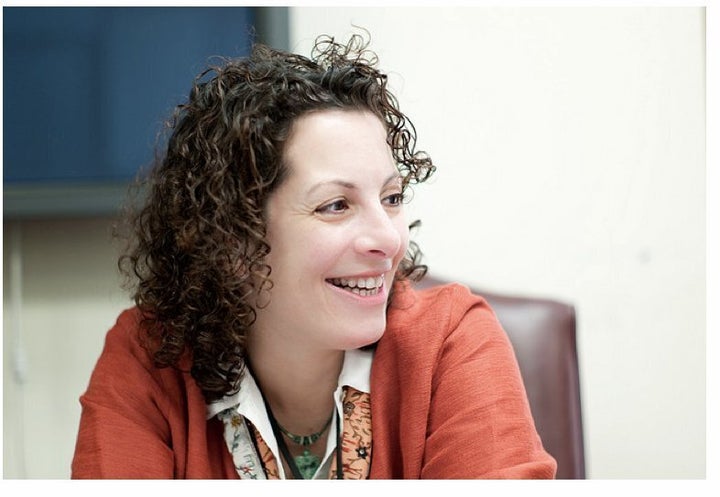 "My goal was not to be in technology," said former U.S. deputy chief technology officer Beth Simone Noveck.
Her goal was to improve democracy and governance, an aim Noveck ultimately found she could best accomplish with help from new technological tools.
Noveck, a law professor, has become a tech pioneer in the policy world, pushing governments to adapt to the Internet age and use technology to improve transparency, participation and problem solving.
"To me, we have spent a lot of time and attention on technology in politics, but not a lot on technology in governance," she said.
Until her resignation in January, Noveck led the Obama administration's Open Government Initiative, a program that sought to more widely share government information with the public and an effort that was a key priority for the White House. She currently advises U.K. Prime Minister David Cameron on how his administration can better employ technology in the public sector.
"To me, technology was a means to an end to achieve the social justice goals, stronger democracy and more effective government that is the aim of what I do," Noveck said. "In the 21st century, you have to use technology as one of the tools in the toolkit to bring about social change."
Noveck said she became aware of technology's potential to transform society at an early age, when she witnessed how high-tech tools enabled her mother to balance her commitments to her family with her career as an investor and small business owner. Even as early as the 1970s, Noveck said electronic devices gave her mother a powerful means of communicating with anyone, from anywhere, at any time.
Noveck's personal experience underscores the formative role female family members, with or without engineering expertise, can play in encouraging young women to develop an interest in computer science and the Internet, and ultimately help close the gender gap in Silicon Valley.
"I think that role models are extremely important in increasing the number of women in tech," Noveck said. "I was lucky enough to have almost accidental role models: I have a mother, and an aunt, and a sister, none of whom are trained in technology, but all of whom use technology in one way or another."
In an interview for The Huffington Post's Women in Tech series, Noveck shared her perspective on online privacy, how technology can transform governments, why tech-savvy public servants are so important and more.
What is the best career advice that you've received?You must constantly ask yourself, "What is the question?" not "What is the answer?" It's by focusing on the question that you're always going to be on the lookout for new solutions and new answers.
What career advice would you give to someone starting a career in tech? Would it be the same for men and for women?I think the advice, regardless of gender, is always be open to conversations with people who do things differently than you do. If you're starting to work in tech, talk to the artists, talk to the lawyers, talk to the people who are interested in other things. If you know what the question is that you care about, always be looking for people who care about the same question because it will help to spark new and creative ideas that bring you closer to the answers.
Why do you think there aren't more women in tech?Some of the most interesting people working to use technology to democratize the way governments function are women. The problem is there are not enough people -- women or men -- in government who are tech-savvy.
It's not a gender issue, it's a disciplinary issue: we need more people who are able to combine these two skill sets, technology and law and policy, to be able to work in more innovative ways within our public institutions to democratize problem solving. We haven't made it a policy among politicians, or among civil servants, to ask them what their technical qualifications are.
What are the repercussions of this shortage of tech-savvy public servants in government?The consequence in the public sector of not being familiar with tech culture is the tendency for people to say, "I have to know the answer and I have to come up with the solution." Techies tend to know that they don't have all the answers and that it's okay not to have all the answers, as well how to ask in ways that are manageable and organized.
What's the most important thing we can do to increase the number of women in tech?Starting early and getting girls on computers, tinkering and playing with technology, games and new tools, is extremely important for bridging the gender divide that exists now in computer science and in technology.
We need an overhaul in terms of how we approach teaching technology from the earliest ages. Frankly, even the phrase "teaching technology" is already a misnomer. Kids teach technology to themselves -- it's about freeing kids up to play, to experiment and to teach themselves and learn from one another how use the new tools.
What is the trend in tech that you find most concerning?"Privacy is dead, get over it," some say, but I don't think I'm quite over it yet. In this arms race for commercial dominance, I'm still deeply worried about the amount of behavioral tracking that goes on online with regard to every aspect of our lives.
I'm also worried about the trend in politics to fail to take advantage of what technology can do for us in the domain of problem solving in our social and political life. To me, we have spent a lot of time and attention on technology in politics, but not a lot on technology in governance.
SOUND BYTES: Beth Simone Noveck on...

Her indispensable gadget: Her iPad

Her favorite app: Email ("It's not just the killer app, it's the app that's killing me.")

Her favorite hashtags to follow on Twitter: #opengov and #opendata ("It's not a specific account, but it is a global community of people who are about the application of technology to democracy.")

Her "required listening" recommendation: Johann Sebastian Bach, "The Goldberg Variations." She adds, "I find that I write my way toward understanding, rather than read my way toward understanding. It's writing and rewriting the things that people will never read that I find to be the most helpful way of refining and understanding what I'm working on."
What is the next big idea in tech?The next big idea in tech is democracy. My short take on it is this: If the great innovation of the 20th century was bureaucracy, the great innovation of the 21st century is democracy and making it real in practice. I don't just mean democratizing how we govern, but also making the processes by which we govern more open to new and innovative ideas. We need more people contributing these ideas and learning how to do that is the next big thing.
Can you paint a more specific picture of this for me? What does our government look like, 10 to 15 years down the line, if it's able to implement that technology?In the immediate term, there's the chance to use technology to deliver services to citizens in ways that are much more convenient, like using mobile phones to simplify how we do everything from getting a passport to applying for a license.
That's the easy stuff. More significantly than that, what it looks like is government constantly providing data about a particular issue or problem and citizens constantly being invited to share their ideas and tools for solving a particular problem.
What makes technology such a good tool for solving social problems?First, technology is of course wonderful for enabling us to communicate information across a distance, which allows people with knowledge and expertise or enthusiasm or ideas for how to solve a problem, to share and communicate that information. The second thing it does is it really empowers our inner expert. If I have a particular enthusiasm or expertise, I can join a community online where I can contribute that knowledge. And third, what technology really lets you do -- not unlike law, which is why I think I gravitate toward both domains -- is it lets you structure and organize the way we communicate information.
Women in Tech, a series from HuffPostTech, showcases innovative female pioneers, from CEOs and scientists to entrepreneurs and engineers, who are changing the way we think about and engage with technology. Read more interviews and profiles from the series here
Related
Popular in the Community