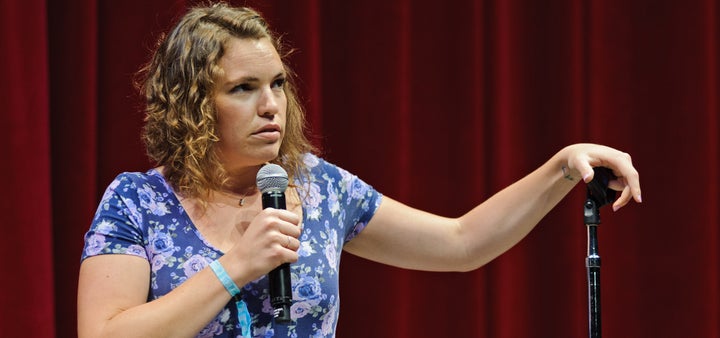 In late December, comedian Beth Stelling posted a powerful Instagram photo in which she detailed an allegedly abusive relationship she claimed she was in last summer with a man that she was careful not to name. Comedian and former boyfriend of Stelling, Cale Hartmann, has since been identified as the man who allegedly raped and abused her. 
Fellow stand-up comic, Sam Morril, named Hartmann as Stelling's abuser in a tweet on Dec. 29. 
Hartmann responded on Dec. 30, to the allegations in a Facebook post. According to the post, Hartmann had taken a short "break" from social media during the time that Stelling's allegations came out in order to "protect [himself] and [his] family while [he] assessed the situation."
"I was incredibly hurt to see my ex-girlfriend had made public accusations across all of her social media platforms that tell a story so far beyond the truth," Hartmann wrote. "The severity of her accusations are false and extremely harmful. I'm not sure she realizes the irreparable harm of her actions."
Read Hartmann's full post below. 
Towards the end Hartmann wrote that he has "nothing to hide," adding that "I have been on the other side of this many times and just assumed the accused party was guilty because Facebook told me so. The only thing keeping me sane and rational is that I know the truth." 
On Jan. 2, Pauroso tweeted a link to her podcast and wrote: "This one might be hard to listen to, but you should try, because it's the truth. I've got your back Beth Stelling." 
In the podcast Pauroso, who was in a three-year relationship with Hartmann, describes why she's speaking up now. "The reason that I'm [coming forward with my story] is because I think it's importance because I want to back up Beth, who did a really scary thing, and I also want to tell my story," she said.
She says that her relationship with Hartmann was "verbally and emotionally abusive for three years" and when she attempted to break up with him in 2013, he raped her. "What happened to Beth -- not exactly the same thing -- but, it happened to me too," she said in the podcast."And I guess the worst of it being that when I was trying to break up with this person, this was on September 4, 2014, he raped me. And I left the next morning and I left and I ran away. And I've been trying to deal with my life since that moment." 
Later in the podcast Pauroso added that it took her a long time to acknowledge what happened to her. "Now that Beth has come forward with this, I think it's appropriate that I do the same thing, too," she said. Listen to the full podcast here. 
On Jan. 2, Stelling showed her support for Pauroso by sharing an Instagram image of Pauroso's podcast photo. "When we share, it gives others the strength to & the full picture comes into focus," Stelling wrote underneath the photo. "Courtney & I are intertwined."
We stand with you both. Thank you for telling your stories. 
PHOTO GALLERY
Shocking Domestic Violence Statistics
REAL LIFE. REAL NEWS. REAL VOICES.
Help us tell more of the stories that matter from voices that too often remain unheard.