What defines the American Dream? And can you find it in a suburban home?
Disillusioned with her own life in the Silicon Valley suburbs, photographer Beth Yarnelle Edwards set out to document family life in that region of California in 1997 for a series she titled "Suburban Dreams."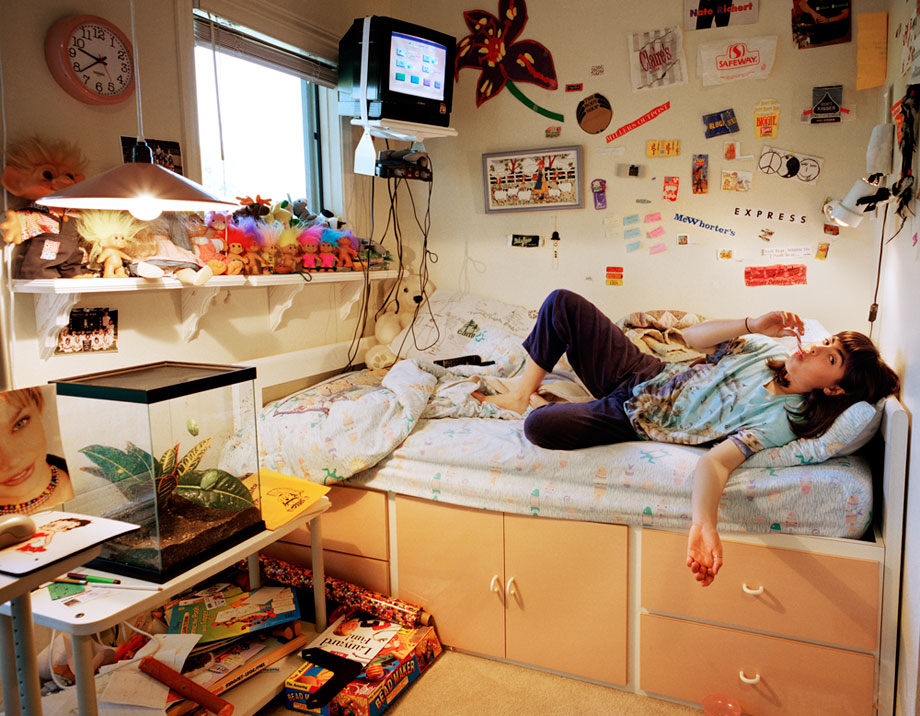 Shooting with film, a wide-angle lens, and a mixture of artificial and natural light, Edwards set out to make "hyperreal" painterly images of contemporary American life.
"I think of my images as being like genre paintings because they're intended to depict a typical event in the home rather than a decisive moment," Edwards explained via email. "And like genre paintings, I strive to include as much information about the people and the place as possible."
The images are the result of collaboration between Edwards and the families she photographs. She interviews them, takes a tour of their home, and then recreates events from the family's daily life. Rather than pose them, she sets up improvisations. "When I see a gesture or action that rings true, I'll ask the person to freeze because my shutter speeds are fairly slow; this leads to a slightly frozen look, which I love," Edwards said.
In 2003, after working on the series for five years, Edwards was invited to do similar projects across Europe. Most of her work through 2012 took place in France, Spain, Holland, Germany, and Iceland, and she ended up including households that "could be California" in her monograph Suburban Dreams. She recently had an exhibition of her work at the Oakland Museum of California for six months.
Edwards wrote that although many of her images contain a "dizzying number of possessions," she stressed that the goal for most of the families she photographed was to provide a "safe and nourishing place for family life."
"I call my series and monograph Suburban Dreams because it depicts a way of life that many Americans live and even more aspire to," she said. "To me personally, the American Dreams means the freedom to believe and act as one wishes as long as that doesn't impinge on the rights of others."
Sixteen years have passed since Edwards began the project, and the economic downturn has taken a toll on many Americans, though Edwards wrote most of the families she documented for the project were unaffected. "I know the economy has changed terribly since I made the photographs, but as these particular people already owned their homes, and property values in the Bay Area have since increased [and] few were affected by the economic downturn," she said. "I've kept track of most of my subjects, and as far as I know, only one family had problems. They had to tighten their belts, but they didn't lose their home. It's important to remember that not all regions of the country were affected equally and that Silicon Valley was luckier than most."
See more images on Slate.