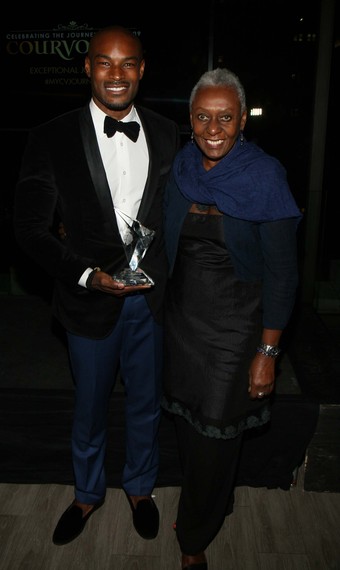 Bethann Hardison 's activism started way before she penned a few letters in 2013 to companies apart of the fashion industry calling out how mainstream designers' lack of diversity on the runway is an "act of racism."
In the video below, Hardison speaks to independent record label and publisher Mayimba Music on why she wasn't chosen to be a fashion activist. Hardison says that after 1996, the lack of diversity in fashion ( on the runway, in model castings, in advertising) has decreased. Then, when she noticed how little black models (or models of color in general) were represented during the 2013 New York runway shows, she had to take a stand for her mentorship, her authority and overall influence in the industry. This observation led her to penn four articles to organizations like the CFDA calling out specific designers, like Donna Karan and Calvin Klein, for their ignorance and laziness for not using black models on the runway. The letters made headlines (and continue to surface today) for the blunt words that ultimately call to action a duty to make some changes real quick. Hardison talks about her thought process and fashion advocacy in the video below.
Throughout the month of March, one video from Mayimba Music will be released on their tumblr and youtube channel daily. Through these short video testimonials, women across diverse industries, backgrounds, and social status' have the opportunity to inspire the next generation through community. "I developed this campaign to bring attention to the idea that our struggles are really what make us who we are, those are the defining moments." Says Zoila Darton from Mayimba Music. Each unique narrative will be shared with young ladies throughout New York's inner city school system during a five borough school tour in collaboration with the Department of Education.
Hardison's fashion career started as an assistant and fitting model to fashion designers like, Will Smith, which ultimately lead her to become an international fashion model, walking alongside girl pals Beverly Johnson and Iman. Hardison later launched an agency to manage and recruit some of the world's most well-known African American models of today, like Tyson Beckford and Naomi Campbell. Her inspirational words in the Mayimba video are real and genuine. She says, 'I am a Mayimba because I am pressured, driven, female and very much in need to get some rest." She goes on to say that there has been equal representation of model diversity in the '70s, but not since 1996. What caused this shift in behavior and ideology is debatable (perhaps it was the change in leadership). However, Hardison's main goal has been to remind society how to see race. She says, "We are trying to remind people of how we see race. It's very important that people see what we see on the streets when we walk around and how the world has changed. "