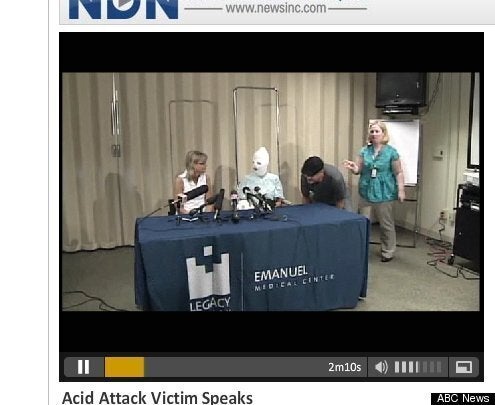 VANCOUVER, Wash. (Associated Press) - A woman who gained sympathy worldwide after she claimed a random assailant threw acid on her face came forward Thursday with a startling admission: She inflicted the attack on herself.
Vancouver police chief Clifford Cook said Bethany Storro admitted under police questioning to fabricating a story about the attack, in which she suffered severe burns.
Cook said he did not know a motive for Storro's actions, but added she is "very remorseful." He said Storro was still being interviewed by detectives.
The police chief said that "during the course of the investigation, several discrepancies began to emerge regarding the alleged attack," leading police to search her home earlier Thursday and interview her.
"During the interview, Ms. Storro admitted the injuries were self-inflicted," Cook said.
Police had been seeking a black woman with a ponytail after Storro described the Aug. 30 attack. She had said the woman asked her, "Hey, pretty girl, want something to drink?" then threw acid in her face.
She recounted details of the alleged attack at a news conference, with her head wrapped in bandages and her parents by her side. She said she wanted to know why the unnamed assailant had attacked her.
After the incident, Storro made several media appearances, but a planned interview on "The Oprah Winfrey Show" was canceled. She said she had received correspondence from people around the world concerned for her well being.
Storro's story rocked Vancouver, a suburb of Portland, Ore., with about 165,000 residents near the Washington-Oregon border. Funds were set up for Storro at Umpquah and Riverview Community banks, which did not return requests for comment Thursday.
Vancouver police Commander Marla Schuman said detectives were working on a way to return any money donated to Storro.
Schuman said the alleged attack and the probe stretched the resources of Vancouver's small police department.
"It's been hundreds of hours," Schuman said about the time invested in the investigation. "It really took a toll on the department and the resources that we have."
Cook said any decision to charge Storro with a crime would be left to the Clark County Prosecuting Attorney's Office. Clark County Senior Deputy Prosecutor John Fairgrieve did not immediately return a call from The Associated Press seeking comment Thursday.
"She is extremely upset," Schuman said. "In many ways, this got bigger than she expected."
Schuman was asked whether Storro will face a charge of filing a false police report, to which she responded: "At this point, yes, that would certainly fit."
A telephone number for Storro's parents, Joseph and Nancy Neuwelt, could not be located Thursday. The couple has called the alleged attack "an act of evil," but said the family would persevere.
A burn surgeon who operated on Storro said the substance thrown on her face was an acid as strong as hydrochloric or sulfuric acid. Police said Thursday that they haven't yet identified the substance Storro used, nor did they find any evidence of acid in her home or car.
WARNING: GRAPHIC PHOTO BELOW
This image provided by the Legacy Emanuel Medical Center shows Bethany Storro prior to surgery in Portland, Ore. Vancouver, Wash. Police Chief Clifford Cook said that Bethany Storro admitted to fabricating a story about the attack in which she suffered severe burns on Thursday, Sept. 16, 2010. Cook said he does not know a motive for Storro's actions, but added she is "very remorseful." (AP Photo/Legacy Emanuel Medical Center)
Related
Popular in the Community