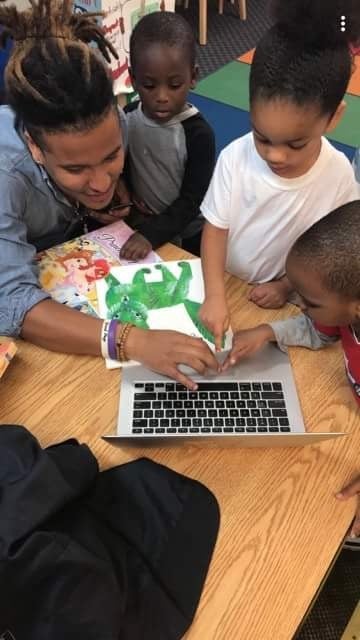 #BeBlessing is an effort to reach back to children and offer insight on life skills, civic engagement and career exploration.
#BeTheBlessing was created by Jeremiah Chapman, a former U.S House of Representatives Advisor and current National Training Director for NextGen America, in commemoration of the late Tywanza Sanders, the youngest victim killed in the 2015 Emanuel AME Church Shooting. In the year following Tywanza's death, Jeremiah faced the loss of his best friend, Christian Johnson in a driving incident.
#BeTheBlessing is a gesture to honor the unyielding faith his friends exhibited in their short lives, which shaped Jeremiah's commitment to the prosperity of young people. After graduating from Johnson C. Smith University in 2011, Jeremiah's younger cousin and West Charlotte mentee would be convicted of manslaughter.
#BeTheBless is intentional about reaching back to youth to offer insight on life skills, civic engagement and career exploration. Over the course of one week, #BeTheBless will visit 9 schools to speak and host workshops with students.
Joining Jeremiah on The #BeTheBlessing Tour will be an all star cast of change makers and positive figures that include: County Commissioner Ella Scarborough, Former District Court Judge Yolanda Trotman, NAACP President Corine Mack, Chamber of Commerce VP Local/Regional Government Keith Kelly, City Councilwoman Dimple Ajmera, Attorney Anthony Burts, White House HBCU All Star/Who's Who in Black Charlotte Tasja Estieverne, Global Black Student Orientation VP Deandre Collins, SNCAE-UNCC Chair Lacia Core
The tour is a collaboration between organizations such as: iSpeakNOW.org, Omega Psi Phi Inc, HBCU Wall Street, Global Black Student Orientation, Race 4 Achievement, The Charlotte-Mecklenburg NAACP, UNCC 100 Black Women & SNCAE - UNCC
As a means of combatting the lack of social upward mobility in communities of color in Charlotte, Jeremiah will also meet with CMS Career Liaison, Douglas Jones . The discussion will be centered around ways to offer early opportunities to students of color as apart of The HBCU 20x20 Campaign, which seeks to diversify workplaces around the world.
Principal Calloway of Walter G. Byers School will also receive a visit during the tour to discuss the barriers his students face due to homelessness. A Charlotte Observer article from earlier this year stated that the school struggles with a whopping 30% of its students either without homeless or without stable housing.
Jeremiah will also meet and speak with with students from The City of Monroe Youth Council, who will be taking part in the National League of Cities taking place November 15-18th.
Qualitative and quantitative data captured during this tour will be used in a short documentary (entitled "Be The Blessing") that depicts his journey to pay it forward, honor his fallen friends and motivate current/future leaders. This documentary will then later be used to extend the tour across the country and eventually abroad.
When asked why he felt the need to make the cross country trip from his new home in California to return to Charlotte, Chapman had this to say : "I owe the City of Charlotte and it's youth so much - it was their belief in me that propelled me to my current role as a National Training Director, developing curriculum for activists across the country - I wouldn't be half the man I am today if it weren't for my struggles and triumphs living on Beatties Ford Rd."
Global partners moving forward include Share Your Story Africa, founded by Oprah Winfrey Scholar Mpumi Nobiva, HBCU Wall Street, The HBCU 20x20 Campaign, Global Black Student Orientation, Social Capital LLC, The Open Book Foundation, Black University
Related
Popular in the Community