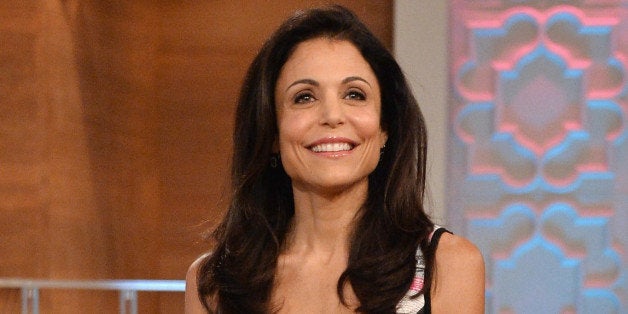 You can start watching The Real Housewives of New York again (which premieres tonight on Bravo), because Bethenny is back. Seriously, if anyone can bring true realism to a 'reality tv show' (not that we've ever watched Real Housewives, The Bachelor, or reality shows in general of course…) it's Bethenny Frankel.
She's also keeping it real with her new book out today -- I Suck At Relationships So You Don't Have To -- whose title speaks for itself. Like the episode The Opposite on Seinfeld, Bethenny – like George Costanza – aims to have you do the exact opposite of everything she's ever done in dating. Frankel filled us in on ways to kickstart healthy eating, our relationship with food and why women are most definitely crazy…
From start to finish, what would be your ideal food day?
For breakfast, definitely an egg white omelette with spinach, tomato, onion, and feta cheese. On the side, a scooped out toasted whole wheat bagel with butter and a few slices of turkey bacon. And of course, iced coffee with soy milk and a splash of Skinnygirl Stevia Liquid Sweetener. Lunch is usually a "use what you have salad" but my favorite is arugula salad with bresaola, shaved parmesan, olive oil, and a lemon squeeze. Sometimes, I sneak in a split pea soup, as well! Then it's definitely time for some kind of sweetness. Recently, I've been craving and loving my new Dark Chocolate with Almond Skinnygirl Nutrition Bar. They are perfection! Dinner is always changing, but, ideally, I'd go for roasted Brussels sprouts, sliced charred steak, baked potato with salt and butter, a crab cake, and a kale Caesar salad. And of course, my favorite cocktails! My recent favorites have been Skinnygirl Pinot Grigio or Skinnygirl Bare Naked Vodka with olives.