EL PASO ― Democrat Beto O'Rourke's bid for Senate seat in a reliably red state ended in defeat on Tuesday, dashing the hopes of progressives in Texas and beyond who had yearned for a Congress free of Republican Ted Cruz.
"I am as inspired, as hopeful, as I have ever been in my life, and tonight's loss does nothing to diminish the way that I feel about Texas or this country," O'Rourke told disappointed supporters at a packed Southwest University Park stadium in El Paso after conceding. "We're not going to define ourselves by who or what we're against or afraid of, or scared of."
Brianna Nevarez, 21, cast the first ballot of her life in this election after her mother inspired her to take an interest in the O'Rourke campaign. Her father, a veteran and lifelong Republican, also voted for the Democratic underdog.
"I want to cry," Nevarez said. "I had so much hope."
Despite a parade of celebratory national media coverage and a whopping $70 million in donations ― including a record haul from small donors and no money from corporate political action committees ― polls had consistently shown the odds were against O'Rourke's chances of derailing Cruz's re-election. O'Rourke, 46, narrowed the gap in several surveys in the campaign's waning days, but never closed it.
Instead, Republicans continue to dominate the major political offices in a state whose changing demographics have made it majority-minority but whose electorate retains a conservative tilt. The GOP hasn't lost a statewide election since 1994.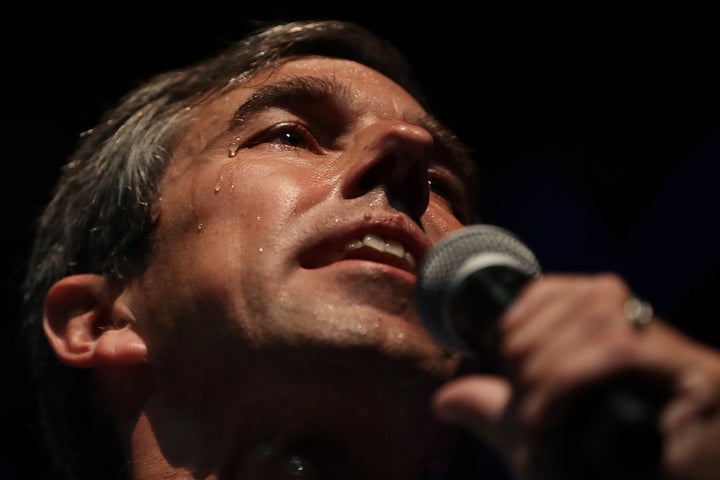 "The expectations of dramatic, huge partisan shifts are just unrealistic," University of Texas at Austin political scientist James Henson said. "It's not going to happen."
O'Rourke's campaign was significant not just for the amount of attention it grabbed, but because it attracted any national interest at all.
Democrats seeking statewide office in Texas are used to losing by margins of 20 percentage points or more ― a trend that has made prominent party members unlikely to jump into races they have little confidence in winning. This year, several of the best-known liberal names in the state ― including Julian Castro, who is scouting a run for the presidency ― passed on runs for the Senate seat or the governor's office.
But the enthusiasm aroused by O'Rourke's quixotic campaign, which was on track to narrow the margin of defeat to under 4 percentage points with 87 percent of precincts tallied, promises to shake up Texas politics in the years to come.
On Tuesday, thousands of O'Rourke supporters ― some of whom had traveled from cities hundreds of miles away ― chanted "Be-to! Be-to!" as they packed into Southwest University Park to witness what they hoped would be a historic event.
"He's going to be the one to pull it off," Houston retiree Dorothea Stern said as the night began.
True to form for a bilingual politician who represents an overwhelmingly Latino district, the night began with live cumbia music, with the band dedicating a song to the migrant children locked up in the nearby tent camp in Tornillo.
The mood quickly faded. After running neck-and-neck with Cruz as the early voting ballot counts trickled out from the secretary of state, O'Rourke's chances of victory evaporated as the night progressed. Some supporters refused to believe it, insisting that Cruz's lead would narrow as the night wore on. Others despaired.
But O'Rourke's high-profile battle with Cruz will likely improve Democratic prospects for recruiting better candidates and cause party leaders to view the state as more competitive.
"It will embolden people," said Jose Parra, a Democratic strategist who worked as an adviser to former U.S. Sen. Harry Reid. "There is a future as a Democrat in Texas."
Perhaps more importantly, O'Rourke gave beleaguered Texas Democrats a new template by casting aside the traditional strategy of focusing turnout efforts on voters in the state's four largest urban areas, which skew blue. Instead, O'Rourke anchored his aggressive ground game on his commitment to visit each of the state's 254 counties. As he traveled he focused on mobilizing Hispanic voters across the neglected border region while simultaneously pleading his case to independents and conservatives in red counties that in the past voted overwhelmingly for Republicans, including Donald Trump in the 2016 presidential race.
"For the longest time, Texas has been written off as a lost cause," Veronica Escobar, a Democrat who was elected to take over O'Rourke's House seat on Tuesday, told HuffPost. "There are huge groups of people who have felt left out of the process. Unless you talk to them, they're never coming back. And I mean literally talk to them. That's what Beto has done."
The 47-year-old Cruz, meanwhile, avoided what would have been a crushing blow for a politician who had rocketed to the national stage and now remains primed to be a leading figure in the GOP.
After winning his Senate seat in 2012, Cruz quickly emerged as a strong ― often strident ― voice of the Tea Party conservatism that was remaking the GOP and pushing it further to the right. In 2013 alone, he helped scuttle a bipartisan push for the comprehensive reform of immigration policy reform and played a key role in a 16-day government shutdown.
Never shy about his ambition, he quickly became a major contender in the crowded race for the 2016 Republican presidential nomination. He won several caucuses and primaries and emerged as the last candidate standing against Trump.
There appeared to be no love lost between the two men as they battled in the GOP race ― the Texan called Trump a "pathological liar," while the New York businessman took to calling his foe "Lyin' Ted Cruz." But after Trump won the White House, Cruz emerged as a reliable administration supporter and a defender of the president's combative style.
Trump returned the favor by heartily endorsing Cruz and traveling to Texas late last month to headline a huge rally for the senator and, in typical fashion, bash O'Rourke.
The Democrat, for his part, eschewed a political climate marked by negativity and ran a relentlessly upbeat campaign. O'Rourke declined to attack Cruz until their second debate in October. Instead, he trumpeted bipartisanship while staking out positions on several issues that placed him within the Democratic Party's progressive wing.
He backed an incremental approach toward universal health care, tougher antitrust laws and a pathway to citizenship for undocumented immigrants. As part of a comprehensive critique urging reform of the criminal justice system, he called for the legalization of marijuana and the erasure of weed possession convictions.
"Democrats have to get up the morning after this election, no matter how depressed they are, and really understand that one of the things that really helped them this cycle is that they attracted a really strong candidate at the top of the ticket and some really strong candidates at the congressional level, and think about immediately building on that."
The highly publicized and covered contest between Cruz and O'Rourke had at least one dramatic effect ― spurring a significant expansion in the number of Texans on the voting rolls. In recent years, the state had added an average of 100,000 new voters to the rolls. But between the '16 presidential election and the close of registration this year, about 700,000 Texans registered to cast ballots.
Along with motivating new voters, the O'Rourke campaign amassed an army of volunteers to carry out pop up block walks and staff a turnout operation that included more than 700 field offices. In a state where Democrats have struggled to build infrastructure to boost lagging turnout, particularly among Hispanics, that trend leaves some operatives feeling optimistic about the future.
"This is a long-term game," said Oscar Silva, director of the political action committee Battleground Texas, which aims to flip the state to blue by raising turnout. "It's so exciting that it's happening faster than any of us imagined."
And even in defeat, O'Rourke walks away a rising star in his party who already has been mentioned as a potential presidential contender.
But none of the strides for Texas Democrats made possible by O'Rourke's campaign changes the reality that the state remains under firm conservative control.
"Democrats have to get up the morning after this election, no matter how depressed they are, and really understand that one of the things that really helped them this cycle is that they attracted a really strong candidate at the top of the ticket and some really strong candidates at the congressional level, and think about immediately building on that," said Henson, the University of Texas political scientist. "2020 is going to be here before you know it."
Even in defeat, O'Rourke walks away a rising star in his party who already has been mentioned as a potential presidential contender. He ended the race sounding the themes that catapulted him to national prominence. Ignoring the crowd's booing, he said he'd called Cruz to congratulate him and to offer his support, pledging to work with "anyone, any time, anywhere."
His supporters cheered him when he recalled that his unlikely run was made possible "without a dime" of corporate PAC money.
"I'm so fucking proud of you guys," he said to uproarious applause, dropping an f-bomb that escaped cable TV censors. "This campaign holds a very special place in history every day going forward. And you have made that possible."
Clarification: Language in this story has been amended to clarify that donations to O'Rourke were notable because they excluded corporate PACs and included a record amount of small donations, not because they excluded large donations from individuals.
Popular in the Community