Beto O'Rourke jumped into the Democratic presidential primary Thursday, telling Vanity Fair that he believes it's his destiny to lead.
"I want to be in it," O'Rourke said. "Man, I'm just born to be in it, and want to do everything I humanly can for this country at this moment."
More from the Vanity Fair profile:
I ask O'Rourke if he could see himself among the presidential biographies on his shelf—Washington, Lincoln, Kennedy. "I haven't really thought about that," he says. "I think, ego-wise, we're going to be O.K. if we don't run. Where we won't be O.K. is, if we don't run and come to the conclusion later on, if we had run, man, this wouldn't have happened. Things would have been a lot better. Or—"

"You didn't do everything you could," Amy says, completing his sentence.

"We didn't do everything that we could," he says.

Beto O'Rourke seems, in this moment, like a cliff diver trying to psych himself into the jump. And after playing coy all afternoon about whether he'll run, he finally can't deny the pull of his own gifts. "You can probably tell that I want to run," he finally confides, smiling. "I do. I think I'd be good at it."
It's not surprising O'Rourke feels this way. There are indications that throughout his life, he's been supported by parents who had high expectations for him.
In a February profile in The New York Times, O'Rourke's former girlfriend remembered his father, a prominent Texas county commissioner and judge, visiting his directionless Columbia University son in New York City.
"I just remember his dad coming," said the former girlfriend, Sasha Watson. She said O'Rourke's father insisted his son was destined for "bigger things" and "really saw great things for Beto."
Some may see O'Rourke's "born to be in it" quote as inspiring. The former congressman wants to be in the arena, even if he loses ― as he did against Sen. Ted Cruz (R-Texas) in 2018.
But other may see a sense of entitlement that only people like O'Rourke ― straight, white and male ― have the luxury of possessing.
"I think the thing is, is that every man wakes up in the morning and looks in the mirror and says, 'I could be president,'" said Sen. Patty Murray (D-Wash.) in 2013. "I think every woman looks in the mirror and says, 'What can I get done for my country today?'"
Young men are far more likely to be encouraged by their parents to think about politics as a career path, according to research by academics Jennifer Lawless and Richard Fox. And then, not surprisingly, men are far more likely to think about running for office.
According to their 2013 study, men were twice as likely as women to say they "definitely" plan to run for office at some point in the future. Women were more than 50 percent as likely to say they would never run.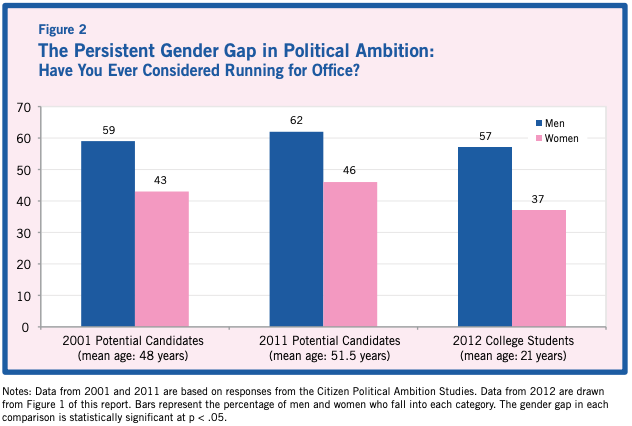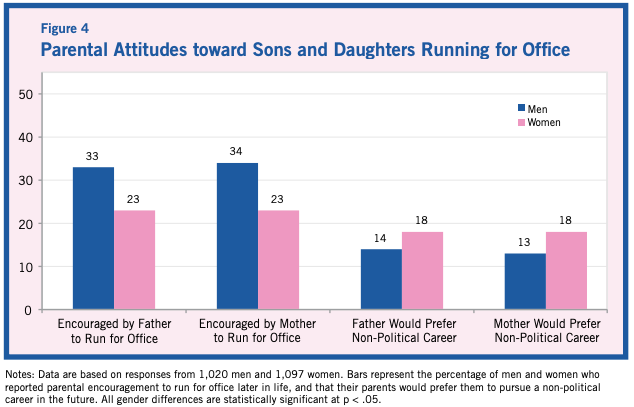 O'Rourke also has the luxury of a wife who, he admitted, is doing the bulk of the work in raising their children.
The only other major Democratic candidate with young children is Sen. Kirsten Gillibrand (D-N.Y.), who has talked about her family very differently. She has put being a young mom at the center of her campaign and often talks about her experiences juggling a family and a political career, and how that translates into support for various policy proposals.
Obviously, things are starting to change. Far more women ran for office ― and won ― in 2018, and many others became politically active for the first time in their lives, spurred by reaction to President Donald Trump.
There are five women running for the Democratic presidential nomination this cycle ― although the presumed frontrunners are still white men: Sen. Bernie Sanders (I-Vt.) and former Vice President Joe Biden (if he decides to jump in).
And perhaps, with increased involvement by women in politics, there are more little girls out there thinking that they, too, were born to be in it.