AUSTIN, Texas ― Sen. Ted Cruz accused Rep. Beto O'Rourke of illegally funding a caravan of Central American migrants on Friday, playing off the fears repeatedly stoked by President Donald Trump just four days ahead of the midterm election.
The Texas Republican posted a tweet urging reporters to get his Democratic challenger on record about whether O'Rourke thought the migrants should be "allowed to cross illegally into Texas" and accusing O'Rourke of refusing to answer the question.
The senator went on ask if the O'Rourke campaign had "illegally" funded the caravan, alluding to an undercover video produced by conservative trickster James O'Keefe's Project Veritas. It's not clear if the video depicts any illegal activity.
A Project Veritas operative posing as an O'Rourke campaign worker secretly recorded other O'Rourke staffers talking about using prepaid campaign debit cards to buy food for asylum-seekers last week in Texas. The asylum-seekers were not part of the caravan ― they were already in Texas, apparently taking shelter in churches while the government processes their legal claims.
Nevertheless, the Cruz campaign insisted the senator's question about "funding" the caravan is fair.
"Beto campaign staffers confirmed they are giving supplies to immigrants who have crossed the border illegally," Cruz spokeswoman Catherine Frazier said in an email.
In fact, it's not clear if those immigrants crossed the border illegally. It's legal to come to the U.S. to seek asylum. It's also legal to lodge an asylum claim after crossing the border without authorization. The immigrants in question had reportedly been dropped off at a bus station last week by federal authorities after they'd been processed by immigration officials.
Plus, the Federal Election Commission website says it's legal for political campaigns to donate to charity. The O'Rourke campaign said it did nothing wrong, although the video's release appeared to catch them off guard.
"Staff members took it upon themselves to use prepaid cards from one of our more than 700 field offices to buy baby wipes, diapers, water, fruit and granola bars, and donate them to a local humanitarian nonprofit named Annunciation House that helps mothers and children in the community," O'Rourke spokesman Chris Evans said. "The value was under $300 and it will be appropriately reported to the FEC."
O'Rourke has also repeatedly answered questions about immigration on the campaign trail. He has called on the Trump administration to stop prosecuting asylum-seekers for immigration violations. He has urged asylum-seekers to come through legal ports of entry to make their claims ― while faulting the Trump administration for deterring them from doing so, which incentivizes migrants to cross illegally.
One of O'Rourke's repeated lines on the stump is that Central American asylum-seekers are "arresting" Border Patrol agents, not the other way around ― a reference to the fact that migrants who cross the border between ports of entry routinely turn themselves in to authorities to start to their legal claims.
In the Project Veritas video, O'Rourke campaign staffers seem to think there might be something wrong with supplying donations, though it's hard to tell how much of their concern was actually prompted by the Project Veritas videographer herself.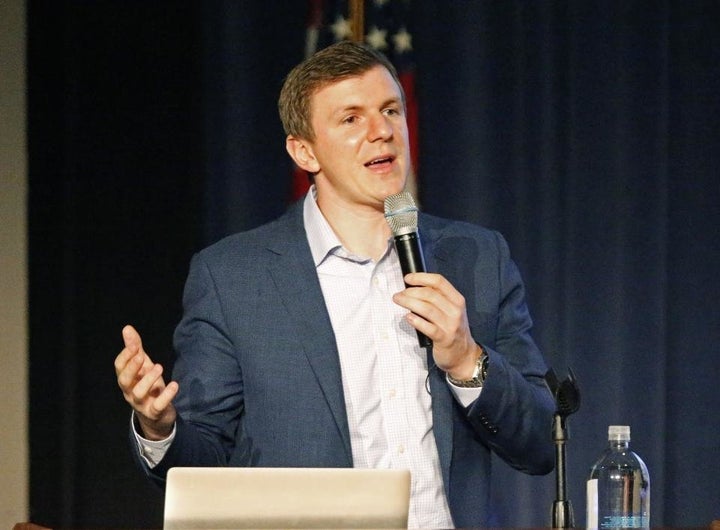 O'Keefe, the founder of Project Veritas, claimed that O'Rourke's campaign violated federal election rules by "covering up the true nature of spending of campaign funds and intentionally misreporting them." But he didn't produce any actual evidence of a coverup; the video is not the O'Rourke campaign's FEC report.
O'Keefe has done a lot of questionable work over the years. His most famous videos targeted staffers for the now-defunct anti-poverty group ACORN in 2009. O'Keefe claimed ACORN staffers in Baltimore told him how to claim underage migrant sex slaves on his tax returns, even though they told him he couldn't.
Near the end of the O'Rourke video, after 23 minutes of grainy footage, O'Keefe pops up with a microphone to say he needs to make something clear.
"Helping immigrants who are in this country legally is not a bad thing," O'Keefe said. "And it's possible ― it's possible! ― conceivable that some of the immigrants featured in this story were here legally."
The recently arrived migrants who received some food and water from O'Rourke's campaign are also unlikely to be associated with the caravan that Trump has railed against in recent days. The latter group ― which includes some 2,400 children, according to UNICEF USA ― is still in southern Mexico and traveling by foot. They will not reach the U.S.-Mexico border for weeks at their current pace.
The congressman noted that discrepancy in a statement denying any wrongdoing.
"This is part of an effort to try to stoke fear and anxiety about immigrants, about asylum-seekers," O'Rourke said after a rally in Lewisville, Texas, according to The Dallas Morning News. "I am comfortable that the campaign is above board, that everything is being reported to the FEC, and I'm going to also make sure that I understand that's going on, but from everything I've heard, that's the sum of it."
Cruz's attack over the caravan followed multiple contentious statements from Trump, who has verbally attacked the Central American migrants and dispatched some 5,200 troops to the border in an effort to deter them. It's unclear what practical effect the troops will have, given that the U.S. military can't make immigration arrests and that Central American asylum-seekers typically turn themselves in or cross at legal ports of entry anyway.
But Trump keeps pushing the hard line against immigration that helped propel him to power. On Wednesday, the president posted a video featuring images of undocumented cop killer Luis Bracamontes and accusing Democrats of letting him into the country. In fact, Bracamontes entered illegally and was deported twice ― once in 1997 and once in 2001. On Thursday, Trump said his administration was drafting a plan to keep asylum-seekers indefinitely detained in tents, again blaming Democrats for the longstanding peculiarities of U.S. law governing asylum.
Popular in the Community