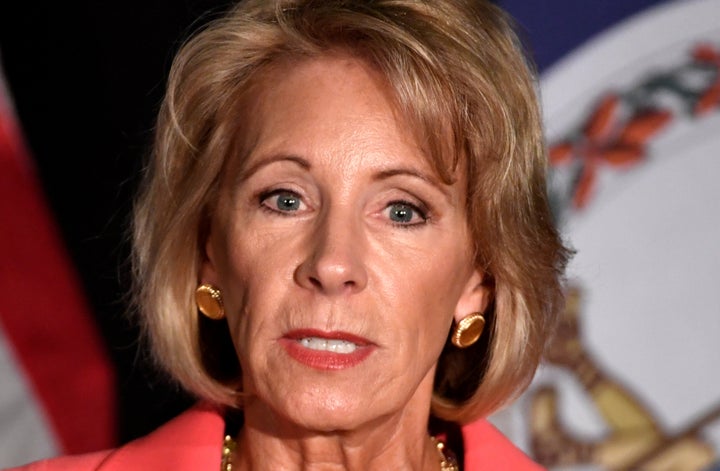 An Obama-era policy that aimed to better protect victims of sexual assault on campus has been rescinded by Education Secretary Betsy DeVos.
The announcement, made Friday by the Department of Education, rolled back guidance under Title IX on how colleges and universities should handle complaints of sexual harassment and assault. Among other recommendations, the guidance had set forth a lower "preponderance of evidence" standard for finding that students had committed sexual assault and thus could be punished. Under DeVos, schools can now raise that standard.
"Schools must continue to confront these horrific crimes and behaviors head-on," DeVos said in a statement. "There will be no more sweeping them under the rug. But the process also must be fair and impartial, giving everyone more confidence in its outcomes."
Know Your IX, a national youth-led campaign to end sexual violence, called the latest decision a betrayal of survivors of sexual assault.
"Today's guidance allows schools to systematically stack campus investigations against survivors and push survivors out of school," the group said in a statement. "The Department of Education is sending the message that they value survivors' access to education less than that of the students who assault and abuse them."
The department's Office for Civil Rights has 360 open sexual assault investigations, according to The Chronicle of Higher Education.
DeVos is ignoring the "terrifying reality" that 1 in 4 women are sexually assaulted while on campus, according to Nita Chaudhary, co-founder of the national women's advocacy group UltraViolet.
"Betsy DeVos and Donald Trump are more concerned with protecting the rights of predators and abusers over the rights of survivors of sexual assault," Chaudhary said in a statement. "Sadly, given President Trump's history of bragging about sexual assault, this isn't that surprising."
Popular in the Community