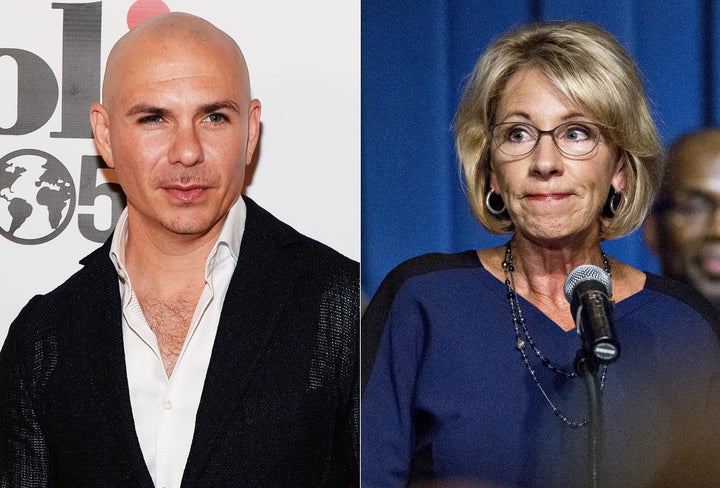 Education Secretary Betsy DeVos spent Thursday afternoon touting a Pitbull-affiliated charter school in Miami called SLAM Academy.
DeVos was using the Florida visit to push her school choice agenda. But the school she chose is a less-than-shining example of the charter school movement. SLAM Academy has a mediocre academic rating and receives operational support from a company with a sketchy past.
The school, formally called Sports Leadership And Management Academy, covers grades 6 through 12 with a focus on the business of sports. It was founded by the rapper Pitbull, who appeared alongside DeVos on Thursday.
Pitbull currently acts as SLAM's "brand ambassador," said Lynn Norman-Teck, executive director of the Florida Charter School Alliance, who was acting as a spokesperson for the school.
SLAM, which opened in 2013, primarily serves low-income students of color. It aims to take advantage of kids' interest in athletics to show them there are other sports industry careers besides playing on a team.
"Staying in school and going to college is a great way to stay involved in sports management," said Norman-Teck.
The school has also partnered with a for-profit education services provider called Academica for operational support. Academica is one of the Sunshine State's biggest for-profit charter management companies, working with more than 100 schools in Florida, according to the Miami Herald.
It has also been the subject of scrutiny over its close ties to lawmakers and possible conflicts of interest. In 2011, Academica was the subject of a Herald investigation titled "Cashing In On Kids," which looked into its questionable, yet profitable, business dealings. At the time, the CEO was found to be renting space in his real estate holdings for unusually high prices to some of the schools the company operationally supports.
DeVos praised Miami's school district for offering students the option to attend such a school.
"I know that many of you are blazing the trails in your family and showing what can be done if you're just given the opportunity," DeVos said at the school event, according to the Herald. "I want to encourage you, encourage you in your studies, encourage you to continue to pursue the passion that is inside of you, whatever that may be."
The meeting was set up by the Education Department, which contacted SLAM for a tour, said Norman-Teck. She acknowledged the school has had "its ups and downs."
"It's moving along. Kids are making progress. Is it a top-performing school? No. But I think there are aspirations to get it there," she said.
As for the Academica connection, Norman-Teck noted that the company "purely handles operations" and suggested that the problems highlighted in the Herald investigation have been "cleared up." Academica did not respond to The Huffington Post's requests for comment.
DeVos is a charter school evangelist who believes all kids should have access to public charter schools and private schools. Her critics worry that her support for school choice could undermine traditional public schools, which the majority of American students attend.
As part of her trip to Miami, she also visited Florida International University and a religious elementary school, which participates in the state's tax credit scholarship program. That program gives individuals and corporations tax breaks if they donate to an organization that grants school scholarships to low-income children. DeVos is a fan. The Trump administration is even considering instituting such an initiative on the national level, Politico reported.
Popular in the Community