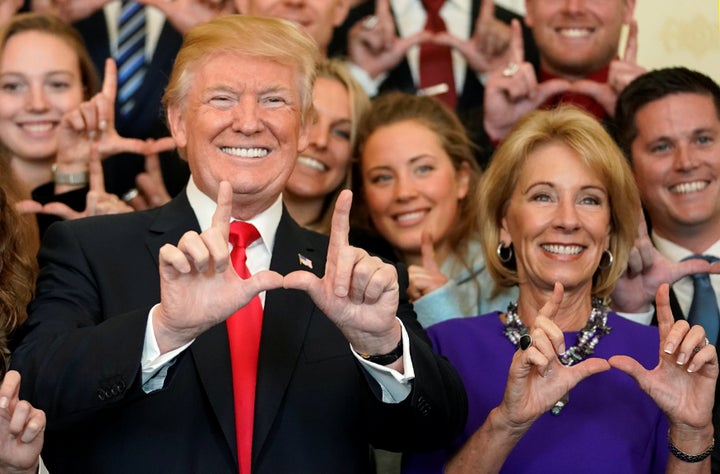 NEW YORK ― When Betsy DeVos was named education secretary last February, she become public education's No. 1 enemy. After all, the billionaire is notorious for her desire to expand private school choice programs (which include many religious private schools that teach Christian fundamentalist doctrine).
One year into her tenure, educators have turned this opposition into action.
As in so many industries and among Democrats at large, there has been a wave of activism in response to President Donald Trump in the past year. In education, this activism has manifested as a renewed rallying around traditional public schools.
The Network for Public Education, an advocacy group, has seen membership shoot up to 330,000 members, compared to 22,000 members before DeVos was nominated. The previous year, membership had increased by only a fraction of that amount.
Polls have shown a decline in support for some of DeVos' favorite types of schools. One poll from August showed that public enthusiasm for charter schools ― a type of public school that is privately operated and often has support from both parties ― is dropping. Another poll, from American Federation for Children, the education reform group DeVos used to head, found that overall support for the concept of "school choice" has been dropping too, although it remains high. (The AFC poll defines school choice as giving "parents the right to use the tax dollars designated for their child's education to send their child to the public or private school which best serves their needs.")
DeVos "was a wake-up call to everyone who was concerned about the future of public education," Diane Ravitch, a former U.S. assistant secretary of education and founder of the Network for Public Education, said over breakfast in a Brooklyn neighborhood in January. "I'm actually glad [Trump] chose her."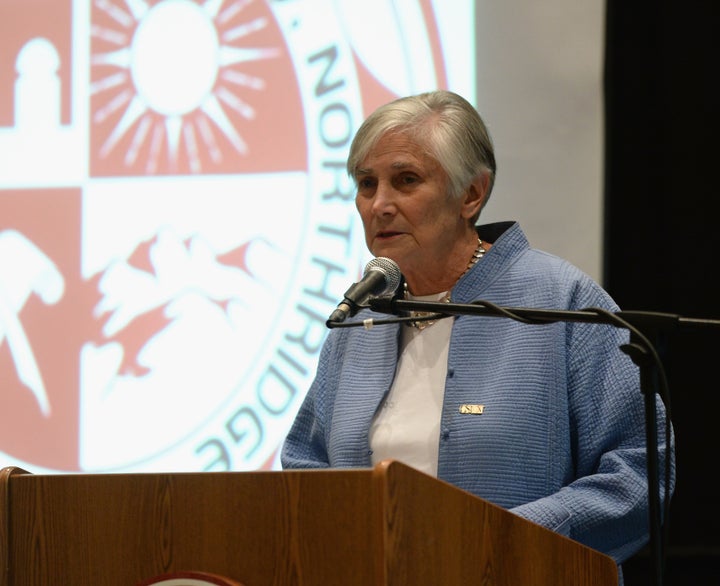 Ravitch, who is writing a book about resistance to school privatization efforts, calls DeVos a "blessing in disguise." For the first time in a decade, Ravitch said, she feels public schools are "gaining ground on the school privatization movement... and I don't think it's going to survive the scrutiny."
Randi Weingarten, president of the American Federation of Teachers, the nation's second largest teachers union, says she has also seen increased engagement among her members in the age of Trump and DeVos ― especially as an upcoming Supreme Court case threatens to deal a major blow to union finances. She told HuffPost she has recently observed a string of local races where pro-public education advocates have prevailed. More members are showing up at town halls and regional meetings.
"You see a tremendous appetite to fight," Weingarten said.
But she's not cheery about the reasons for this increased engagement.
"What you also see, on the other side, is a brazen, non-hidden quest to just kill us, and to kill every bit of every tool that enables broad-based voice and opportunity," she said.
Indeed, Carol Burris, executive director of the Network for Public Education, says she is far more more worried than she is optimistic about DeVos' impact.
"The truth of the matter is, even though there is a heightened awareness and pushback, there is so much money on the other side that it is overwhelming," said Burris, a former public school principal.
Despite widespread dislike for DeVos and some of her policies, these issues are still moving forward in many places. A majority of consequential education policy decisions are made at the state and local levels, especially as DeVos' plans for more federal school choice have mostly stalled. Burris notes that groups like hers have seen an increase in monetary donations ― but "because there are so many Republican majorities in statehouses, they are seizing the day," she said. "They are sponsoring legislation at a breakneck speed."
Advocates for charter schools say they have seen some declining support from liberals, but support among centrists and conservatives has remained steady.
Peri Lynn Turnbull handles external relations and strategy at the National Alliance for Public Charter Schools. She says that while charter schools have become a harder sell in left-leaning, anti-Trump states, she's glad that overall it has become a more relevant issue. It has become challenging, though, to combat what she calls increased misinformation about what charter schools are and what they do.
"It's elevated the conversation, for one. There's no doubt about it," said Turnbull, whose organization has also been critical of many of Trump and DeVos' signature priorities.
On the other hand, Lennie Jarratt of the Heartland Institute, a conservative and libertarian think tank, said there's been an increase in private school choice legislation at the state level that "hadn't happened like that in prior years." Private school choice takes various forms ― whether through tax credits, vouchers, or education savings accounts ― but it generally helps parents subsidize a child's enrollment in a private school. Opponents of private school choice say it drains public school systems of resources.
"Teachers unions pushed back harder probably than any other year against school choice," Jarratt said. "The proponents of school choice [have] been just as vocal, and more vocal too."
Jeanne Allen, head of the pro-charter and pro-voucher group Center for Education Reform, says that not having to advocate as much to get a voice with federal leaders has freed up her group to focus more on other issues.
She doesn't believe that opposition to DeVos has had any lasting impact on the education field.
"She's not everyone's cup of tea, but when I talk to people from all walks of life, I get very little, I hear very little criticism," Allen said. "I think the political fallout over her confirmation was a very, very small vocal minority of people who have any kind of lasting concerns."
Popular in the Community