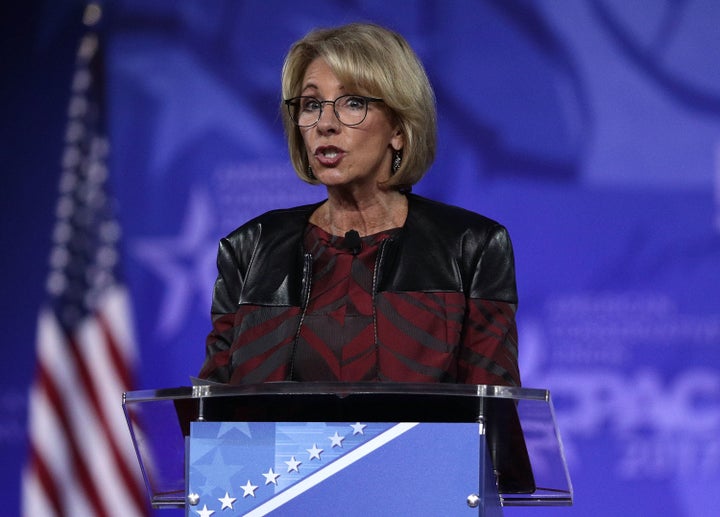 After meeting with leaders of these institutions at the White House on Monday, DeVos released a statement that some leading academics, politicians and rights groups are calling an inaccurate and offensive retelling of history. In her statement, DeVos praised HBCU's for providing opportunity to black students during a time when "there were too many students in America who did not have equal access to education."
"They saw that the system wasn't working, that there was an absence of opportunity, so they took it upon themselves to provide the solution," says the statement from DeVos, published Tuesday. "HBCUs are real pioneers when it comes to school choice. They are living proof that when more options are provided to students, they are afforded greater access and greater quality."
In truth, many HBCU's were formed as a matter of necessity when white supremacist structures systematically denied black students access to mainstream educational institutions, says University of Pennsylvania Professor Marybeth Gasman.
"I found the statement to be completely ahistorical," said Gasman, who studies HBCUs. "It completely ignores slavery, it completely ignores Jim Crow, segregation, oppression, mass discrimination across the country, it ignores our entire history. It's a whitewashing of HBCU history ... African-Americans did not have a choice when black colleges were established ― that was the only thing they could do."
On Twitter, many also questioned the validity of DeVos' statement, including Sen. Claire McCaskill (D-Mo.):
Other scholars and civil rights leaders also sounded off.
Most HBCUs were founded after the Civil War, when black students were kept from white institutions, Gasman said.
"It would be really wonderful if the statement had talked about the origins of HBCUs and admitted to the vast amount of discrimination in the way African-Americans were treated," Gasman said. "I think there's absolutely no knowledge on the part of Betsy DeVos when it comes to education in general and specifically when it comes to African American higher education."
President Donald Trump was due to sign an executive order this week around HBCUs. The order is expected to give the White House more control of an HBCU initiative that the Department of Education had previously controlled, CBS reports.
UPDATE: On Tuesday afternoon, DeVos gave remarks at an HBCU luncheon that reflected a more nuanced perspective on the history of these institutions.
"Providing an alternative option to students denied the right to attend a quality school is the legacy of HBCUs," she said at the luncheon, according to prepared remarks distributed by the Education Department. "But your history was born, not out of mere choice, but out of necessity, in the face of racism, and in the aftermath of the Civil War."
She also tweeted on the issue.
She continued to receive criticism on Twitter for framing HBCUs as an "alternative option" for students who were systematically kept from other institutions. More lawmakers also spoke out against her comments.
"Her backwards, utterly confused comments about the history of HBCUs last night only make it clearer how unqualified she is to serve all of our students," said Sen. Patty Murray (D-Wash.) to democratic leadership.
Support HuffPost
The Stakes Have Never Been Higher
Before You Go

Trump Praises Other Famous African-Americans Like He Did Frederick Douglass
Popular in the Community