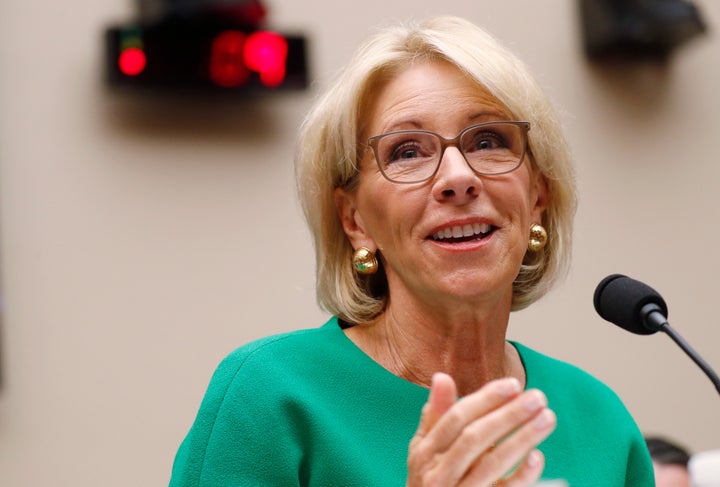 DeVos' reversal came during a tense exchange with Sen. Chris Murphy (D-Conn.), who demanded that DeVos give a yes or no answer to whether the law allows this. DeVos first told Murphy that the 1982 Supreme Court decision in Plyler v. Doe "says students that are not documented have the right to an education." When pressed for clarification, DeVos said she thinks "a school is a sacrosanct place for students to be able to learn, and they should be protected there."
Murphy accused DeVos of ducking the question. "I think educators know in their hearts that they need to ensure that students have a safe place to learn," DeVos responded.
Finally, after multiple rounds of prodding and Murphy's question, "So they can't call ICE?" DeVos responded: "I don't think they can."
Democratic members of Congress and civil rights groups have been demanding that DeVos correct her original comments since she made them. A week ago, in an exchange with Rep. Adriano Espaillat (D-N.Y.) while testifying before the House Education and the Workforce Committee, DeVos said she thinks it's "a school decision, it's a local community decision" whether school leaders should call ICE on undocumented students or families.
The Education Department subsequently said DeVos believes that schools should follow the principles established by Plyler v. Doe, which requires public schools to educate all students. Many critics of the education secretary, however, demanded a more public correction. By Monday, over 100 members of Congress had signed a letter reiterating the need for a "swift, decisive, and widely disseminated correction."
Espaillat said Tuesday, after DeVos' appearance before the Senate subcommitee, that he doesn't believe her new statement goes far enough.
″I would like to see from her a more definitive answer, as opposed to 'I think,'" Espaillat told HuffPost. "I think is in the right direction, but it's not a definitive answer."
Espaillat said he is "perplexed" that DeVos hasn't clarified the issue.
"This only lends itself to people feeling afraid or skeptical about things and it doesn't help matters," said Espaillat. "We would like to have a definitive answer, and it should be more along the lines of, this is what the law says, therefore they cannot do it."
Popular in the Community