Students at Marjory Stoneman Douglas High School weren't pleased with Education Secretary Betsy DeVos' visit to the Parkland, Florida, school on Wednesday. They told HuffPost that DeVos met with few students and gave "BS answers" to their questions about what she plans to do to address gun violence.
The brief visit, which was closed to reporters, came three weeks after the mass shooting that killed 17 students and staff members there. DeVos took only a handful of questions at a news conference afterward, not getting into specific details about the visit or what policy proposals she would consider to curb gun violence.
Student journalists at the school, who said they were among the only students that DeVos met, described feeling "disappointed" by DeVos' visit and called it "intrusive" and "not helpful."
"Personally, I didn't understand what the point was for her to come," senior Kyra Parrow, editor-in-chief of the school yearbook, told HuffPost. "She didn't answer my questions properly. It wasn't informative. It wasn't helpful at all. She just kind of gave me a BS answer."
A number of the students, some of whom have become activists for gun control in the wake of the shooting, said on social media that DeVos didn't meet with many students and "barely" responded to their questions.
Carly Novell, an editor at the student newspaper, The Eagle Eye, said that even student publications were restricted from interacting with DeVos and that "no one followed her."
Student Ryan Deitsch told HuffPost that they were not allowed to record DeVos' visit. However, Parrow said she was not told anything was off-limits in her coverage, but she wished DeVos had met with more students.
"I was lucky enough to be able to follow her around, but no other students were invited," she said. "My peers have every right to have a voice just as much as I do. I was lucky enough to ask her a question, but you know what? My other peers deserve to ask a question."
Anna Fusco, Broward Teachers Union president, who was present during DeVos' visit, confirmed the students' accounts, telling HuffPost that "they didn't see the purpose of her being there" and that DeVos "was very vague in her answers" to students' questions about what she plans to do on gun violence.
DeVos ― who has generated fierce opposition from education activists and who, during her Senate confirmation hearing, famously suggested protecting schools from bear attacks ― did not discuss specific gun policy proposals with reporters on Wednesday, deferring to local and state officials.
When asked about proposals to train and arm certain teachers, for which President Donald Trump has expressed approval, DeVos said the idea has been "mischaracterized," arguing that it should be "a model" but not "mandated or required for every community."
Asked about students' reactions to possibly arming teachers, she claimed that "we didn't have a conversation about that."
In addition to the limited group of student journalists, DeVos briefly met with students with therapy dogs and was introduced to school officials, teachers and counselors, Fusco said.
"That was literally it," she said, adding that she wished DeVos "would have asked to hear from the majority and not a few."
"If anything, her visit was intrusive," Deitsch said. "She was clearly there for a photo op. This was nothing more."
He added that DeVos interrupted a group of students in a therapy session, a detail that Fusco and Parrow confirmed.
"I saw their faces, like, 'What the hell is this?'" Fusco said of the students.
Parrow recalled witnessing it from afar, saying that she "backed away from it because I felt uncomfortable."
Later the same day, Miami Heat star Dwyane Wade made a surprise visit to the school, meeting with students and staff, and telling them that he was "inspired by all of you."
Parrow said she appreciated DeVos visiting Stoneman Douglas but wished the education secretary could have offered more than "thoughts and prayers."
"She has the power to do something," Parrow said. "She has the power to make change, and she has those connections. I felt almost disrespected that she came to my school and spoke to my face and said nothing that was helpful, like, 'Why did you come anyway? We don't need thoughts and prayers — we're done with that. We need action. That's what we want from people like you.'"
This story has been updated with more details about DeVos' visit and students' reactions.
Before You Go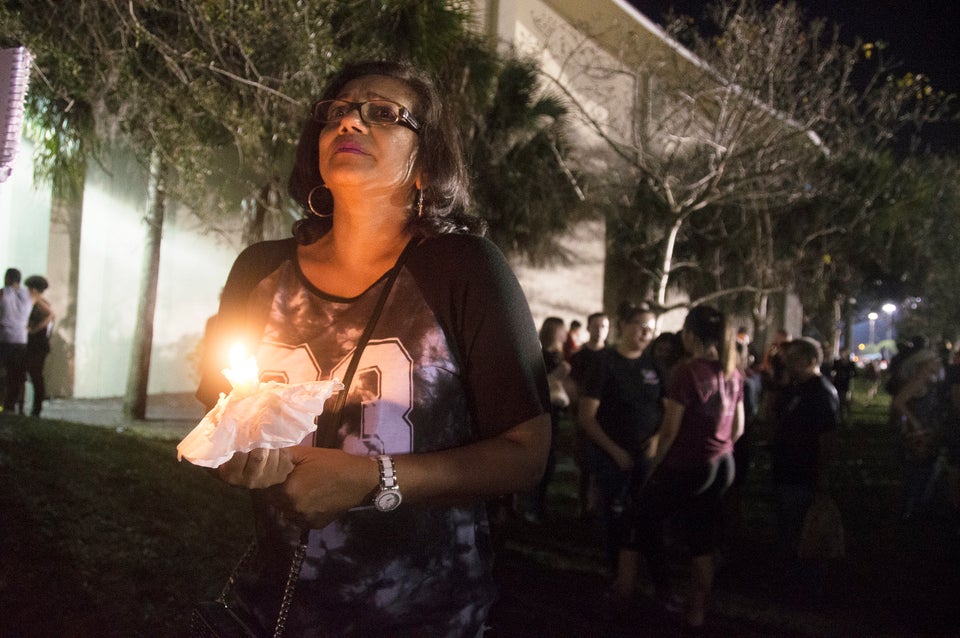 Parkland Vigil
Popular in the Community