Education leadership requires more than privilege and ideology.
Education leadership requires an understanding of the lived experiences, daily needs and layered identities of the diverse, disabled and able student populations served. Billionaire, Secretary Betsy DeVos, has dreams of excellence in education, but she has never touched the people she serves. Secretary DeVos does not represent: disabled / able bodied; straight / gay / queer; female / male / transgender / gender queer; black / brown / white / yellow; rich / poor; rural / urban students.
Identities are inextricably bound, and intersect like paths that cross. An hispanic, middle class student with a learning disability cannot untie disability from race and class as she moves through various spaces that matter — like public education, policy and law.
Education leadership understands that equity is a process toward equality in education.
How are equitable processes created under someone like Secretary DeVos?
Creating equity in education begins with leadership that represents the lived experiences of the students served. Secretary DeVos has never eaten a Free and Reduced Lunch in a public school cafeteria with her peers. She has never arranged playdates with parents of public school children. She has never been the teacher who had to purchase supplies for her empty classroom out of her own pocket. She has not been the principal who has to conduct an active shooter drill in her school. She has never been the superintendent who has managed or overseen a district's budget.
It is true that Secretary DeVos cannot live the identity of every student, parent, educator and administrator or everyday citizen she will serve. She cannot experience inequity where she has known privilege, access and resource. But through conscious effort, she can surround her self with the very diversity she so obviously lacks. She can choose to staff her offices, committees and advisors with diversity that resembles students across the nation's schools.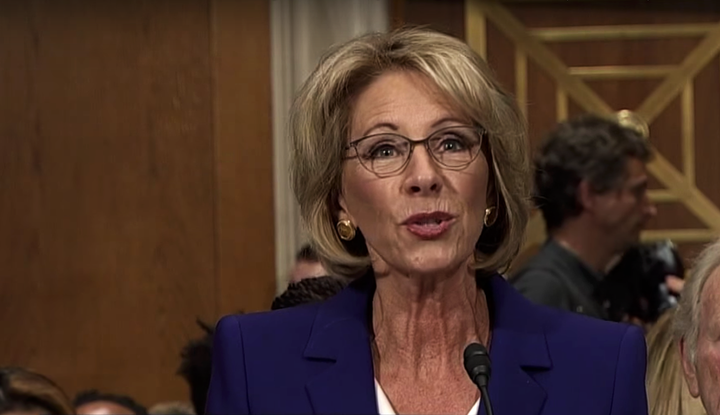 There is remaining hope.
There are a total of 30 senior staff officials under Secretary DeVos, including the Deputy Secretary and Under Secretary. Twenty-four of these positions are vacant. Here's the breakdown: The Office of the Secretary of Education, lead by Secretary Devos, has 11 senior staff officials, including the Assistant Secretary for the Office for Civil Rights, and the Assistant Secretary for the Office of Special Education and Rehabilitative Services. Ten of the 11 positions directly under Secretary DeVos are vacant. The Office of the Deputy Secretary is currently vacant, and includes eight senior staff officials. Four of the eight positions in the Office of the Deputy Secretary are vacant. The office of the Under Secretary is also vacant, and oversees a senior staff of nine officials, eight of which are vacant (1).
Without diverse minds designing for diverse students, disabled students and all students with multiple overlapping identities are left behind.
Education leadership must not policy make from ideology and dreams while sitting comfortably at the top. Given Secretary DeVos' privileged and now powerful identity, what should she do as the highest education leader? She should actively listen with an ear to the ground. Listen first and foremost to students. Students with visible and invisible disabilities. Note what works and what does not work. Listen to teachers and special education teachers, teacher's aides, and substitute teachers. Listen to parents, single parents, parents who work, parents with and without education, parents who have disabilities. Listen to everyone. Just listen.
Before authorizing reform to existing education programs under the Department of Education, or implementing policies toward ideological and aspirational dreams — Stop. Connect with the people you serve. And listen.
1. "Biographies of Senior Officials — U.S. Department of Education." Press Room, Senior Staff Biographies, U.S. Department of Education. 23 Jan. 2017. Web. 7 Feb. 2017.
REAL LIFE. REAL NEWS. REAL VOICES.
Help us tell more of the stories that matter from voices that too often remain unheard.