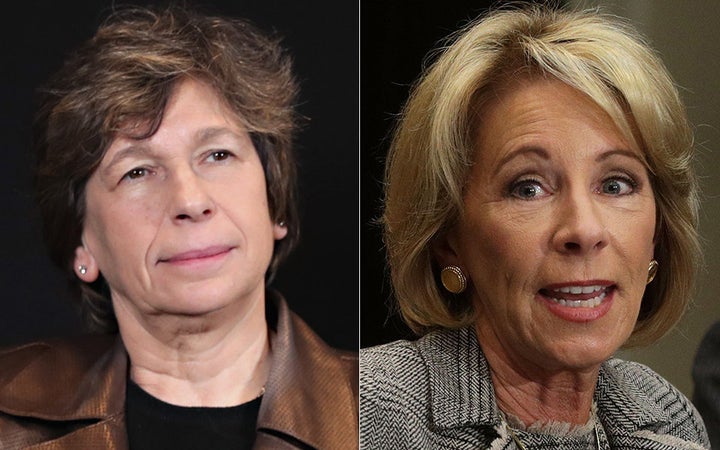 When President Donald Trump first nominated Betsy DeVos for U.S. secretary of education in November, labor leader Randi Weingarten did not mince words.
"The president-elect, in his selection of Betsy DeVos, has chosen the most ideological, anti-public education nominee put forward since President Carter created a Cabinet-level Department of Education," stated Weingarten, who is president of the American Federation of Teachers, the nation's second-largest teachers union. "DeVos is everything Donald Trump said is wrong in America."
But on Thursday, DeVos and Weingarten are attempting to find common ground by visiting a public school together. In February, shortly after DeVos was confirmed, the pair decided they would travel to a school of the other's choice.
The goal, according to the American Federation of Teachers, is to show DeVos the possibilities of great public schools, as opposed to charter schools and private schools. DeVos also invited Weingarten to visit a school with her ― such as a charter school ― although such a visit has not yet been announced. 
The pair will be touring Van Wert City Schools, a public school district in Ohio. While the school district has a mixed academic record, it has deeply invested in strategies that engage community members and serve the social and emotional needs of children. It is an example of a school district that would be hurt by the passage of Trump's proposed education budget, which slashes federal funding for education by $9 billion, according to an op-ed Weingarten wrote in a local Ohio outlet, the Times Bulletin Media. 
"When the federal budget gets cut and the state can't make up the difference, the burden lands on the local district. But here in Van Wert, teachers and school officials have already stretched the budget as far as possible. Anything cut now would destroy the programs and strategies that make Van Wert's schools great," wrote Weingarten. 
Van Wert City Schools have high graduation rates and received stellar marks for students' academic growth on a report card issued by the state. However, on that same report card, the school system received poor grades for elementary school literacy rates and standardized test scores.  
But the school district, in which most high school students qualify for free or reduced price lunch, has implemented a number of effective strategies, like pre-kindergarten and project-based learning, according to Weingarten's op-ed. 
Located in rural Ohio ― in a county that voted heavily for Trump ― it also represents the type of district that might not benefit from the increased school choice programs DeVos favors. DeVos is a major proponent of charter schools and private school choice programs. However, rural districts like Van Wert lack the infrastructure to easily implement such programs. Notably, DeVos received opposition from two Republican senators during her confirmation process because of the issues school choice programs pose in rural districts.
Jeff Hood, the president of the local Van Wert Federation of Teachers, suggested to Weingarten in February that DeVos come visit the district, according to the Toledo Blade. He said he hopes the visit is about education, as opposed to politics, but suggested DeVos' agenda might not be in line with Van Wert residents' priorities. 
"The people who put Donald Trump in office live in Van Wert County, and they live in all the other 'Van Werts,'" Hood told the outlet. "Charter schools and private schools and vouchers are not going to mean much to people in Van Wert."
Calling all HuffPost superfans!
Sign up for membership to become a founding member and help shape HuffPost's next chapter