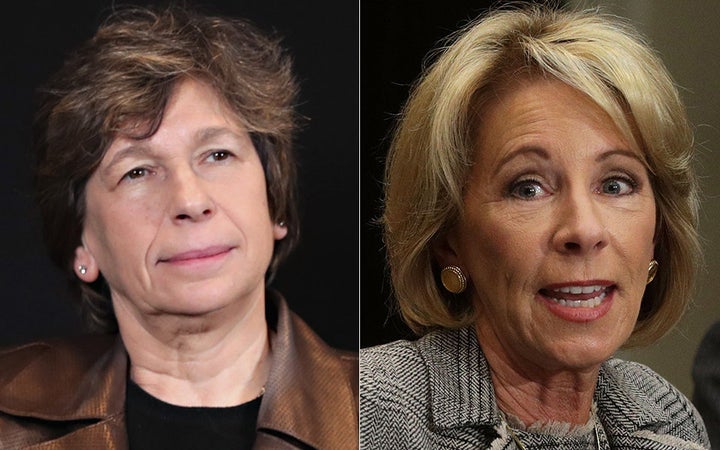 U.S. Secretary of Education Betsy DeVos and labor leader Randi Weingarten put aside their differences Thursday to visit a public school district in Van Wert, Ohio. Both leaders praised the district, although DeVos did not back down from the idea that expanded school choice options could benefit the area.
"I acknowledge and have acknowledged for many months, rural areas face unique challenges and unique opportunities," DeVos said Thursday, in response to a question about whether school choice would work in an area like rural Ohio. "I think the fear of a negative impact on a school that is meeting the needs of its students is very low, actually."
DeVos said it was evident there was a vibrant learning environment in Van Wert classrooms, but she argued that parents in the area might still appreciate the benefits of school choice.
"[In Van Wert], it might be a handful of students who might elect to do something different if they had that opportunity. Perhaps that would be the case. But that would be a choice made by parents," DeVos said, noting that 20 percent of students in the area already choose to go to schools that are not part of the Van Wert district.
Weingarten invited DeVos to visit a public school with her several months ago, shortly after DeVos' contentious confirmation process. Van Wert is located in a rural area where most students qualify for free or reduced-price lunch, and where most residents voted for President Donald Trump.
Weingarten and DeVos have been deeply critical of one another in the past, but they expressed a mutual appreciation during the Van Wert visit. Weingarten, president of the nation's second largest teachers union, cited the visit as evidence of DeVos' willingness to "walk the walk."
"I don't think we even gave her a duty-free lunch," Weingarten joked during the press conference.
DeVos faced a particularly harsh confirmation process, where a 50-50 vote forced Vice President Mike Pence to break the tie. During this time, Weingarten and her union, the American Federation of Teachers, portrayed DeVos as an interloper bent on destroying traditional public education in order to create a more capitalistic, free-market structure.
DeVos maintains that she supports traditional public schools, but also believes parents should be given a menu of options for where they can send their students. At the same time, the proposed U.S. Department of Education budget would make steep cuts to public school programs, while setting aside money for charter schools and a still-nebulous private school choice program.
Part of her goal, DeVos said during the press conference, is to diminish federal and top-down intervention in education to give teachers and schools increased autonomy.
"We overcomplicate things in many cases and for no specific end necessarily," she said.
DeVos has not had as much communication with the nation's other major teachers union, the National Education Association. DeVos reportedly called the president of the NEA, Lily Eskelsen García, who sent DeVos a letter in response. The letter demanded clarity from DeVos on issues like special education and LGBTQ students.
"Students, parents and educators still want answers for a wealth of concerns based on Secretary DeVos's destructive record and refusal to commit to ensuring every child in every community has the opportunity provided by a great education at a neighborhood public school," García said in a statement to The Huffington Post. "NEA raised a number of these issues in my February 14 letter to the secretary and we have not received a response."
Popular in the Community