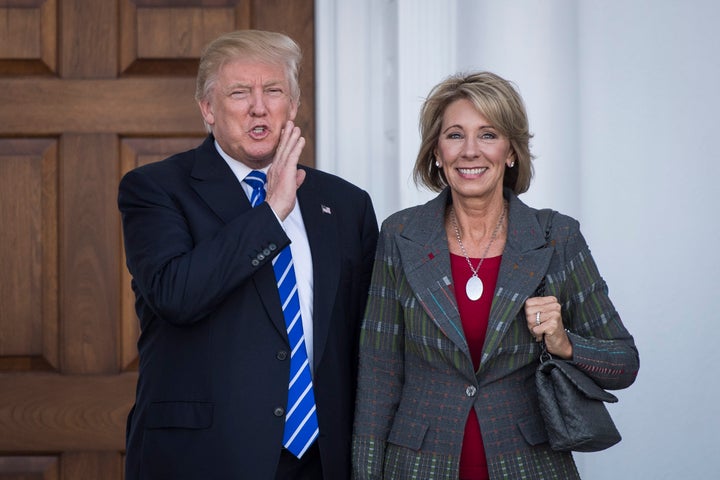 Donald Trump's nominee for secretary of education, Betsy DeVos, spoke at a 2001 conference with her husband, Dick, about using educational philanthropy to promote their conservative Christian worldview to children.
The conference was hosted by The Gathering, a group of elite Christian philanthropists. Researcher Bruce Wilson, co-founder of the website Talk To Action, unearthed the audio after going through archives on The Gathering's website. The recordings have since become unavailable, but a cached version of the website lists the DeVoses as "general session speakers" at the conference, which carried a $1,200 per person registration fee.
This week, The Huffington Post had contacted spokespeople for DeVos, the Trump transition team and The Gathering to confirm that it was the president-elect's education secretary pick speaking on the audio. No one responded. However, a summer 2001 newsletter that The Gathering published, and which Wilson obtained, also confirms that they were set to speak at the group's upcoming conference.
During the question-and-answer portion of the recording, Dick DeVos can be heard lamenting that the "church, which ought to be, in our view, far more central to the life of the community, has been displaced by the public school as the center for activity," Politico also reported on Friday.
He goes on to say that he hopes churches get more involved in education, whether through school voucher programs or other mechanisms. Churches, schools and families should become more tightly built around a "consistent worldview," he adds.
During the panel, Betsy DeVos insists she and Dick aren't enemies of traditional public schools, but are rather "for good education and for every child having an opportunity for a good education." Yet the comments she and her husband appear to have made at the event suggest this could come at the price of blurring the separation of church and state.
While public schools are allowed to teach about religion, Heather Weaver, senior staff attorney for the American Civil Liberties Union, says they are not allowed to "proselytize, promote or disparage religion. They cannot teach it as truth."
"Schools cannot impose a religion or religious beliefs on students in any way," Weaver explained. "Certainly, school officials and others might be motivated by their religious values and beliefs to teach, but when they cross the line from using those as a source of their purpose to actually imposing faith on students, that becomes a huge problem."
Like other Trump Cabinet nominees, Betsy DeVos is incredibly wealthy, as is her husband. Dick is heir to the marketing company Amway, and Betsy's brother, Erik Prince, founded the private security company Blackwater. The couple have long been major players in the Christian philanthropy world.
At one point in the 2001 recording, Betsy remarks: "Having grown up in families that are in the business world, we both believe that competition and choices make everyone better. Ultimately, if the system that prevailed in the United States today had more competition, if there were other choices for people to make freely, all of the schools would become better as a result."
Dick DeVos also once served on the Michigan state board of education, and he and Betsy are deeply involved in education giving and advocacy, working for decades to promote school voucher programs and expanded school choice options. School voucher programs use taxpayer money to send kids to private schools, which are often religious.
During the 2001 panel, Dick explained why he and his wife chose education as one of their major causes, even though it is a controversial, high-visibility issue ― something he learned during his unsuccessful run for governor of Michigan in 2006, when he came under fire after saying schools should have the option of teaching intelligent design.
"The Lord did lead us there, quietly by the heart," he said, adding that he and Betsy hope "someday, for all parents to be able to educate their children in a school that reflects their worldview and not each day sending their child to a school that may be reflecting a worldview quite antithetical ― which, unfortunately, is the case in some places ― to the worldview that they hold in their family."
In 2000, the couple helped put an initiative on the Michigan ballot to push school vouchers in the state, but the effort failed. While speaking to members of The Gathering, Betsy DeVos said that their goal is to ensure that every child has the opportunity to attend the school that meets their individual and unique needs, no matter their socioeconomic background.
Asked at the 2001 panel why they didn't use their money to build Christian schools directly, Betsy described their recent trip to Israel, where they learned about how the ancient Israelites shared their culture with other groups. Through doing that, the Israelites had a larger impact on the area than they would have otherwise, she said.
The couple has decided "to impact our culture in ways that are not the traditional funding-the-Christian-organization route, but that really may have greater Kingdom gain in the long run by changing the way we approach things, in this case the system of education in the country."
Rebecca Klein covers the challenges faced in school discipline, school segregation and the achievement gap in K-12 education. In particular, she is drilling down into the programs and innovations that are trying to solve these problems. Tips? Email: Rebecca.Klein@huffingtonpost.com.
Before You Go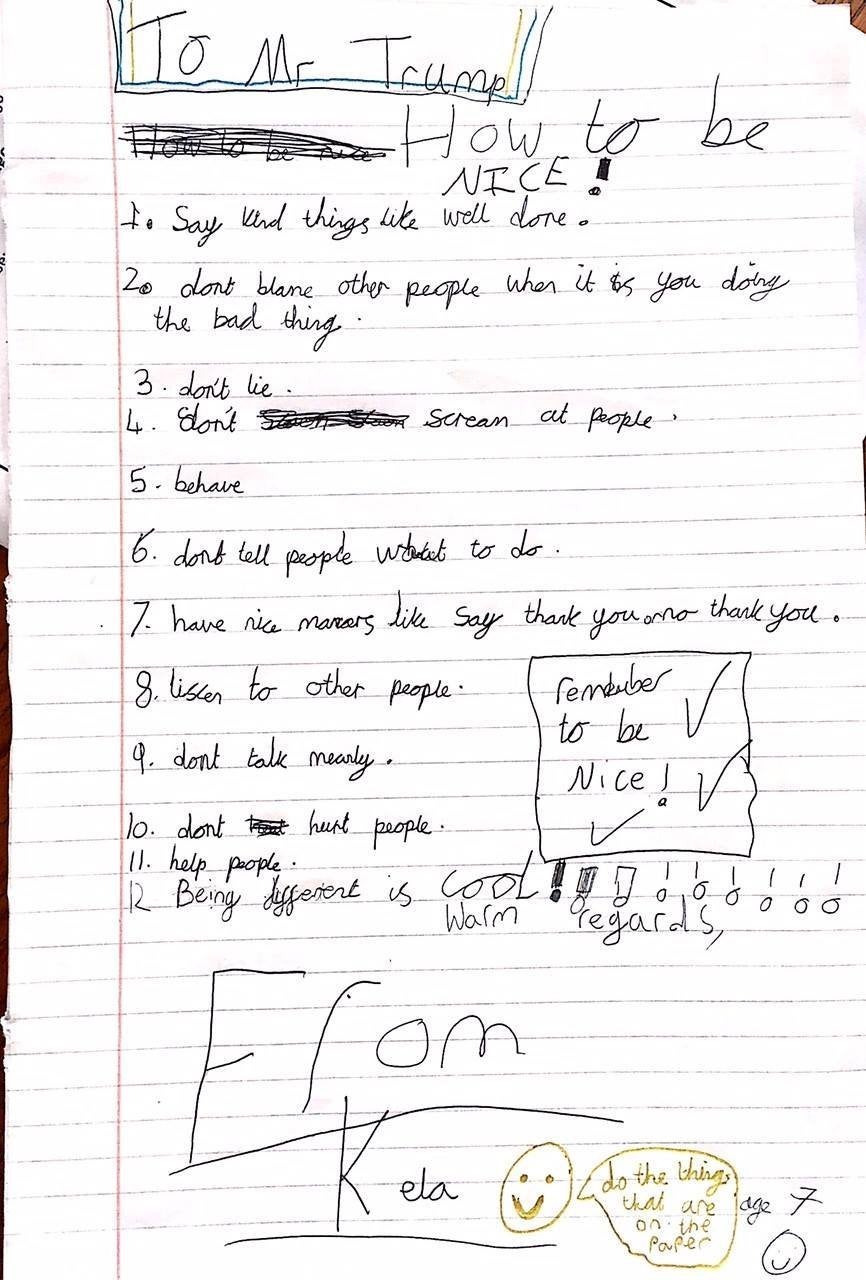 Kids Across America Send Letters To Donald Trump
Popular in the Community