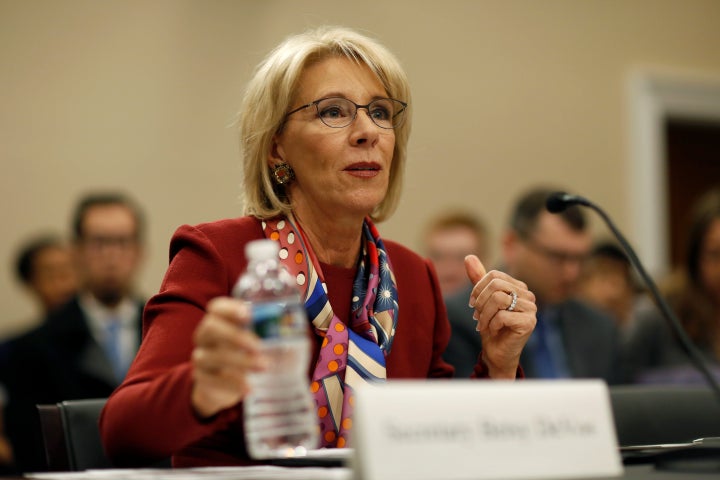 Education Secretary Betsy DeVos got an earful about her student loan policies on Tuesday during a House appropriations subcommittee hearing.
Rep. Rosa DeLauro (D-Conn.) went after DeVos over new departmental guidance that would tend to protect federal student loan servicers that employ predatory collection practices in violation of state regulations. The guidance, issued in March, states that only federal authorities have the authority to oversee such loan collection programs.
"Despite your statements all morning about supporting states' rights, what your office has done, you've issued a declaration to pre-empt state regulations on companies that collect student loans," DeLauro said in the budget hearing.
The Connecticut congresswoman pointed to multiple settlements in favor of student borrowers against a "track record of predatory practices and abuses" by loan servicers.
DeVos made attempts to defend her department's oversight efforts, but was interrupted by DeLauro. At one point, as she tried to speak, the congresswoman asked her, "Why doesn't anyone believe what you are doing?"
DeVos stuttered and paused, closing her eyes, on several occasions.
"Who do you believe this serves?" DeLauro said. "Does it serve the borrowers or the servicers?"
Earlier this month, the bipartisan National Governors Association issued a statement warning against the Education Department's guidance.
"States have stepped up to fill the void left, we believe, by the absence of federal protections for student loan borrowers, from potential abusive practices by companies servicing student loans," the statement read. "With this declaration, the department moves to block state policies protecting student borrowers by establishing a federal regulatory ceiling."
Watch the full exchange between DeVos and DeLauro in the C-SPAN clip above.
Popular in the Community