WASHINGTON ― Fifty Republican senators stuck with billionaire heiress and conservative mega-donor Betsy DeVos, making it possible for her to be confirmed as secretary of education on Tuesday. DeVos and her wealthy family had previously helped fund the campaigns and super PACs that make it possible for GOP senators to win elections.
Betsy DeVos has personally donated $115,000 to the current crop of Republican senators since 1980. Those lawmakers received more than $950,000 from the full DeVos family over the same period. The family has further donated $8.3 million to Republican Party super PACs in the past two election cycles.
And those numbers only scratch the surface.
During her confirmation hearing, Sen. Bernie Sanders (I-Vt.) asked DeVos whether it is true that her family had donated $200 million to support the Republican Party going back over the years.
"That's possible," she answered.
Here are the totals for 23 sitting senators who have received campaign contributions from the DeVos family since 1980: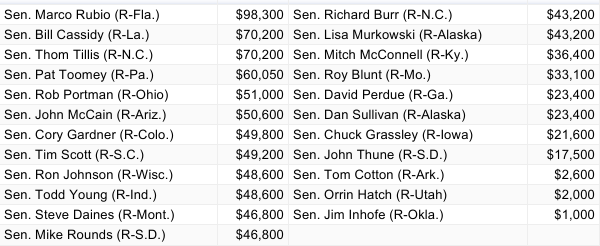 Only one of them didn't vote to confirm DeVos.
It is rare for a donor of this magnitude to receive a Cabinet appointment.
The closest comparison is Penny Pritzker, an heiress to the Hyatt hotel fortune and President Barack Obama's last commerce secretary. Pritzker was a bundler for Obama's campaigns, and her family was one of the biggest donors to Hillary Clinton and the Democratic Party in 2016.
The DeVos family, however, is not just one of the largest contributors to the Republican Party today, but also one of the founding donors to the modern conservative movement beginning in the 1970s.
In the 2016 election, the DeVos family contributed heavily to a handful of Republican super PACs that helped Senate Majority Leader Mitch McConnell (R-Ky.) maintain his majority. The clan donated $2 million to the Senate Leadership Fund, McConnell's personal super PAC, which spent its money exclusively on efforts to keep the GOP in control of the Senate. They also gave $200,000 to American Crossroads, which in turn sent most of its money to the Senate Leadership Fund. The Freedom Partners Action Fund, a super PAC run by the billionaire Koch brothers, received $1.5 million from the DeVos family.
Campaign finance reform proponents called on senators who received contributions from Betsy DeVos and her relatives to recuse themselves from voting on her nomination. None did.
"People are fed up with a government that rewards wealthy donors, and that anger will not recede," David Donnelly, president and CEO of the reform group Every Voice, said in a statement Tuesday.
Two Republican senators did vote against the nominee: Lisa Murkowski of Alaska and Susan Collins of Maine. Murkowski had received $43,200 from the DeVos family. Collins had received no contributions.
Both senators said their vote against DeVos reflected the outpouring of opposition from their constituents, including teachers. Collins also based her no vote on DeVos' "lack of familiarity" with the laws that provide adequate funding and quality education for children with special education needs.
This story has been updated with more detail on Sen. Collins' reasons for voting no.
How will Trump's first 100 days impact you?Sign up for our weekly newsletter and get breakingupdates on Trump's presidency by messaging ushere.
Popular in the Community