After reports surfaced that she opposed the Trump administration's recent withdrawal of federal guidance that supports transgender students' rights, Betsy DeVos emphasized her support for the move at the Conservative Political Action Conference Thursday.
"Let me just say this issue was a very huge example of the Obama administration's overreach," DeVos told CNN commentator Kayleigh McEnany in a CPAC Q&A. She called the Obama guidance an example of "one-size-fits-all federal government approach," and said the issue is "best dealt with and solved on a personal level and local level."
While DeVos emphasized her responsibility "to protect students and to do that to the fullest extent that we can," she also said it is the Department of Education's job to provide flexibility to parents and teachers and to "protect and preserve personal freedom."
The fight over how schools should treat transgender students has been months in the making. In May 2016, the Obama administration told schools that they should allow transgender students to use the restroom that corresponds with their gender identity. However, on Wednesday evening, the Trump administration's Department of Education and Department of Justice withdrew this guidance, citing legal confusion.
According to media reports, DeVos opposed the move but was railroaded by Trump and Attorney General Jeff Sessions. She instead worked to make sure the letter from the departments emphasized the importance of protecting students from bullying and harassment, according to The New York Times.
During the Q&A at CPAC, DeVos said she thinks the main responsibilities of the Department of Education are to protect special needs students and students' civil rights. Other than that, she said, "the role of the federal government should be as light a touch as possible."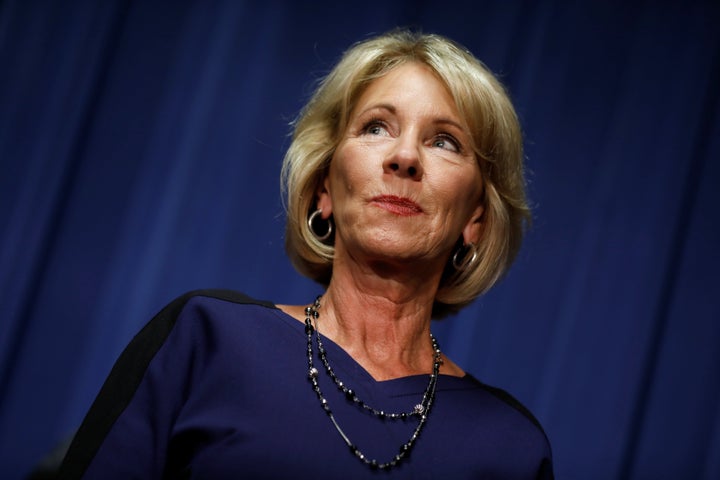 She referenced this controversy during a speech that preceded the Q&A.
"The media has had its fun with me, and that's OK," DeVos said. "My job isn't to win a popularity contest with the media or the education establishment here in Washington. My job as secretary of education is to make education work for students."
During the speech, DeVos also railed against the "education establishment" and Obama-era education policies, which she said "failed miserably." She made her case for school choice policies that provide students with options outside of their neighborhood public school.
DeVos has spent decades promoting school choice policies as an education philanthropist, focusing especially on voucher programs that give kids taxpayer funds to attend private schools. DeVos' critics argue that she could emphasize these programs at the expense of traditional public schools ― which most students attend.
In her Q&A, DeVos said school choice is a matter of justice. School choice policies provide poor parents with the same educational options as rich parents who can already choose where their kids go to school, she argued.
DeVos received considerable applause when she suggested that political correctness on college campuses was damaging, both during her Q&A and in her speech. She called on conservative students to "keep talking, keep making your arguments."
"The faculty, from adjunct professors to deans, tell you what to do, what to say, and more ominously, what to think. They say that if you voted for Donald Trump, you're a threat to the university community. But the real threat is silencing the First Amendment rights of people with whom you disagree," she said.
Popular in the Community