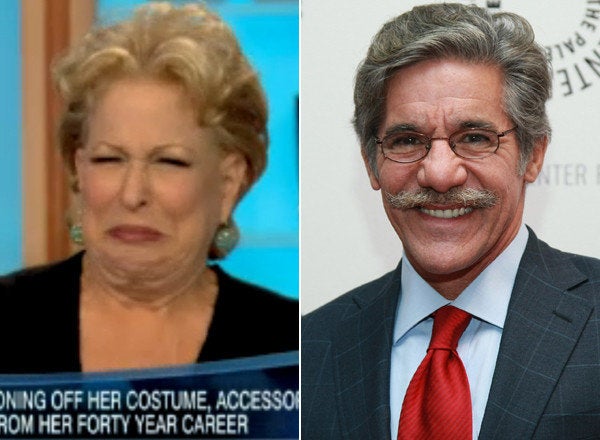 Bette Midler appeared on HLN's "Joy Behar Show" Tuesday night and took questions from Facebook fans. Asked about her infamous affair with Fox News host Geraldo Rivera, Midler said that sex with the 'stache was anything but divine.
When reminded that Geraldo had written about having sex with her in his autobiography, Midler cringed.
"I wouldn't write about having sex with Geraldo. Ew!" she told Behar. "I had sex with Geraldo but I don't think I would write about it. It was nothing to write home about!"
Midler defended her move, reminding Joy that "he was cute in those days." She did admit, however, that "he's not adorable anymore."
WATCH:
As for Geraldo, who wrote about their brief sexual encounter in his steamy autobiography, Exposing Myself, Midler declares--"Oh, he was a slimeball! If I had known then that he was going to do this twenty years later, I never would have given him the time of day." (In truth, Geraldo speaks well of her. He writes admiringly of Bette's voluptuous figure and sexual appetite.) "Actually, he was grotesque," she continues. "I was very young--well, relatively young--and he and his producer pushed me into my own bathroom and broke two poppers under my nose and started to grope me. And I kept going, 'What is this? What is this? What's going on?' My friends say, of course, he was such a charmer, right after that I had to go to bed with him," she says, laughing. "He pursued me all the way to Oklahoma. I think he was doped up. I think he was doing a lot of drugs in those days. I don't mind saying this. I really think he was."
REAL LIFE. REAL NEWS. REAL VOICES.
Help us tell more of the stories that matter from voices that too often remain unheard.