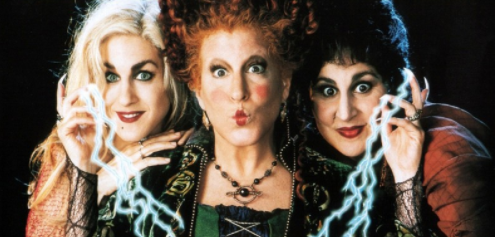 Actress and singer Bette Midler is acting a little scary, and it's not because of the "Hocus Pocus" reruns.
The 72-year-old star on Thursday shared an awful take on feminism with an equally awful song title.
"Women, are the n-word of the world," Midler tweeted. "Raped beaten, enslaved, married off, worked like dumb animals ... They are the most disrespected creatures on earth."
She defended her problematic message two more times before deleting the tweet altogether and apologizing a few hours later.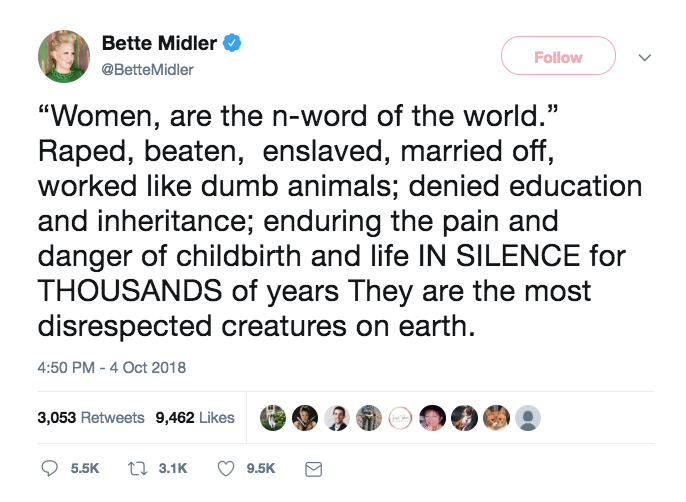 The tone-deaf tweets frightened her fans.
Unamused, thousands of people replied to Midler pointing out what should've been obvious: It is not OK for her, a white woman (or any non-black woman, for that matter) to use that word.
People also stressed that the struggle of white women can't be compared to the history of racism, violence and systematic oppression that black women have faced, which her tweet (perhaps unwittingly) erased.
After thousands tried to educate Midler, the actress doubled down on her use of the quote before deleting both tweets altogether.
She acknowledged in a follow-up tweet that her message "offended many" but defended it by noting that it was originally spoken by Yoko Ono, "which I never forgot."
"It rang true then, and it rings true today, whether you like it or not," she wrote. "This is not about race, this is about the status of women; THEIR HISTORY."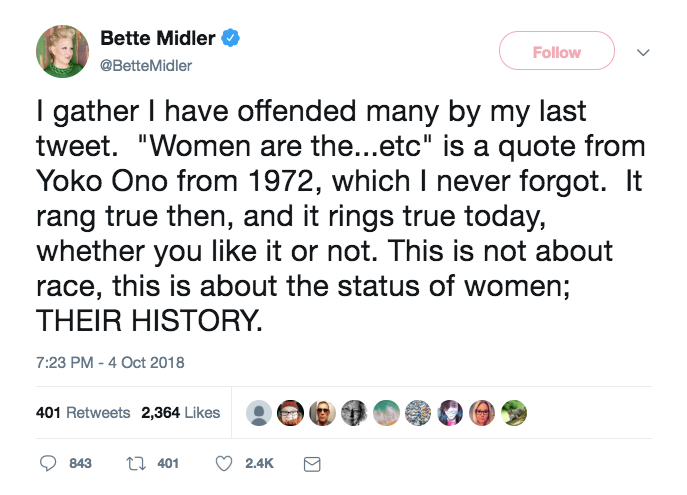 Midler's defense of the quote inflamed people even more.
State Sen. Nina Turner (D-Ohio) told Midler that her white woman privilege was showing.
Rapper Talib Kweli Greene reminded her that "black women exist" and "are treated like niggers. You are not," he tweeted to her. "Please stop erasing black women. Thank you."
Then Midler appeared to push the issue even further by tweeting a link to a New Yorker article reporting that the FBI would be ignoring the testimony of the former classmates of Supreme Court nominee Brett Kavanaugh, who has been accused of sexual assault.
"SEE," the actress tweeted.
In an appeal to the people she offended, Midler blamed her random outburst on the FBI's brief and limited investigation into the sexual assault claim made against Kavanaugh by Christine Blasey Ford.
The actress said she shared her thoughts on women "angrily" and acknowledged that black women "doubly suffer, both by being women and being black."
"I am an ally and stand with you; always have," she wrote. "And I apologize."
Some people accepted Midler's lapse of judgment, but for others, the damage had already been done.
Popular in the Community