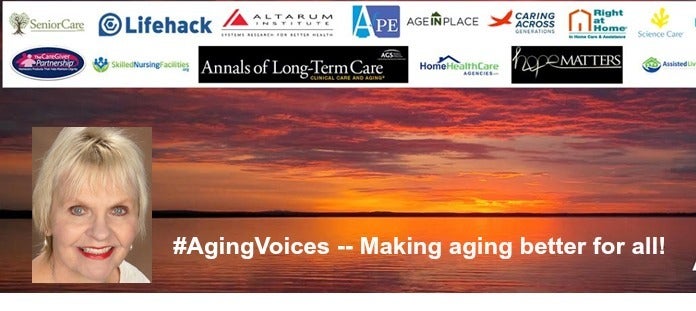 If you followed the presidential campaign, you read #MAGA (Make America Great Again)) by the GOP and #BetterTogether by the Dems. Social media helps missions and advocacy groups get the word out by promoting hashtags of tweets and follows.
Share your aging concerns by using hashtag #AgingVoices - let your voice be heard. Here's are a few of mine, "Being stuck in suburbia, with no options for transportation, which leads to isolation. AND walking to stay fit and healthy but limited since there are no sidewalks."
Today, I launch a campaign to make cities and states a better place for older adults to age. I hunted tirelessly to find the right slogan and hashtag. The promotion hopes to kick start a movement with city and state officials to look out for older voters' desires and preferences. Sometimes it feels like we're left behind especially on important topics like transportation, health care, affordable housing, work, etc.
It's my desire for local and state government to help older Americans age better. If you're 55 and over, you may feel ignored and what you want doesn't matter. And sometimes your needs and desires have little value to government officials and business leaders. Well, I am starting a campaign to promote healthy aging and lifestyles – and it's hashtag is #AgingVoices, and you'll find the latest news about it on social media.
Whether a senior, family caregiver, a non-profit, government agency, or business leader, #AgingVoices will create exposure and raise awareness about our older Americans' needs, and the challenges we face. And I hope you'll follow and promote the effort. It behooves all of us to make cities and states better places to live. And creating a hashtag campaign will bring responsiveness from community leaders to pay attention to the well-being of our grandparents, parents, aunts and uncles. These folks are family and leaving them behind to rot and die in nursing homes, just isn't fair and not my idea of aging well.
The campaign idea started in a Facebook group of older adults aging alone. The discussions are a barrage of constant worries, fears, and hardships. The issues are grave and require collective answers and solutions from officials AND citizens. We're in this together, and since the aging population explodes, we need answers, and they're needed fast because it feels like we're on a sinking ship.
So, I'll tweet and promote, #AgingVoices to make our country more livable for seniors." Fortunately, I won't be responsible for driving the policies to make aging in place a success. However, I plan to rally state and city officials , citizens, business leaders, non profits, agencies and senior care providers, to join in the #AgingVoices campaign. And I invite you.
Officials hold the key in solving aging in place worries but so do citizens. The plan is to quiz the local and agents of the state on how they plan to use taxpayers' dollars to work for seniors. I know the "government" isn't entirely responsible because the constituents have the power to influence change -- we just need to be active and verbal.
However, the citizens need to know the plans of city and state officials to make our lives more accessible and affordable. Otherwise, ten years will hurry by, and each one of us will be graying in the outskirts wondering how the heck will we get to the doctor's office or buy groceries, like so many do today.
The issues citizens face:
Socialization and healthy lifestyles
The components (above) that older adults need to age in place at home. It's where 89 percent of seniors want to live for as long as they can. Besides, senior housing like independent and assisted living, and nursing homes, come with an unbearable price tag. However, healthy "aging in place" is hard to do because of the issues that get in our way. To elaborate, here are the questions I take to city hall and state chambers, and other leaders,
Housing - what are city planners doing to increase ACCESSIBLE housing for seniors and to make that HOUSING MORE AFFORDABLE?
Transportation - seniors need to get around. What are they doing to address this?
Financial - what type of jobs does the area have for seniors, what new ideas/opportunities do older adults have to work?
Social/Activities - what social activities, organizations, etc. are available for seniors to help deal with isolation, become more involved and offer value to the community?
Healthcare - what health care assistance/accessibility plans making it easier for aging in place strategies?
The campaign launches today. Please follow #AgingVoices, @Seniorcarequest @Carebuzz, and like us on Facebook. Check out and subscribe to our YouTube channel -- the place to view interviews. Remember, it's all about making America a better place to age for all, especially the older family members we love and cherish.
What answers do you want to know? Post here and they'll be addressed. Thank you!
Calling all HuffPost superfans!
Sign up for membership to become a founding member and help shape HuffPost's next chapter
This post was published on the now-closed HuffPost Contributor platform. Contributors control their own work and posted freely to our site. If you need to flag this entry as abusive,
send us an email
.